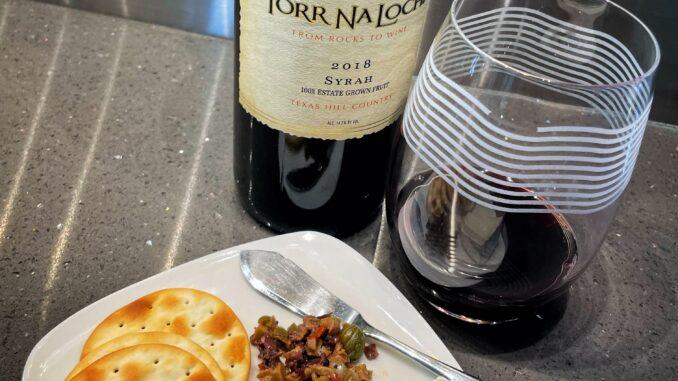 We are about to wrap up our first string of five Texas Hill Country tasting stops with a sip of wine from Torr Na Lochs (roughly translated from Scots Gaelic to "Hills over Lakes"), their 2018 Estate Syrah, Texas Hill Country.
If you've never been there, put Torr Na Lochs on your itinerary for your next trip to Inks Lake or Lake Buchanan. The winery name was chosen as its high hilly aspect yields a delightful view over the surrounding country side and these two Texas lakes. It is a great place to sit and sip while taking in the view, the afternoon breezes, and on Saturdays a variety of music from 2-5pm.
The Torr Na Lochs estate vineyard was established in 2014 by owners Blake & Karen DeBerry, and it currently includes Syrah, Malbec and Petite Sirah, a wonderful combination for these sunny Texas Hill Country slopes. The vineyard is on a gently sloping site at about 1250 ft where the DeBerrys employ sustainable farming methods including organic/biodynamic approaches to fertilization and pest management. Blake & Karen are committed to making wines from only Texas grown grapes and they look forward to sharing their Texas wine experience with you. 
In front of me today, I have a bottle of Torr Na Lochs 2018 Syrah labeled Texas Hill Country appellation and made with 100% Estate grown fruit. As I pour it into my glass, it is evident that this thick-skinned grape has a deep red-purple-black appearance and is nearly opaque. The wine's aroma includes blackberry with hints of mineral and smoke, and topped off with something special, a floral whiff of violet. On the palate, this Syrah brings both red and black fruits forward followed by black olive and licorice. There is really a lot going on in this wine to enjoy. It is dry, medium-plus bodied with brisk acidity, moderate alcohol level (14.2% ABV) and pleasant tannins.
It was on a wine tour in Australia that Blake and Karen noticed the similarities between the vineyards they observed there and their own ranch property. Shortly after, their "light bulb" moment happened – the idea of their own vineyard and winery in Texas. Two years of weekends preparing the vineyard culminated with the planting of our first three acres of vines in April 2014.  Winery construction started shortly thereafter, and the tasting room opened in September 2015. Torr Na Lochs' Syrahs from 2015 through 2018 have been consistent silver and gold medal winners in international competitions. Other wines to try at Torr Na Lochs are: Red – Malbec, Petite Sirah, Tempranillo; White – Malvasia Bianca, Muscat Canelli (sweet); Rosé – Ruby Kate's Rosé.
Fast Fact: Syrah has a long documented history in the Rhone region of southeastern France. But, it was only in the 1990s that Syrah was genetically identified to be the offspring of two obscure grapes from southeastern France: Dureza and Mondeuse Blanche.