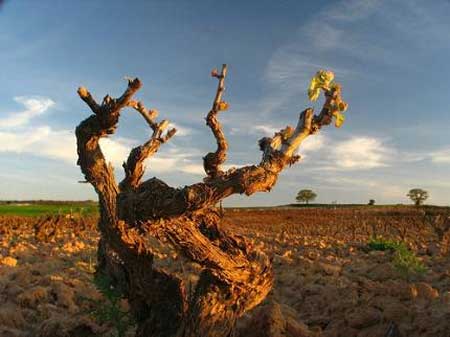 VintageTexas Sunday 'Cyclopedia of Wine: Spanish Wines to Texas Wines
If you live in Texas and want to get a good idea of the potential this state has in terms of wine production, go to Spain and take a look around. The prevailing dry climate and sandy soils of Spain and those found in the central and western parts of Texas have a lot in common.
While there are more acres of vineyards in Spain than any other country in the world, its aridity results in generally lower grape yields than found in other major wine producing countries like France or Italy. Two of Spain's preeminent wines are Sherry, which remarkably plays only a small role in the total wine production of the country, and a hearty red wine made principally from the Tempranillo grape. Sherry comes from the far southern reaches of the country around Jerez de la Frontera while the best-known Tempranillo-based wines come from the northern region of Rioja.
Historically, Spanish winegrowers and winemakers have been long known for their low acid, oxidized white wines and heavily oak-aged reds. However, in recent decades, they have progressed up the quality scale with new plantings in cooler higher altitude regions, new winemaking techniques for controlled temperature fermentation, and reduced time their wines spend aging in oak barrels; once four to six years now down to generally 12 to 24 months. Many white wines of Spain are no longer even oak aged and produced in a modern fresh fruitier style.
The abovementioned developments have resulted in Spanish wines of improved characteristics, especially reds and whites from Rioja and Penedés, red wines from Ribera del Duero and Priorat, crisp whites from Rueda and Galacia, dry ruby-colored rosés from Navarre and sparkling white "espumosos" wines called "Cava" from Catalonia. Currently, the vineyards in La Mancha, the immense and hot weathered central region of Spain, are producing good quality, value-oriented red wines made from Tempranillo, Grenacha (Grenache) and Monastrell (i.e. Mourvèdre).
Try a few of these Spanish wines. Then, try a few Texas wines that offer a similar Spanish wine tasting experience, but a whole lot closer to home. For more information on Texas wineries working with Texas-grown Tempranillo, go to: https://vintagetexas.com/?p=2400.
— — — — —
Also, check and join TAPAS – Tempranillo Advocates, Producers and Amigos Society, click here for more information. There's a Texas Chapter of TAPAS just starting up.