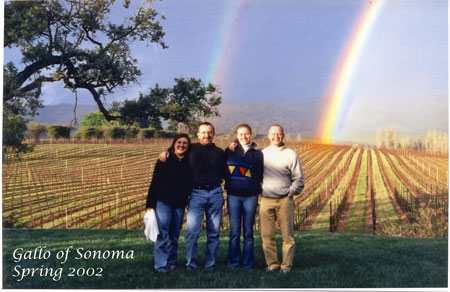 A Bottle Full of Memories and Rainbows
Last night I came home from an invigorating workout and opened my wine cooler As usual, I never really know what's going to tumble out at me. I have an eclectic mix of wines from Texas and around the wine world.
By far, most of these wines are purchased, but (in the light of truthful disclosure) some are samples provided to me for evaluation, but without any personal commitment to write or blog about them. Most are for private feedback to the winery or winemaker. The vast majority of wines that I discuss in this blog are purchased or tasted at wine competitions, tasting rooms or public events. But, today, I made an exception.
During the Christmas holidays, I received a shipment of four wines from E & J. Gallo: Chardonnay, Malbec, Merlot and Zinfandel, all from their value-oriented brand, Redwood Creek. With this admission, you no doubt might think that this is not going to be a Texas wine blog today. But, surprise…. It rambles around Texas, then on to California, and finally even down to Argentina.
Not knowing what to expect, I selected the bottle of Redwood Creek 2009 Malbec ($7.99, 13.5% alcohol, from the Argentine Mendoza region), opened it and poured a glass. Then, I read the card that came with the shipment. At the bottom of the card was a familiar name – Carmen Castorina, whom I have not seen in over ten years and he likely does not now remember me. Carmen is the DFW-based, Director of Communications for E&J Gallo Winery.
As I took the first sip of this value-oriented Malbec, I reflected back to a period in the mid-1990's when I realized my calling as a wine aficionado. This might cause you to think that I equate the term "Aficionado" in some way to a job title or description. Perhaps, I do.
For at least two decades prior, wine had always been my glorified hobby; a topic of interest developed from personal travels and exploits in wine regions around the world, and a love of cooking gained from my father at an early age.
By education, I was a Ph.D., bred to research, learn, write and help others delve into exciting topics. I did this for decades professionally and it was natural for me to apply the same approach to wine. I enjoyed taking big bites of huge topics, digesting them and [please pardon the following description] regurgitating this information in smaller more easily comprehendible portions.  My approach was to do this while giving a large dose of my personal experience so that my readers might get a feeling like they were the ones that had the first-hand experience. During my business career, I was often in the role of intermediary – between producers and consumers. This was going to be my approach to wine, not really knowing were it would take me.
As I continued to sip the Redwood Creek Malbec, now with a bit of cheese and a few olives, I reflected on old memories of a period in mid-1990s, prying these memories from the dusty mental catacombs of my mind. This was the period when I first realized that Texas had a wine industry, of which I knew very little, and I guess the lack of knowledge made me want to learn more both about Texas wine and the local wine experience in Texas. Back then, I believe that there were only about 35 Texas wineries, not the 200+ out there today.
First Gallo-Induced Memory
The first Gallo-induced memory was of a ZAP (Zinfandel Advocates and Producers) wine tasting in Dallas where my wife and I first met Carmen. Back then, Gallo was in a full-blown market transition bringing a cadre of several smaller wineries into the Gallo fold each special brand having quality products. In this ZAP tasting, Gallo was featuring red Zinfandels from their newly acquired Rancho Zabaco.
I remember that Carman was a friendly guy and politely introduced us to his colleagues, and even took time to listened to my rambling description of my planned foray into the world of wine. I recalled telling him something crazy like "this was going to be year of discovery".
Later, I made plans for my wife and I to attend the Aspen Wine and Food Festival later that year. I hoped that at the Aspen festival, I would experience a full-immersion into the commercial world of wine and food, and it delivered beyond my expectations. We participated in reserve tastings with fine white burgundies, my first minerally "taste of terroir". We also experienced an eclectic flight of "Warm-Regional Pinot Noirs" by Joshua Wesson featuring Pinots from Australia, Argentina and other location [but not Texas].
At the opening Aspen tastings, I spied Carman and his entourage from Gallo of Sonoma. I was surprised that he actually remembered us. Before our conversation ended, he encouraged us to stop by their invitation-only dinner. The dinner was a forum to showcase their new cadre of "boutique" wineries and wines paired with a lavish feast prepared by Celebrity Hawaiian Chef Sam Choy that featured his Veal Osso Bucco with Shiitake Mushrooms. It was an elaborate preparation and more meat than I had eaten from a single plate since experiencing a variant of a Barnsley Chop [normally lamb, but in this case a much larger cut of beef] served in Sheffield England. This latter experience was during the UK's, later-described "Mad Cow Period", which might just explain my lack of common sense, penchant for Texas wines, and continued rambling on this blog.
Also from memory [a dangerous thing when considering, wine, age and Mad Cow], I also recalled that the mid-1990s were good for Gallo of Sonoma. It won three triple gold medals at a San Francisco Fair wine competition and was named its Winery of the Year.
Rainbows in the Vineyard
In Aspen, Carmen told me about their Frei Ranch winery in Sonoma, California. It was a large commercial endeavor, but tried to utilize many of the aspects of much smaller boutique wineries. A few years later, my wife and I and some friends from Denmark made a point to visit Sonoma and spend several days touring and tasting. I recalled Carmen's comments. While the Gallo Frei Ranch winery was not open to the public, I was able to contact Gallo (by dropping Carmen's name) and received an invitation for a private tour and tasting for my group.
It was a truly remarkable experience. The Gallo's began buying fruit from this estate nearly eighty years ago, and in 1977, purchased the ranch that became the first Gallo-owned estate in Sonoma. It was also the beginning of the Gallo dream to make premium wines. I remember the beautiful vineyard site enveloped in the fresh green growth of spring. We drove and walked the path that the grapes and juice takes from the vineyard all the way to the 50,000 barrel capacity cellar. The grapes are unloaded from large trucks high on the hillside for crushing and the juice flows in a gravity led stream into the winery and into a vast array of presses, then on into tanks and eventually into the barrels. It was the largest "garagenista" operation I think that I will ever see.
However, what still remains one of my top-three, all-time incredible wine moments was the tasting we had in the property's ranch house. It was incredibly good, but not just from the standpoint of tasting the wines, which were very good [especially the Frei Ranch Pinot Noir]. As the tasting came to an end, we look outside and, to our complete surprise was a rainbow, no a double rainbow, that ended up smack dab in the middle of the Frei Ranch vineyard.
Redwood Creek 2009 Malbec
After this stream of recollections, I finally took time to stop, savor and take stock of the Redwood Creek 2009 Malbec.
This wine had heaps of ripe, dark and jammy fruit, but it wasn't just "all-about-the-fruit" as is usually the case with most under $10 wines. There was more; a secondary component of oak tannin, but on the rustically-rough side, but not bad at all. For those looking for a fine Malbec experience, go elsewhere and add another $25 to the price tag. At the price, this wine definitely would be worth the experience, particularly if there was a piece of red meat ready grill on the barbeque.
Postscript
While this was not a blog about a Texas wine, it was about memories. I look upon these memories fondly as they reflect events that launched my quest for additional wine knowledge, started my serious consideration of the Texas wine experience and mobilized my search to explain the elusive but important concept of Texas Terroir.