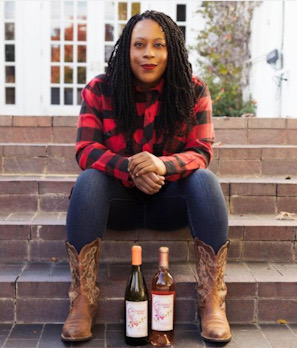 "What began as a trip to a winery in the Texas Hill Country became a passion for sharing the amazing wines that Texas has to offer", says Cheramie Law, owner and co-founder with Todd Aho in Salt and Pepper Wine. They started by traveling Texas, learning about the Texas wine industry literally from the ground up, and helping to sell the wine of others.
"We are an interesting and complementary combo," says Cheramie, "I'm black, Todd's white, and the name, Salt and Pepper Wine, is a fun nod to us as a couple on this adventure to share Texas wine with the world. But, even more than that, salt and pepper are different, yet they go together."
With this approach, they gained retail experience and met many of the top names in Texas wine growing and winemaking; a meet-up of passions of sorts. However, the real passion that Cheramie talks about is to create their own Texas wine presence. From this came their first two wine releases: Cheramie Wine 2019 Riesling, Texas High Plains and 2020 Rosé of Montepulciano, Pepper Jack Vineyard, Texas High Plains.
"We chose the Riesling as our first wine because we wanted to offer something a little different from Texas," says Cheramie. "Many in Texas that grow it know that Riesling actually does pretty well here, but when you talk with people, particularly those outside the state, they are intrigued that Riesling is grown here, and it's really good. We delivered our inaugural release to 27 States and had nothing but really good feedback."
They also chose to release a Montepulciano Rosé. Why? Cheramie says, "Well, it's a grape grown in Texas that we have loved for quite some time. It fit our desire for a 'meatier-style' Rosé, and again, something that might be a little different from other Texas Rosés."
Having just tasted these two wines, I can definitely say that they are both first-rate. The Riesling offers a medium-gold color followed by a light lemon-minerally aroma, then building further with pineapple notes on the palate. The Montepulciano Rosé provides a medium-copper color with titillating tart cherry and cranberry notes on the nose and palate incorporating these elements along with a bit of dried Mediterranean herbs as it builds to the finish.
Evidently, Cheramie is not content to sit on her 'first-release' laurels. In the works, Cheramie Wine is getting ready to bottle a southern Rhone-style white blend made with Texas-grown Roussanne, Marsanne, and Viognier. She indicated that this is planned to happen around mid-February. Cheramie says, "After that, we will be working on red wine blending trials this Spring, and we already have a 2020 Tinta Cao/Touriga Nacional blend in barrels right now."
While I perused the labels on the first two releases, I noticed that the back label indicated "Cheramie Wine, Nacogdoches, Texas." I know of only one place to make wine in that locale and posed a question to Cheramie about using the custom crush facilities where I knew "East Texas Wine Slinger" Michael McClendon is applying his winemaking knowledge.
In reply, Cheramie said, "Yes, our alternating proprietorship [a legally allocated winemaking space] is with Sages Vintage in Nacogdoches. Todd and I originally met Michael when he was the winemaker at another winery, and we all hit it off really well. I knew from there that I wanted to work with him, but at the time didn't know in what capacity."
Later on, Cheramie and Todd ran into Michael while he was doing a tasting in the Texas Hill Country. "While talking, we found out he had gone out on his own with his business partner Wes Jensen at Sages Vintage," says Cheramie. "By then, Todd and I were in talks about starting our brand, and here comes Michael and Sages at the perfect time. From there, we shared our goals, and they lined up with what Sages Vintage is doing and from there, the magic happened. We are proud to have them as Cheramie Wine's lead winemakers – They are wizards!"
While Cheramie and Todd are co-founders, Cheramie is 100% owner of Cheramie Wine. She focuses on doing all the things owners of small business do. Cheramie also gives lots of credit to Todd as an investor and for what she calls "her lead visionary". His farming background is valuable particularly when he is talking with grape growers. He is also the sounding board that she bounces everything of off. Sounds like they make a good team.
With respect to his role with Cheramie Wine, Michael McClendon says, "Hopefully, it gives them momentum to follow up their inaugural release, helping them build a strong portfolio as they move forward."
To learn more about Cheramie Wine and how to access their wines, click here.