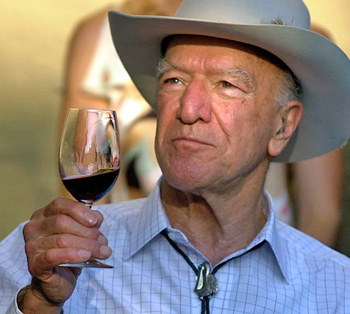 Tasting America's Best Vineyard: To Kalon
What did Robert Mondavi see in "To Kalon" many years ago?
On paper, To Kalon can be described as follows:
In 1868, H. W. Crabb planted a vineyard nearby the Napa River that he named To Kalon – loosely translated from Greek as most beautiful, the best, or divine. In 1877, Crabb planted additional acres and was producing 50,000 gallons (roughly 21,000 modern-day cases) of wine per year. By 1880, this vineyard was increased again to 430 acres. This historic "To Kalon" Vineyard, is now owned by the Robert Mondavi Winery, Andy Beckstoffer and four other owners, and is still producing grapes today. 
Robert Mondavi, while still in Lodi, came to know that there was something special about To Kalon. Many years later at age 53 he purchased 12 acres of it. This vineyard site now is home to 420 acres of vines.
Today, in the bottle and especially in the glass, To Kalon produces wines with a remarkable combination of beauty and power. I recently attended a Master Class titled, "To Kalon Vineyard Experience" in Houston given by Master of Wine Mark de Vere. The way de Vere described it was like this: "The wines from To Kalon are supposed to be as soft as a baby's behind, but yet as powerful as the voice of Pavarotti." Interesting and accurate description, isn't it?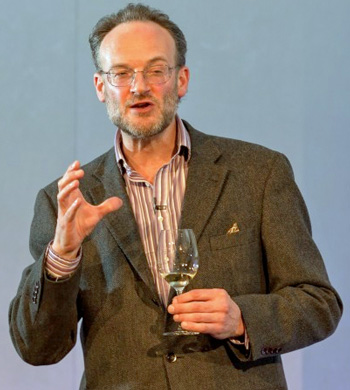 De Vere's master class was a three-hour condensation of his four-day class he teaches in Napa Valley, and it was packed full. It was a guided tasting experience that touched great regions around the world known for producing incredible wines from Cabernet Sauvignon (See Figure below). Our venue was Houston's Station 3 where we tasted Cabernet Sauvignon wines made from vineyards of Margaux (even Chateau Margaux), Pinfolds, Paul Hobbs, Shafer, to name just a few. The focus was comparison – comparison of these wines with respect to those made by Robert Mondavi Winery and a retrospective tasting of its wines from 2016 going back to 1983.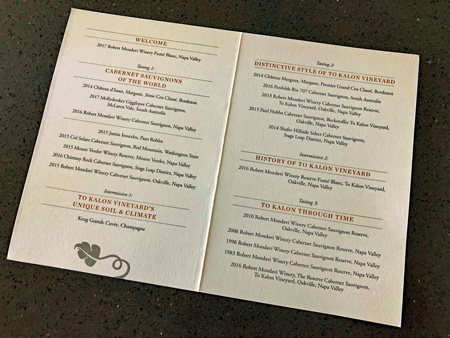 Our introduction to the Robert Mondavi style was presented in the "welcome wine" – Robert Mondavi Napa Valley Fume Blanc. While Fume Blanc is a made-up name for a sauvignon blanc-based wine, the style was profound and stereotypical of that found in Robert Mondavi wines: presence on the palate, an intensity of aroma and flavor, but with fruit that is focused and in balance with the wine's other elements. The Robert Mondavi philosophy remains today that wines should be enjoyable now by the sip or to pair with food with ageability for future encounters perhaps a decade or two (maybe longer) into the future.
It would take far too long to run through the day's tastings and re-hash all of my tasting notes. Therefore, I will concentrate on just a few major points from each flight (see Figure above).
Cabernet Sauvignons of the World – These wines from France, Australia, Washington, other California AVAs and Napa Valley were all discernible with respect to their likely location varying in ripeness, red or dark berry nuance and firmness of tannins. All exceptional wines. The 2016 Mondavi Napa Cabernet though young showed dry red-black berry melange, deep color, and firm but pleasant tannins. My notes said "comfortable richness".
Distinctive Style of To Kalon Vineyard – All wines were tasted blind – my notes said "tasting first grow wines". All wines showed a richness and power of ripe fruit and richness lingering on the palate, but with subtle differences that after the reveal indicated they came from location and climate, and perhaps a bit of winemaker's style. An interesting comparison was the side-by-side tastings of the Mondavi and Paul Hobb (Beckstoffer) To Kalon cabernets. Both similar in many respects, but the Mondavi was more "laid back", my notes also said "balanced but still savory", whereas the Hobbs had a similar basis but was amped up into more of a voluptuous style common to cult wines.
At this point, we got off on a discussion of pricing models for high valued wine grapes. Conventionally, growers are paid on a price per ton of grapes at harvest. Realizing the prices that were being reached for premium Napa Valley grapes and the prices bottles of these wines were getting, a new model arose – Bottle Price Multiplier. That is to sell the grapes to the winemakers at a say 100x multiplier on the bottle price. Under this model, a wine that would sell for $100 per bottle would justify a grape harvest price of 100 x $100 per ton = $10,000; a wine that would sell for $500 per bottle would justify a grape harvest price of 100 x $500 per ton = $50,000. By the way, average prices quoted for typical Napa Valley cabernet sauvignon in the 2018 harvest were $5,571 per ton.
To Kalon Through Time – We finished our tasting with a retrospective tasting of Robert Mondavi Cabernet Sauvignon Reserve from 2010, 2006, 1996, 1983 and 2016 (See Figure above). Particularly noteworthy in this part of the tasting was the presence of 2010 and 2006 in the glass that were remarkably fruit intense, with the 2006 actually more of a standout than the 2010 (likely warmer versus cooler years, respectively). Though, perhaps the most notable taste in this flight was the 1996 Mondavi Reserve Cabernet. It was truly a classic vintage in all respects and, over the years, had evolved into a fine wine with all the secondary and tertiary characteristics expected of a first growth Gran Cru wine.
The 2016 (currently set for release), while still in its extreme youth, gave intensity in dark fruit with baking spices and vanilla bean (perhaps a bit of eucalyptus – from where? Maybe the air!). This wine was rated by The Wine Advocate's Lisa Perrotti-Brown in 2018 yielded a score of 96+.