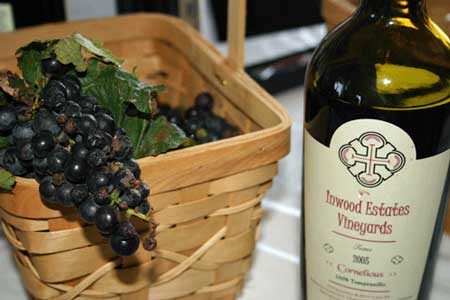 Texas Tempranillo – It's Coming on Strong (Survey Results); Consumers, You Better Get Ready. There's a Lot of Good Texas Wine Coming at You!
Last week I blogged…" Are your a Texas wine grower, winemaker, or wine consumer? If you are, then it's high time to get saddled up and join the posse of folks leading a wine revolution. Its a wine revolution involving quality wines that are Texas grown, Texas produced and Texas savored…The attention getter grape so far has been the ring leader of Rioja, Spain: Tempranillo."
More: https://vintagetexas.com/?p=2363
— — — — —
Since then, I have done a quick survey of Texas winemakers to find those that are making wines from Texas Tempranillo. Well, I stopped counting once I past 20 wineries. Here's my list along with a few interesting comments:
Inwood Estates Vineyards (www.inwoodwines.com)
Big wines. Texas experimented with 30 vinifera grape varieties to derive 4 wines based on Spanish varieties including Tempranillo. Robert Parker listed Inwood Estates as one of "50 Wineries Worth Discovering in Canada and the 'Other 46' States". Inwood Estates is also published in the "World Atlas of Wine" by Jancis Robinson. It is also one of the wines used in the Texas Department of Agriculture's Texas Two-Sip – A brave head-to-head blind tasting of Texas wines versus well known wines from the major wine producing regions around the world.
— — — — —
Lone Oak Winery (www.loneoakwinery.com)
Lone Oak 2008 Tempranillo from Lost Draw Vineyards of Brownfield won Gold at Dallas Morning News Int'l and Gold at San Francisco Int'l (the two super bowls of wine competitions in the USA.).
Brushy Creek Vineyards (www.brushycreekvineyards.com)
They are very excited about the quality of wines made from Spanish and other warm-climate grapes. Their claims are that Tempranillo and its red blends are the best selling wines in the winery tasting room.
Alamosa Wine Cellars (www.alamosawinecellars.com)
Estate vineyard provides the fruit with the sun, soil and climate of the Texas Hill Country and the grapes of Italy, Spain and the Rhone! Alamosa was the first Texas winery dedicated exclusively to warm climate varietals such as Viognier, Sangiovese, Tempranillo, Mourvèdre and Syrah.
Pedernales Cellars (www.pedernalescellars.com)
Rich red Tempranillo has an earthy mineral nose and a hint of cherry. Made with fruit from the Texas High Plains and Hill Country, the wine was aged for fifteen months using new French and American oak barrels.
Llano Estacado (www.llanowine.com)
Their newly released Raider Tempranillo brings ripe plums coupled with a hint of vanilla and cinnamon. A flinty minerality follows into the mouth and is balanced by nutty flavors and tight tannins.
Haak Vineyards and Winery (www.haakwine.com)
Their 2008 Tempranillo is intensely dark rich and velvety smooth with hints of cinnamon, cocoa powder and ripe blackberries. Bronze medal winner at the 2008 Texas Open Wine Competition.
San Martino Winery (www.sanmartinowinery.com)
Make a varietal Tempranillo along with a red blend (Tempranillo, Sangiovese and Cabernet) and Rose.  One of my personal favorite wines was the 2005 Tempranillo made by Emilio Ramos, winery owner, winemaker and descendant of family winemakers in the Glacia region of Spain. It was 100% Tempranillo sourced from Newsom Vineyards in the Texas High Plains AVA. It received 2 years 100% American Oak (50% new, 25% one year old, 25% two year old) yielding an impressive Spanish style. This wine would likely be in the Rioja Reserva classification and bodes well for a Gran Reserva for Texas in the near future.
More: https://vintagetexas.com/?p=1733
Red Caboose Winery (www.redcaboosewinery.com)
Their 2007 Syrah/Tempranillo was silver medal winner in the Dallas Morning News wine competition and bronze medal winner in the Lone Star International Competition. The Wine Curmudgeon said, "It's a terrific example of what Texas winemakers can do with grapes that are better suited for this hot and dry climate than cabernet sauvignon and merlot."
More: http://www.winecurmudgeon.com/my_weblog/2009/10/wine-of-the-week-red-caboose-tempranillosyrah-2007.html#ixzz0zVpZCgjD
Texas Hills Vineyard (www.texashillsvineyard.com)
Toro de Tejas 2008 (Texas High Plains – Reddy Vineyard) Tempranillo grown in Brownfield, has full body and rich dark berry flavors, soft tannins with a hint of spice. Toro de Tejas 2009 (Newsom Vineyard – Texas High Plains) The grapes are from Newsom Vineyard, near plains, where Neal and his family are one of Texas' best growers.
Fall Creek Vineyards (www.fcv.com)
2008 Tempranillo "Salt Lick Vineyards", Texas Hill Country, Fall Creek Vineyards first Tempranillo wine is made from grapes harvested at the Salt Lick Vineyards, owned by Scott Roberts, owner of the famous Salt Lick BBQ.  Jay Neff does an excellent job of applying expert management of the grapes and vineyard, and this delicious wine is from 4th leaf vines. Texas wine expert, Wes Marshall, just named this wine his ick of the week.
More: http://www.austinchronicle.com/gyrobase/Issue/column?oid=oid%3A1079713
Woodrose Winery (www.woodrosewinery.com)
2008 Woodrose Tempranillo – This is a 100% Texas Tempranillo. Hints of soft cherry, and wild strawberry. A rich, and spicy finish. Aged in new American oak. Grown by Andy & Lauren Timmons in Brownfield, Texas, Lost Draw Vineyard.
Perissos Vineyard (www.perissosvineyards.com)
A new estate vineyard and winery that is growing lots of warm weather grapes including Syrah, Mourvedre, Tempranillo, Touriga Nacional, Malbec, and Petite Sirah.  Recently, I tasted their spanking new Tempranillo with good dark berry extraction and tannic structure from American oak.
More: https://vintagetexas.com/?p=2349
La Buena Vida – Springtown (http://www.crosstimberswinetrail.com/guest/lbv-springtown.html)
I recently stopped by and had a wonderful visit with Texas wine pioneer, Dr. Bobby Smith where he share his Tempranillo and his hand made cheese.  Both can be summed up at "Good stuff".
Sandstone Cellars (www.sandstonecellarswinery.com)
I got an advance look at their first Tempranillo wine (75% Tempranillo – 25% Touriga Nacional). All fruit was grown and the wine made in Mason County giving it a Mason County Appellation. Still young with great potential having impressive fruit qualities from 3rd leaf vines. Being held for a few more months at the winery.
Texoma Winery (www.texomawinery.com)
This winery is working with Tempranillo for the first time with this year's vintage and we wish them best of success in carrying on what is rapidly becoming a new Texas Tempranillo tradition.
Landon Winery (www.landonwinery.com)
Tempranillo 2008 made from this great Texas warm weather grape. It was grown by The Bingham Family Vineyards on the Texas High Plains. Nice cherry and plum flavors lead to a round tannic finish. Pairs great with red meats and strong cheeses. I literally found this fine wine on a bus. See this encounter and a video on its harvest below:
More: https://vintagetexas.com/?p=1444
Brennan Vineyards (www.brennanvineyards.com)
Brennan Vineyards is producing their first Tempranillo from fruit harvested from in Texas, but it will not be a varietal…yet. Watch for this development.
Arché Winery (www.ArcheWines.com)
Howard Davies advised that Arché will produce a Tempranillo this year and offer it next. It will carry the Montague County AVA designation. The grapes are from Rockin' DS.
Grayson Hills Winery (www.graysonhillswinery.com)
Rick Magers advised that Grayson will release their first Tempranillo (2008 Grayson County Tempranillo) at Grapefest this week (www.grapevinetexasusa.com/grapefest). They will also release their first red Port-style wine very soon made from 50% Tempranillo and 50% Black Spanish.  It should be out this fall.
Calais Winery (www.calaiswinery.com)
Benjamin Calais get indicated, "We just released our first Tempranillo made from Neal Newsom's high plains fruit.
We don't have much, but we do make some Tempranillo.
Flat Creek Estate (www.flatcreekestate.com)
Rick Nabor emailed me to say that Flat Creek Estate has a Tempranillo. The website indicated that it's a limited release bottling.
CapRock Winery (www.caprockwinery.com)
Phillip Anderson posted to the Texas Winergrowers list serve that as of this afternoon, add CapRock to your list of Texas Tempranillo producers. We got in grapes from four different vineyards (with some amazing differences in PH, color, & taste) in a deal with Monty Dixon from Bar Z. I think it is going to be some excellent wine. Between this & what we are crushing for other wineries, we are seeing huge amounts of very nice looking Tempranillo.
Paris Vineyards (www.parisvineyards.com)
I stumbled across a Tempranillo from Paris Vineyards at GrapeFest last night. Check it out….
— — — — —
NOTE: If I left out anyone….my sincere apologies. Please let me know by email or post a comment on this blog if you are producing a Tempranillo-based wine from Texas-grown grapes or if you have any comments  or if you have had interesting experiences with your consumers.
— — — — —
To join other Texas wine growers, winemakers and consumers interested in Tempranillo and other Iberian Grapes, its time to join TAPAS Society. You can join in one of three categories or as a FREE Sancho Panza level at: http://www.tapasociety.org