Texas Fine Wine Predicts 2016 Harvest to be a Yield & Quality Barnburner
With 2016 grape harvest right around the corner in some parts of the Texas Hill Country, the wineries of Texas Fine Wine are encouraged by the quality and yield of this year's crop. In fact, some vineyards are expected to produce their best crop in many years.
"The 2016 vintage is shaping up to be one of the best crop yields, and weather conditions are right where they need to be to have a stellar vintage," says Dave Reilly, winemaker at Driftwood-based Duchman Family Winery.
Pedernales Cellars, in Stonewall, expects its Kuhlken Estate Vineyards, located 11 miles north of Fredericksburg, to yield a record harvest of Tempranillo, with recent dry conditions providing pristine, completely disease-free canopies and clusters, while Brennan Vineyards predicts its Nero d'Avola harvest from its Comanche County vineyards will be the best in four years.
"We expect to have a full harvest of our estate Tempranillo after two years of reduced yields due to hail," says David Kuhlken, Pedernales Cellars winemaker. "We're also anticipating a good crop of some new grapes for our winery this year, including Alicante Bouschet, Dolcetto, Carignan, Tannat, Graciano and Grenache Blanc, all from the Texas High Plains."
"Heavy rains in May and early June, as well as hail, caused fungal disease and damage to some Texas vineyards, but we were fortunate to have avoided these issues," says Pat Brennan, owner of Brennan Vineyards. "Overall yield will be down somewhat from projections; however, fruit and vegetative growth are well balanced. Our Tempranillo, Viognier and Mourvedre all look strong."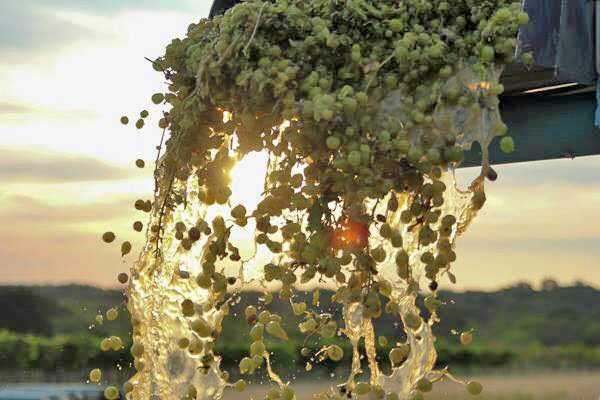 Dr. Bob Young, owner of Bending Branch Winery, agrees this year is showing a wide variation in grape crops across the state. "Several of our vineyard partners are having a great growing season thus far with our signature red wine grapes Tannat, Petite Sirah, and the up and coming varietal, Souzão," Young says. "Other vineyards have been hit by hail and Hill Country vineyards have experienced fungal pressure, including at our estate, after continuous heavy rains earlier this season. Despite these conditions, Bending Branch expects to once again have a good crop of Hill Country Roussanne and Texas High Plains Malbec to work with."
Hill Country Harvest Gets Underway
At its estate vineyards, Spicewood Vineyards has already started harvesting Chardonnay and Semillion for its new sparkling wine program, and predicts its Hill Country white wine harvest will be done before August.
"It looks like we may complete harvest in the Hill Country by early August and the High Plains may not get started until a couple weeks later, so we might have a very welcomed break between the two," predicts Ron Yates, owner of Spicewood Vineyards.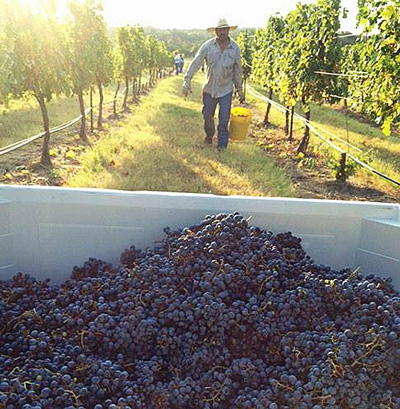 Yates noted that he is particularly pleased with the quality of his Graciano grapes.
"Bud break for our Graciano grapes occurred nearly four weeks after other grapes, providing extra protection from late freezes," says Yates. "This is exactly why we planted Graciano and the grapes look beautiful."
Pedernales Cellars has also begun harvesting its Hill Country vineyards, starting with Albarino.
Texas Fine Wine is a group of five distinctive wineries dedicated to making quality wines from Texas appellation vineyards and setting the highest standards in the Texas wine industry. For more information, go to TexasFineWine.com, and follow Texas Fine Wine on Facebook, Twitter and Instagram.