Cowboys, Cabernet and More at the Bush Presidential Library
I drove up from Houston to College Station, Texas, as a hazy, yellow sunset burned ahead in the sky, masked only by a few wisps of periwinkle clouds. The roadside fields were lush with greens of every shade, made so by the recent and frequent episodes of early summer rain. The sights of Texas highways and byways still leave me with delight even after more than a year now on the Texas wine trail.
The George Bush Presidential Library and Museum (http://bushlibrary.tamu.edu) drew me into College Station, home of Texas A&M University. A received a call for a guided wine tasting and seminar highlighting the heritage of Texas wines, their challenges and the new styles of wine gaining credibility and acceptance with wine drinkers and aficionados.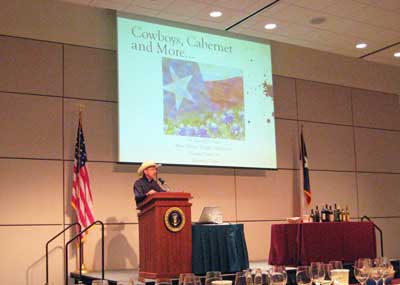 The wine tasting started early, by most standards, initiating at 10 am, but the room full of people made it known that they were there to taste and to learn more about Texas new-style wines. They were also eager to know about the legacy of Texas wines going back to the formation of limestone ledges and red sandy soils. They are actually more akin to the old world terroir of France, Spain and Italy than they are to at of its breather wine production states of California, Washington and Oregon. My slide presentation is available online (in PDF format) at:
Slide Presentation: Cowboys, Cabernet and More (George Bush Preidential Library)
My presentation was drawn from experiences gained traveling this state and my research into its historical and literary archives in search of "Texas Terroir". I selected nine wines to taste and the seminar title "Cowboys, Cabernet and Beyond". This presentation focused on the many new varieties of grapes now being growing in Texas, the associated wines and wineries. My slide presentation is available online (in PDF format) at:
The wines I chose were all special to me and of limited production, hand-selected to illustrate what I felt were key points important to the wine future of Texas. The wines involved in the seminar and my descriptions are given below:
Brennan Vineyards Viognier 2008
Viognier is rapidly gaining acceptance as a preferred white wine in Texas. Much of the acclaim for this grape in Texas has come from the gold medals received by the Brennan Viognier in wine competitions far and wide. The grapes from winery vineyards near Comanche, Texas, and include 87 percent Viognier with additions of Semillon and Chardonnay. Fruit fresh characteristics of white peach and floral tones of honeysuckle. Produced from cold fermentation in stainless steel, un-oaked. http://www.brennanvineyards.com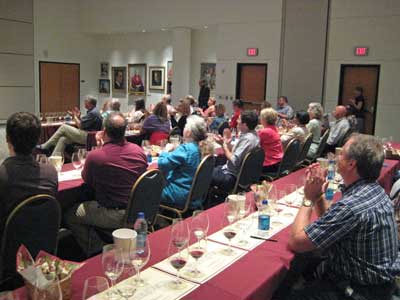 Becker Vineyards Roussanne 2009
Roussanne is a new varietal for Texas, like Viognier, it originates from Southern France. The grapes were from Bingham Vineyards (Texas High Plains AVA) and they were barrel fermented in French oak with a secondary malolactic fermentation. This acknowledged French-style approach yielded a silky, gracefully smooth mouthfeel, floral aromatics, and characteristics of pear and herbal tea. In this style, Roussanne could make a long time Texas Chardonnay drinker jump ship. http://www.beckervineyards.com
Llano Estacado Viviana 2009
Mark Hyman (President and CEO of Llano Estacado) presented this wine that is a blend of aromatic grapes (Riesling, Gewurztraminer, Muscat Canelli, Viognier) originating from The Mont Sec Vineyard in far west Texas near Del City to be specific. It was a wine attributed to young winemaker Chris Hall under the tutelage of Llano executive winemaker, Greg Bruni.  The wine saw no oak and was aged for 4 months on its fermentation lees at cold, temperature. Viviana is Llano's answer to popular new world wines such as Caymus Conundrum, and Sokol Blosser's Evolution. Viviana exudes exotic tropical fruit, honeysuckle and melon, combine to create a lush texture kept fresh by a lift of citrus zest through the long finish.   http://www.llanowine.com
Messina Hof Paulo Cabernet Sauvignon 2006
This wine was presented by Paul Bonarrigo (co-owner of Messina Hof Winery). Paulo is their line of premium wines and this one was made from 90% Cabernet Sauvignon, 10% Merlot sourced from grapes grown around the Lamesa and Lubbock areas. It was cold fermented for 21 days on skins and then receiving 1 year in American Oak followed by 1 year in French Oak. When Paul describes this technique as his "Double Barrel" aging technique, it conjures up visions of the Rifleman…Pow, Pow! He also mentioned that the Cabernet Sauvignon vineyard is now 24 years old and produces intense varietal flavors. This balanced fruit driven wine carried aromas of dark berries and plum flavors with rich vanilla tones. http://www.messinahof.com
Inwood Estate Magellan (Bordeaux+ Blend) 2006
Inwood Estates is the creation of Dan Gatlin with a winery in a Dallas warehouse and now in a new, winery at the beautiful development, Vineyard at Florence, northwest of Austin. This wine is almost a Bordeaux blend except for one thing. It is Cabernet driven with  68% Cabernet Sauvignon blended with other Bordeaux varietals (22% Cab Franc, Merlot, Malbec, Petit Verdot) and (the other thing) is 10% Tempranillo. The grapes are 78% Newsom Vineyards in the Texas High Plains AVA with the remaining 22% other sources within Texas. Dan is very much a kindred spirit of mine that has come to the realization that Texas limestone infused soils have much more in common with those of Europe than they do with California and require special winemaking techniques. This wine spent 3 years in French oak barrels and can easily bottle age for 5 to 10 years. Dan believes strongly that it will have a life expectancy of 30+ years, challenging some of the classic Chateau of France. Take the Texas two sip challenge, give it a try…compare the Inwood Estate Magellan to 2006 Chateau Calon-Segur, in the Saint-Estèphe appellation of the Bordeaux wine region of France. http://www.inwoodwines.com
Sandstone Cellars VI 2008
This wine was made by consulting winemaker Don Pullum who used a blend of four grapes: Touriga Nacional, Barbera, Zinfandel and Primitivo, all coming from vineyards in Mason County, Texas. If you want to taste the terroir of a specific region, this wine is a good one to accomplish the task. He also used extended fermentations with some batches going to 30 days. Half of the wine was aged for 10 months in three-year-old American oak barrels and half aged in stainless steel to preserve the fruit qualities of the wine (including cold fermentation and reductive winemaking).  This morning the dominant aromas were of red fruits (raspberry and even pomegranate), rose and herbed sage followed by flavors of dark berries. http://www.sandstonecellarswinery.com
Fall Creek Tempranillo – Salt Lick Vineyard 2008
Texas wine industry prime mover, Ed Auler from Fall Creek presented this wine made from grapes grown at the "Salt Lick Vineyards" in Hays County, Driftwood, Texas, the first commercial production for these Tempranillo vines. The must was cold-soaked and grapes pressed before the end of primary fermentation; then aged 1 year in American oak (50% new oak and 50% 1 year old) and left unfined. Ed said that this Tempranillo shows what Jancis Robinson calls a "marriage of Cabernet Sauvignon and Pinot Noir".  It has a Cabernet structure worthy of ageing yet the vibrant red fruit qualities of Pinot Noir. For those with knowledge of the Tempranillo-based wines of the Rioja, this wine would likely fall between the classic Rioja categories of Crianza and Reserva, primarily because of the wine's medium bodied style and young vine fruit. It is a great first vintage with the potential for even greater things to come. http://www.fcv.com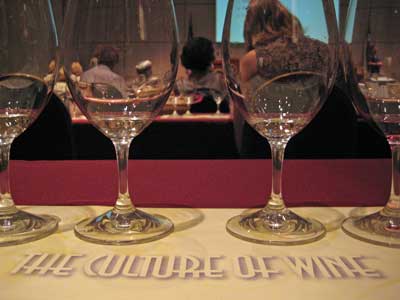 San Martino Winery Tempranillo 2005
This wine was made by Emilio Ramos, winery owner, winemaker and descendant of family winemakers in the Glacia region of Spain. It was 100% Tempranillo sourced from Newsom Vineyards in the Texas High Plains AVA. It received 2 years 100% American Oak (50% new, 25% one year old, 25% two year old) yielding an impressive Spanish style. The degree of oak aging and vine age produced a big but refined wine with the structure and added essences of vanilla bean and tea overlaid on a palate of red and dark berries. This wine would likely be in the Rioja Reserva classification and bodes well for a Gran Reserva for Texas in the near future. http://www.sanmartinowinery.com
Haak Vineyards Madeira 2006
This wine is made from 100% Blanc du Bois. It can be considered a Texas varietal as there is more Blanc Du Bois grown in Texas than in any other wine region or state. A portion (35%) of this wine comes from the Haak vineyard, the balance (65%) comes from Austin County Vineyards in Cat Springs, Texas (Jerry Watson's vineyard). The wine was first fermented with Saccharomyces + Bayanus yeast blend to 18% Alcohol. It was not fortified with brandy. It then spent 2 years in oak barrels before going through the classic Madeira Estuffa process. Once in the estuffa, it was held for 6 months at 105 F. This Madeira has a very interesting pale copper color and of aromas/flavors of caramel and toffee with a fresh, crisp and zesty finish. http://www.haakwine.com