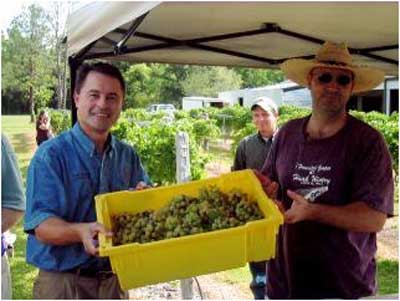 Write Off the Vine – Texas Wine News: July 23, 2009
[to comment click icon in upper right]
Texas Wine Industry Continues to Grow – Not Just Another Harvest
Texas Commissioner of Agriculture, Todd Staples, recently proclaimed the 2009 grape harvest season is officially underway. To mark the occasion, the Haak Family and Haak Vineyard & Winery staff in Santa Fe, Texas hosted a weekend grape harvest event and were joined by several other Texas wineries including Circle S Vineyards (www.circlesvineyards.com), Enoch's Stomp Vineyard and Winery (www.enochsstomp.com), Flat Creek Estate (www.flatcreekestate.com), Llano Estacado Winery (www.llanowine.com) and Maydelle Country Wines (www.maydellewines.com). These participating wineries showcased some of the best wines in Texas and helped kick off and celebrate the 2009 harvest season.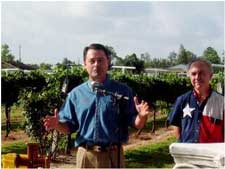 The Texas wine industry truly is a growing business. In fact, an economic study spearheaded by the Texas Wine and Grape Growers Association and Texas Tech University indicates this agriculture sector impacts the Texas economy to the tune of $1.35 billion dollars per year. It also draws nearly 1 million tourists and visitors to our wineries, and employs more than 9,000 Texans. Staples said, "Texas is the fifth-leading wine-producing state in the nation and seeing the potential of our state, I know it's only a matter of time before our ranking climbs even higher."
To learn more about the Texas Wine Industry, please visit www.gotexanwine.org.
Texas Wine – With Improved Wine Making Comes Improved Reputation
Although Texas Wine has been around since the frontier days, Texans have always had trouble getting any respect for their wine making craft. One visitor from the 19th century complained that the handcrafted local wines made from wild grapes were too sour for consumption.
More recently, when the state's wineries began modern production, unappreciative outsiders labeled the Texas wine and wineries "Chateau Bubba" as a derision.
Although this probably had some truth to it in the past, it hides much of the reality. The very same Spanish priests who introduced vineyards and wine to California, also cultivated grapes in Texas by the 18th century.
Although little is known about the quality of the mission wines, there is evidence that some later European settlers (particularly Germans and Czechs) were accomplished vintners. They developed ways to make good wine from native mustang grapes, and they passed their knowledge to several generations up to the present.
More at: http://www.foodtexas.com/texas_wine.html
East Texas wine makers enjoy fruit of their labors
Lush green acres of grape vines surrounding small wineries might seem out of place among the cotton fields, cattle ranches and oil rigs of East Texas, but local vineyard owners find the area meets their needs.
Jeff Sneed, owner of the Los Pinos Ranch Vineyards (www.lospinosranchvineyards.com) in Camp County, is one of the more established wine makers in the state. Since he began his operation in 2001, he said the number of Texas vineyards has increased more than three-fold, from fewer than 50 to more than 170.
"Unlike a lot of businesses, we don't want to discourage competition," said Sneed, the Region II Director of the Texas Wine and Grape Growers Association. "The more Texas vineyards there are, and the more people associate Texas with wine, the better it is for all of us."
The Texas wine industry in the early 21st century is about where the California wine industry was during the 1960s and '70s, Sneed said.
More at: http://www.news-journal.com/blogs/content/shared-gen/blogs/communities/lnj/
Chenin Blanc: The Grape Puts Texas Wines On The Map?
From http://texaswineuncorked.wordpress.com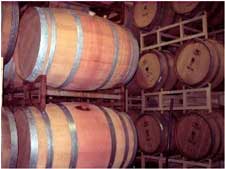 Chenin Blanc's high-acid qualities have made it a popular choice to plant in warmer than usual wine growing regions; its versatility also lends itself to dry, sweet, or sparkling wines depending on acid and sugar levels.  Though it tends not to develop the complexity in very warm areas that it does in the Loire Valley, its thick-skin does enable it to thrive.  The world-class wines of Vouvray and Savennières in northern France and the biodynamic growing techniques of Nicolas Joly have certainly contributed to both the grape's and region's stature in the industry.  In the United States, however, Chenin Blanc has received a less-than-stellar reputation because it has historically been a component in many insipid jug wines.
I decided to explore this somewhat little-known variety and sample two Texas versions, because I have a hunch that Chenin Blanc is the kind of grape that might be able to put Texas on the map.  Plus, when it is hot outside (as in the 100's) there is nothing more refreshing than a glass of a crisp Chenin Blanc to transport you to the Loire Valley.
So I brought two bottles to enjoy with friends of ours.  Unbeknownst to me they were serving a wonderful grilled and roasted whole chicken, roasted heirloom tomatoes with basil, a sauté of sweet fresh corn, and for dessert homemade blueberry and peach cobbler with vanilla ice cream.  The food was sensational and the wines went well.
2007 Llano Estacado Winery Chenin Blanc ($5.99)
2008 Fall Creek Vineyards Chenin Blanc ($6.99)
More to the story at: http://texaswineuncorked.wordpress.com/2009/07/17/chenin-blanc-the-grape-puts-texas-wines-on-the-map/
WineLovers411.com
 
TEXAS WINERIES:  Over 100 Listings – See why Texas is America's #5 Wine Producer
TEXAS WINE EVENTS:  Tastings, Dinners, Classes, Festivals and More. See All for: Austin, Dallas, Houston, San Antonio, Festivals
WINES OF THE WEEK:  See our Top Choices for the best wines in every price range
FOOD AND WINE PAIRINGS:  Wines that you'll find everyday, expertly matched with cuisine. See Our Interactive Menu
WINES OF THE MONTH:  The top best Red and White from our weekly picks. See our picks for June
More at: http://www.winelovers411.com/