Video: Tempranillo – The Wine of the Sun and the Good Texas Earth
This next installment of the Texas wine video series features Jim Johnson, owner and winemaker at Alamosa Cellars in Bend, Texas on the northern edge of the Texas Hill Country. Jim presents some of his favorite Tempranillo wines that he says, "are big, fat and lusciously dark red wines".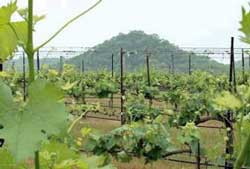 In the wine world, Tempranillo is normally synonymous with Spain. However, wine drinkers can be confused because of its numerous and confusing trade names, as the wines often take their moniker from the regions where the Tempranillo grape is cultivated. The most famous Spanish regions are Rioja and Ribera del Duero (where it is known as Tinto Fino and Tinto del Pais). Wonderful examples of Tempranillo wines can also be found from other regions in Spain: Toro (as Tinta de Toro), Valdepeñas (Cencibel), and the Penedes (Ojo de Llebre and Ull de Llebre).
Portuguese winemakers find Tempranillo of interest where they add it to many Port recipes and it is included in many reds table wines from the Duoro  (known as Tinta Roriz), and in the Dão, (known as Tinta Aragonez and Arauxa). Tempranillo can also be found in new world locations such as Argentina and United States, and in the hot, dry French 'cowboy' region of Languedoc. However, more recently, Tempranillo has found a 'home-away-from-home' right here in Texas.
In Texas, Tempranillo has been identified as a preferred grape as it ripens under hot, dry conditions that we have in Texas and has resisted late spring freezes better than many other varietals. Tempranillo also has the beneficial characteristic of more comfortable levels of alcohol than classic varietals such as Cabernet Sauvignon as the ambient temperature of the region increases. Tempranillo's natural fruity nature takes well to oak aging, particularly in American Oak. In Texas, however, many winemakers are using premium French oak to gain a softer, refined Tempranillo wine style different from that of Spanish Rioja.
Tempranillo is often blended with Grenache, Cabernet Sauvignon and/or Mourvedre. These wines often are described as having flavors and aromas of dried cherries, spices, black currants and a wide range of earthy components such as dust, tobacco and black olives, or aged qualities as saddle leather and cedar. Tempranillo pairs well with lamb dishes (especially with rosemary and garlic) and the charbroiled, rare steaks of which we often partake in Texas.
Do Some Tasting….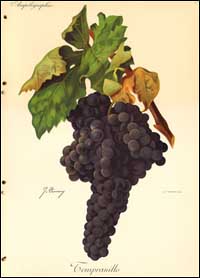 This video features Tempranillo-based wines from a number of premium Texas producers:
Inwood Estate Vineyards (Dallas, Texas; www.inwoodwines.com), Tempranillo (Newsom Vineyard on the Texas High Plains AVA)
Texas Hills Vineyards (Johnson City, Texas; www.texashillsvineyard.com), Toro de Tejas (Tempranillo and Cabernet harvested co-fermented)
Red Caboose Winery (Meridian, Texas; www.redcaboosewinery.com ), Tempranillo-Syrah Blend
Alamosa Wine Cellars (Bend, Texas; www.alamosawinecellars.com), El Guapo – A proprietary red blend of Tempranillo and Mourvedre (the varietal also known as Monestrell in Spain)
Brushy Creek (Wise County; www.brushycreekvineyards.com), Tempranillo (one of their best selling wines).
The list is growing and I will update this list in an upcoming blog.
Texas grape growers are planting Tempranillo at a rate greater than any other red grape, and for good reason. Winemakers are asking for more Tempranillo grapes. They have found it to be one of the best sellers in their tasting rooms.
Do Some Reading…..
Check out previous posts on VintageTexas on Tempranillo which is sure to be a grape for the plentiful red earth and the warm, sunny days that we have here in Texas:
VintageTexas "WineSlinger" Shoots Six Straight in Grand Tasting – https://vintagetexas.com/?p=738
First Texas Tele-Tasting (Video): Wine Connoisseurs Give Texas Wines High Marks – https://vintagetexas.com/?p=663
North Texas Trip Entry 7 – Lone Oak Winery, Last Stop before Home – https://vintagetexas.com/?p=542
North Texas Road Trip Entry 5 – Visiting the Supreme Expérimenter – https://vintagetexas.com/?p=512
Enjoy…..
— — — — —
Time to join TAPAS Society. Check out Free TAPAS Membership Opportunity at "Sancho Panza" level, Texas Tempranillo Symposium (November, 2010) with organizational meeting of Texas TAPAS Chapter, at:
https://vintagetexas.com/?p=2363