DrinkLocalWine.com To Host First "Local Wine" Conference
GO TEXAN Proudly Sponsors DrinkLocalWine.com Conference Dedicated to Regional Wines
Russ Kane of VintageTexas to Moderate Texas Twitter Taste-Off
DrinkLocalWine.com, the Web site that focuses on North American wine that isn't made in California and the Pacific Northwest, will hold its first-ever conference and tasting on Aug. 15 in Dallas. Called the GO TEXAN DrinkLocalWine.com Conference, the event will focus on Texas wine, featuring some of the state's best wines, top winemakers, and leading growers.
The conference follows the success of the Web site's Regional Wine Week last fall, in which more than 40 wine bloggers, writers and columnists from the U.S. and Canada wrote about their favorite regional wines, ranging from Ontario to New York to Florida to Texas to Colorado.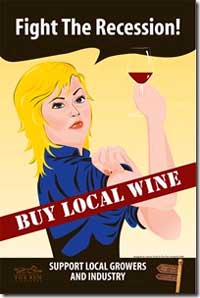 "The conference is the natural extension of Regional Wine Week," says Jeff Siegel, co-founder of DrinkLocalWine.com and author of the popular blog, The Wine Curmudgeon (www.winecurmudgeon.com), as well as wine columnist for the Fort Worth Star-Telegram and Dallas' Advocate magazines. "It will give consumers a first-hand look at quality regional wine."
Texas is the fifth-largest wine producing state in the country, with 177 wineries and 280 commercial vineyards. The Texas industry has made important strides this decade, focusing on Italian, Spanish and Mediterranean varietals.  As presenting sponsor, the Texas Department of Agriculture's GO TEXAN program sees the conference as an opportunity to tell the Texas wine story.
"Local wine is no longer a novelty," said Dave McIntyre, wine columnist for The Washington Post (www.washingtonpost.com) co-founder of www.DrinkLocalWine.com. "The conference will show that Texas – along with at least a dozen other states like Virginia, Missouri, New York, and North Carolina – produces quality wine."
The conference will include three seminars, focusing on trends in Texas wine, the distinctive grapes that Texans are using to make those wines, and how consumers can work to get more regional wines in stores and restaurants.
The final event of the day will be a Texas Twitter Taste-Off, moderated by Russ Kane of Vintage Texas (www.vintagetexas.com/blog), where participants will be able to taste some of the state's top wines, pick their faves and spread the word to friends by blog or Twitter at the same time.
Texas wineries interested in details on how to participate in the Texas Twitter Taste-off, contact Russ Kane russ@vintagetexas.com
Joining the Texas Department of Agriculture as conference sponsors are Vineyard and Winery Management, Advocatemag.com, and Le Cordon Bleu Institute of Culinary Arts Dallas.
For registration and schedule information, go to www.DrinkLocalWine.com.
For more information about the Texas wine industry, go to www.GOTEXANWine.org.