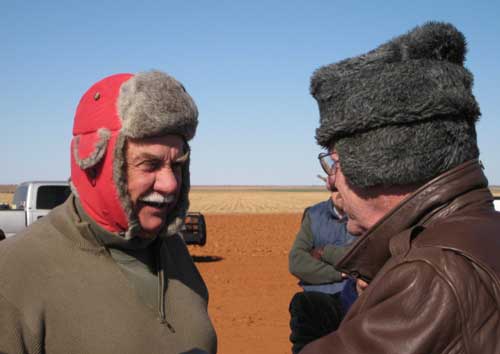 Earth, Wind and High Plains Vines
Entry 3 – Conclusion of the High Plains Planting Tour
Continued from: https://vintagetexas.com/?p=656
Caravanning across the Texas High Plains, our group included representatives from California, Kansas and Arizona along with delegates from the far ranging Texas districts of Dallas, Austin and Houston along for the ride. We were observing new plantings in nearby Texas vineyards. They were part of more than one hundred and thirty new acres of wine grapes planted statewide thanks in part to the support from the economic investment of the Texas Department of Agriculture (TDA) wine grape investment pilot grants. The Texas vineyards receiving pilot grants included:
Red Caboose – Bosque County
Brennan Vineyards – Comanche County
Delaney Vineyards – Dawson County
Bell Mountain Vineyards – Gillespie County
Martin's Vineyard – Hockley County
Mesa Vineyards – Pecos County
Cliff Bingham – Terry County
Clint Bingham – Terry County
The Family Vineyard – Terry County
Oswald Vineyard – Terry County
We had congregated in the hotel lobby for breakfast and a last blast of steaming coffee when we were met by Bobby Cox, High Plains vineyard consultant. His flappy fur hat gave him the look of a dogsled musher; but, as we would soon find out, it was appropriate for battling the morning's cold wind. As we started our rounds, we experienced firsthand, the High Plains Yin-Yang battle between the forces of light and dark; bright warm sunlight versus remnants of last night's dark chilling wind that left clearing frigid skies over cold, naked vineyards.
Interim Stop at Reddy Vineyard
As the sun rose, our convoy trekked southwest from Lubbock shedding contrails of blowing red dirt from each vehicle. An interim stop at Vijay Reddy's vineyard in Brownfield showed over one hundred acres of vitis vinifera – the "noble" wine grape varieties of Europe known for making the finest wines in nearly every major wine producing region of the world. We exited the vehicles to inspect the vines, standing with our backs to the wind, trying to stay in motion and warm our ears while listening intently. Bobby Cox impressed the group with his extemporaneous list of grape varietals found in the Reddy Vineyard.
"Starting from the West over there, he said, "Viognier, Orange Muscat, Muscat Blanc, Tempranillo, Malbec, Petite Syrah, Tanat, Sauvignon Blanc, Syrah, Pinot Grigio, Barbera, Aglianico, Petit Verdot, Sangiovese, Mourvedre, Montepulciano, Roussanne, Cabernet Sauvignon, Merlot, Cinsault, Cabernet Sauvignon, and ……..Oh yes, Cabernet Franc".  Notable in this list were Montepulciano and Aglianico, red wine grapes of Italy that, for the first time, were being grown in Texas. He also mentioned that just past the windbreak was one of Texas's most productive vineyard blocks, a bit of 'Old Vine Texas'. It was a block of Merlot planted on SO4 rootstock with an average annual tonnage of over 6 tons during the past 20 years. The cordons of these vines stood gnarly, twisted and thick, struggling for two decades just so Texas wine aficionados could enjoy their inky, dark juice.
While walking in and around the vineyards, it was interesting to see the variation in vine activity. Some vines were pushing out new shoots that were wilted and gray from the previous night's cold, while in other locations the buds were still hidden from view in an effort to stay warm, like my hands in the pockets of my coat. From the experience over the past years, protection from the late spring cold spells is one of the most important considerations in growing on the High Plains. It includes attention to winter heartiness and bud break characteristics derived from the selection of particular grape varieties as well as the all-important vineyard terrain.
The Texas High Plains appears visually flat but, surprisingly, low spots of as little as a few feet were locations where the denser cold air concentrated to produce the most damaging conditions. Furthermore, this apparently high flat land has an elevation change of over 500 feet within about fifty miles of Lubbock. This is a huge factor in grape cultivation, especially in terms of bud break versus late spring subfreezing temperatures. The extremes in High Plains elevation result in more topographic change than exhibited between Houston and Dallas that are more than 200 miles apart. The impact is that some grapes that grow in one vineyard location just do not work well in others. This is part of the evolutionary process of Texas grape growing – new information is being produced with each grape growing season.
Hand Warming at the Bogar-Cox Vineyard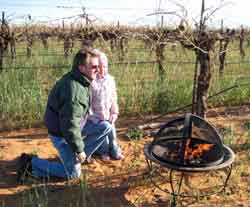 We snaked our way on to the Bogar-Cox Vineyard, an alliance between the Mark Bogar and Bobby Cox families formed when they came together to purchase a 162 acre plot. It had an interesting layout whereby 35 acres of grapes were planted in the corners around a derelict central pivot irrigation circle. The Bogar-Cox vineyard includes Cabernet Sauvignon, Merlot, Chardonnay, Chennin Blanc, Orange Muscat, Muscat Blanc, Marsanne, Syrah and Nebbiolo planted in red sandy loam. These grapes have been sold to Texas wineries such as Mandola Estates, Caprock, Brushy Creek and Becker Vineyards.
As the caravan entered the vineyard, we saw Mark Bogar and his young daughter standing by a wood fire that Mark had prepared. The fire, while picturesque was more importantly warm and welcoming. We exited the vehicles and huddled around the fire like bugs around a porch light.
We were invited to sample some Becker Vineyards Chenin Blanc that was made from the grapes grown in the adjacent vineyard where we stood chest high to the vines. The bottles were set on the tail gate of the Mark's truck and the clink of glasses at 9:30 am served as a cattle call for our party. One thing was obvious that morning….no refrigeration was needed. The wine was Becker Vineyards Fleur Sauvage (Wild Flower) that carried a single vineyard designation on the label. Though sampled in a cold gusty wind, the pleasant off-dry wine shone through like a fresh-cut honeydew melon.
Planting in Clint Bingham's Vineyard
It felt good to jump back in the SUV and escape the wind and blowing sand during the short drive to Clint Bingham's new vineyard being planted with the assistance of the TDA pilot grant. As we arrived, Clint was standing next to the tractor surrounded by flat red cultivated dirt that reached to the horizon. He had gained his experience working with his father, Cliff Bingham and his siblings in his father's nearby vineyard and farm producing cotton, peanuts, sesame and other crops. However, this vineyard was different; it was his baby and he was perceptibly proud to strike out on his own on what will be his responsibility for years to come.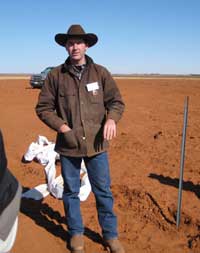 Have you seen the Mariner Mars Mission photos? If so, they do uncannily like what we were dealing with right here. Our group approached the tractor kicking up more throat-choking red dust than a remuda rambling across the Texas plains. When we arrived, the tractor noise combined with the wind drowned out nearly all normal conversation. Clint spoke forcefully to get his voice to carrying over the tractor drone while he explained the process of planting. It was a two part process involving one to plant vines and one to plant the T-posts at the designated spacing to hold the vine support wires. Our group followed behind like a flock of crows in a field following the planting of seed corn, each one of us curious and eager to see, asking questions and snapping photos. These were the first few of 7,000 vine cuttings that would be planted over the next several days as the weather warmed.
Clint said, "I decided to plant the new vineyard with Viognier. It is the white varietal grape gaining popularity in Texas [with both wine drinkers and Texas High Plains grape growers]. Viognier did well in daddy's vineyard and this gave me experience growing it. I personally like it, too." When asked if he was going to organic farm the vineyard, he continued, "I'm not as determined to keep it organic as daddy is in his vineyard. Going forward, I like the flexibility to make my own decisions and shoot for my first commercial crop by the third season."
First Texas Wine from Organic Grapes
From Clint Bingham's new vineyard, we traveled just a short piece to his father's 75 acre vineyard to see a demonstration of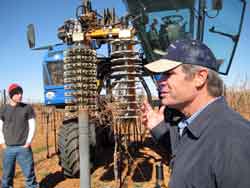 mechanical pruning. Cliff Bingham discussed his approach to organic grape growing as Kyle (his second oldest son) ran the harvester outfitted with a front-mounted cutter tool that must have been sci-fi inspired. It automatically drew in the canes and a rotating blade pruned them. The machine had a menacing appearance with its outreaching, whirling clutches as it approached down the vine row toward the onlookers who gave it a wide berth.
As he hefted a bottle of wine, Cliff said, "This is the first Texas wine that can lay claim to be made from a hundred percent certified organic grapes. The wine is from CapRock and the grapes are Viognier from our 2008 harvest. Currently, Texas does not have a classification for organically produced wine, but in this case, it is close as it gets to being an organic Texas wine."
The CapRock 2008 Viognier from Bingham Vineyards was brand spankin' new, having just been bottled less than a week earlier and the labels applied within the past day or two. We were poured a taste of the wine, and it had attributes of fresh apricots, from its pale orange-yellow color to the fruit-laden taste and aroma.
Wine Grapes Make Sense for Texas Farmers
While we savored the wine, Cliff also related his thoughts on how grape growing makes good sense for High Plains farmers. He stressed, "From the standpoint of water usage, he found that grapes require less of the precious fluid than peanuts and about the same as cotton. However, this is just where things get really interesting. Cliff said, "A farmer can make a good living on about a thousand acres of organic cotton or three to five thousand acres of conventional cotton. Instead, he can likely get about the same revenue from a mere fifty to one hundred acres of grapes. The gain is that the revenue comes from only fifty acres of grapes, requiring much less of the valuable water from the Ogallala aquifer that is supporting all of the High Plains agriculture. Wine grapes make good economic and environmental sense as a sustainable cash crop for Texas farmers."
After a home-prepared gourmet lunch at Cliff Bingham's High Plains homestead and some excellent casual conversation with local growers, we headed back up the road a piece to Ropesville for one last vineyard stop at long time grape grower, Andy Martin's Vineyard.
Andy's vineyard operation goes way back nearly to the modern genesis of Texas wine grape growing. He started in 1975 with a small plot of red and white hybrid grapes. These grew well but after a few years, the Texas switch to the more widely recognized "noble" grape varietals had started. In 1976, Andy joined the movement by planting Chenin Blanc and shortly thereafter Sauvignon Blanc. These early plots are still in production after nearly thirty years, making them the oldest vines to be found in Texas. Since then, Andy has worked with Bobby Cox to add acreage of Viognier, Sangiovese, Grenache, Pinot Grigio, Mourvedre, Carignan, Muscat and Semillon, and now encompasses 26 acres of wine grapes.
Exiting our vehicles, we fought a warming yet still persistent blustery wind along rows of old, twisted, thick-cordoned vines with their outstretched canes. Adjacent to the old block, we found the new planting owing their start to the TDA pilot grant program. These rows were composed of newly planted cuttings, mere sticks in the dirt waiting to be a part of Texas's wine future.
Following our Martin Vineyard tour, we stopped around back of Andy's tool shed for a taste of Becker Vineyards 2007 Prairie Rotie a Rhone-style red blend. It is composed of Andy Martin's best Mediterranean grapes, led with a hearty dollop of his trademark Mourvedre, some of the oldest plantings in the state. It is no wonder with his track record with this varietal, that his new plants in this vineyard will include more Mourvedre, a superb grape for Texas. 
Epilogue
That cold morning, Texas High Plains growers were trying to make quick freeze assessments based on what they saw. However, experienced hands acknowledged that it was not likely easy. It is customary to wait a period of days or even weeks following a freeze to observe the response of the vines and their all important primary and secondary buds, which are where the grape crop is usually derived. It was easy to see wilted gray shoots out on the extended canes, but less obvious was the extent that the latent buds closer to the cordon had been affected.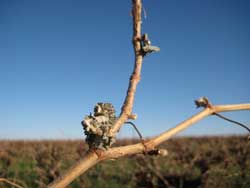 Upon inspecting the vines, Bobby Cox and Mark Bogar appeared glad that they intentionally had not yet pruned their vines, an established technique for delaying bud break. As Bobby related, "We have learned a thing or two from past freezes. Fool me once, shame on you; fool me twice (or even 3 or 4 times) shame on me." He continued, "Our efforts in new plantings is also favoring grape varietals that are late to break buds in an effort to minimize the potential for damage this type of late freeze. Good news was that some of our newer varietals on the High Plains such as Montepulciano and Aglianico had not yet entered bud break when this freeze came."
In the weeks following this trip, reports were coming in that vineyards across northern and central Texas took a hit from the cold weather. The damage reports varied greatly both vineyard-to-vineyard and even across the same vineyard with estimates ranging from 15 to over 85 percent affected with a overall crop yield probably no worse than last year when freeze damage and hail took out a good chunk of Texas wine grape production.
However, many growers still have expectations for a decent 2009 crop as evidenced by their comments. They have seen amazing recovery in the past after the loss of primary, secondary and tertiary buds and yet still were able to see high enough yield to pay the bills with from latent buds. Every year (or freeze event) is different due to differences in grape varietal affected, age, elevation, trellising, spacing, wind, humidity, etc. Most heartening is that the growers are a tough lot. Despite the hurt and adversity, they still have an optimistic view that the sharing of experience and changes that they make in their vineyards will bring improving yields in the years to come.
Personal Note:
I successfully survived my High Plains 'arctic adventure' and witnessed first-hand new vineyards and met new grape growers. Most of all, what I took home (besides the red Texas dirt caked on my face and emptied from my pockets and shoes), was a deep appreciation for the foresight and fortitude of Texas's vineyard pioneers. They exude a certain dedication to Texas wine grapes, and believe that grapes are good for Texas's rural economy and ecology. They are striving to learn what grows best while applying new techniques in sync with this special place we call Texas to better handle it adversities. The path forward, while still involving lots of hard work, is gaining clarity for existing Texas grape growers with each successive vintage. Most of all, they are working on a sustainable agricultural path for the next generation of growers to follow as they begin to pick up the reigns, assume their position on the point and continue on down the trail.