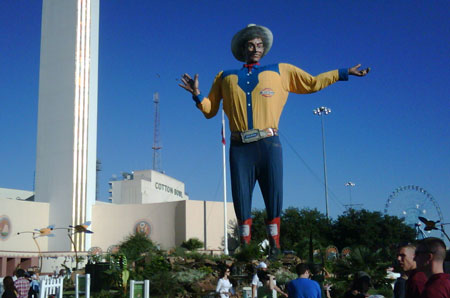 What Texas Wines to Pair with the Deep Fried Food Finalists at the 2012 State Fair of Texas?
CultureMap Houston broke the "big story" today about the finalists in the 2012 State Fair of Texas 8th Annual BigTex® Choice Award for best fried foods on the Fair's midway. This year's finalist are:
Chicken-Fried Cac­tus Bites
Deep Fried Divine Choco­late Tres Lech­es Cake
Deep Fried Jam­bal­aya
Deep Fried Mac-N-Cheese Slid­er
Fried Bacon Cin­na­mon Roll
Fried Mex­i­can Fire Crack­ers
Pic­nic On A Stick
Fried Pork Wing
Click here for the full story by Teresa Gubbins.
I know that immediately upon reading this list of Big-Tex deep fried competition finalists, the names of your favorite Texas wine pairings were on the tip of your tongues. Well, hopefully I can beat you to the punch with my list of wine pairings (but feel free to give me some feedback on your selections as well):
For purposes of wine pairing, I've divided up the finalists in the deep fried contest into the following categories and found a wine for each grouping:
Just Plain Fried: Deep Fried Mac-N-Cheese Slid­er
For the first pairing, just plain fried, high-fat foods like the Mac-N-Cheese Slider need a wine with a dose of plate cleansing acidity. If Texas made Champagne, I'd select that. But, alas, we don't. Therefore, my selection is Duchman Family Winery 2010 Vermentino. Vermentino is clean and crisp while still firm and fruity with mouthwatering grapefruit and citrus zest.
Just Plain Spicy: Deep Fried Jam­bal­aya and Fried Mexican Fire Crackers (Jalapenos & cheese)
When confronted with foods that you might say are "just damn hot", look for a sweeter wine. My choice is CapRock Winery 2010 Orange Muscat. This wine has a fine mandarin orange flavor and sweetness to easily quench the hottest fare you can find. The balance between the sweetness and the acidity also give this wine a refreshing quality.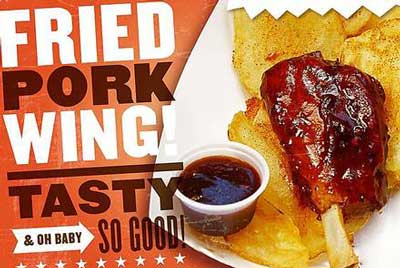 Sweet and Spicy: Chicken-Fried Cac­tus Bites and Fried Pork Wing  (sweet/spicy sauce)
Sweet and spicy preparations require a delicate balance from an off-dry wine. My choice is Kiepersol Estate 2011 Texas Vit. Some have called this wine "Springtime in a bottle!" for its floral honeysuckle aroma followed by flavors of fresh pineapple for a tropical flair that allures the senses.
Sweet with Cinnamon: Deep Fried Divine Choco­late Tres Lech­es Cake (with strawberries) and Fried Bacon Cinnamon Roll
This is probably the most difficult of the wine pairings, as cinnamon is hard to pair with wine. When confronted with this situation, I can go two routes. Where the degree of sweetness in the preparation is restrained, I like to go with an off-dry wine such as Becker Vineyards 2011 Gewürztraminer. I had this wine two weeks ago at the winery and it had classic aromas of lychee and pungent rose with a spicy note of baking spice; hence, the pairing with cinnamon. For more intensely sweet preparations like the Cinnamon roll, I go straight at it with Haak Vineyards 2010 Madeira Blanc Du Bois that offers intense fragrances and flavors of dried stone fruits and berries followed by hints of green tea and caramel.
A Little Bit of Everything: Picnic on a Stick (pickle, taters and BBQ/Ranch/mustard sauces)
Here were I have to pause for thought: deep fried pickle and tater tots with three different sauces. For this preparation, I need a wine that's both crisp and offers a hint of sweetness, medium presence and good aromatics. When confronted with both sweet and savory elements like this (especially the sauces), my choice is Messina Hof Winery 2011 Muscat Canelli (Merrill's Vineyard) that brings a nose full of citrus blossoms and early summer fruits.
Now that we have our Texas wines, we just have to wait for the selection of this year's State Fair of Texas deep fried winner and start popping corks. What Texas wines would you pair with these new deep fried favorites?