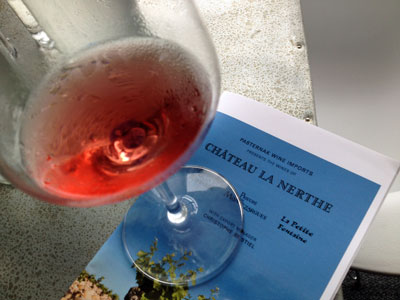 Houston's Finest: L'Olivier Hosts Château la Nerthe Tasting
I jumped at the chance to sample the cuisine of acclaimed executive chef Olivier Ciesielski for Tony's restaurant fame now in his own L'Olivier Restaurant & Bar with partner Mary Clarkson in the heart of Houston's Montrose district. Equally appealing was the chance to revisit the wines of Château la Nerthe that I have admired since my visit to Châteauneuf-du-Pape almost a decade ago. It was an evening that focused on the artistry of the kitchen woven into a tapestry with the artistry of time and "le vignoble de pierres et le Pape". My comment of le vignoble de pierres (or the vineyard of stones) is obvious if you have every walked the la Nerthe vineyard or even if you have Googled a picture of it.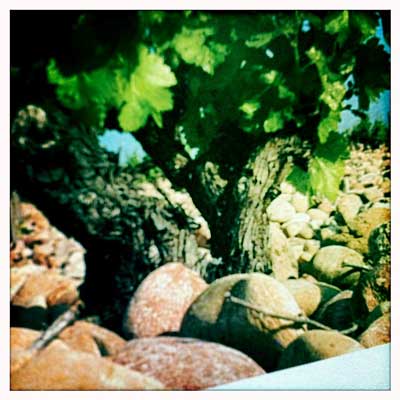 The evening's tastings took me back to a 2003 trip to the south of France. On that trip, I had my first experience with the chock-full-of-rocks estate vineyard and wines of Chateau la Nerthe, one of the most highly-regarded properties in the region. In fact, Château la Nerth has a deep connection to Texas being one of the first chateaus in France to replant with American rootstock following the widespread phylloxera vineyard disaster of the 1800's. The rootstock that saved many French and European vineyards was from Texas wild grapevines sent by T.V. Munson of Denison, Texas.
A glass of Prieuré de Montézargues Rosé from nearby French region of Tavel AOC welcomed and refreshed me on my arrival at L'Olivier. The pleasantly tart red berry characteristics of this wine fit so well into my memories of southern France. After the first sip, I confirmed that this wine also fits quite well, better than most libations, right here on a sweaty summer evening in Houston.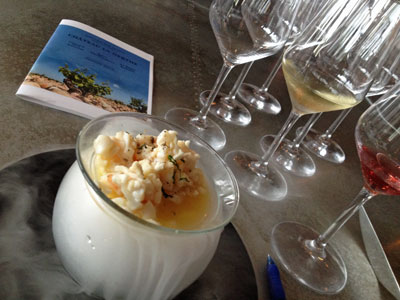 From there, the fare was ceviche done with L'Olivier flair and two white Rhone blends, la Nerthe's Chateauneuf-du-Pape Blanc 2010 and its single vineyard, Clos de Beauvenir 2009. The latter lingered with lemon drop, crisp acidity and the classic minerally character featuring Roussanne, the dominant blending grape and classic grape variety of the southern Rhône Valley.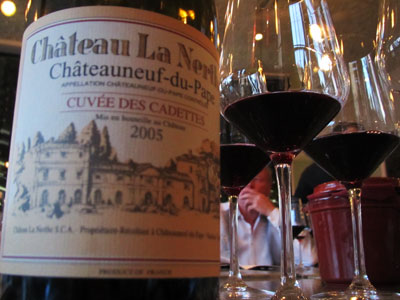 After repartee from our hosts, presenter's comments from Christophe Bristiel (Ex. Manager, Château la Nerthe) and two quaffable and quite enjoyable red wines (Domaine de Renjarde Cote du Rhône Village Rouge and La Petite Fontaine Cote du Rhône Rouge), the main players of the evening were on the table. In a blink on an eye we were into the serious red wines of the southern Rhône region: the la Nerthe Châteauneuf-du-Pape Rouge 2008 and the classic Cuvee des Cadettes Châteauneuf-du-Pape 2005. The wines were expertly decanted and prepared by sommelier James Watkins over two hours prior. The Cuvee des Cadettes was striking by its deep purple color, full body and overall balance, well appointed with an overlay of aromatic spice, vanilla extract, game and leather. There was almost too much in the glass to behold and appreciate.
I think that you can tell, it was a night not be forgotten any time soon. If not, please read more comments from Tanji Patton (click here).

P.S. For those that following VintageTexas for tips on where to find Texas wine, don't overlook our "In the hood" French restaurant L'Olivier. They feature Duchman Family Winery's Vermentino, Viognier and Sangiovese.
L'Olivier Restaurant & Bar
240 Westheimer Rd.
Houston, TX 77006
Phone :   713.360.6313