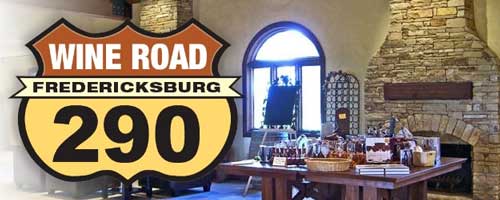 Up the Route 290 Wine Road to Torre di Pietra & Upping their Game, Too!

Several weeks ago, I described the initial part of a short August road trip (click here) on the Fredericksburg Route 290 Wine Road, starting at Texas Hills Vineyards. I got side track after promising to follow-up with a second blog post. Well, here is, the second installment previously promised.
Having left the thick concrete walls of lock in the coolness of Texas Hills Vineyard in Johnson City, Texas, my party of Texas hill country wine travelers made its assault up the 290 Wine Road to Stonewall and a little beyond to another Texas winery, Torre di Pietra.
On the way, I stopped to make a cellphone call to Don Pullum, Torre di Pietra owner Ken Maxwell's consultant winemaker, to see if he was going to be there. Unfortunately, Don was up in Junction doing his magic at another winery, but he was excited to hear that we would be in the vicinity of Torre di Pietra and be stopping by for a taste of his recent handiwork. Don rattled off his "instructions" in rapid-fire sentences.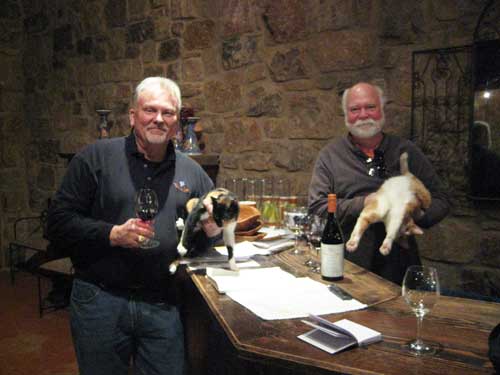 Don said, "Great to hear from you. Definitely, stop by a see Ken. Make sure that you taste the Torre's Blanc Du Bois and the Midnight Nymph, that's our Black Spanish/Touriga Nacional blend. Don't forget the three Port wines. You remember those are the ones in the cute little bottles I showed you."
The excitement in Don's voice was palpable, as I just a few moments later realized, as it should be. The Blanc Du Bois, Midnight Nymph (Black Spanish and Touriga Nacional blend) and the three Ports are wines that both Don and Ken pour with a great deal of pride. Each wine is hand-crafted and offers a unique statement of what the future of Texas wines can offer outside of the box defined by the California and west coast wine experiences.
What do I mean? Well, the wines cited in Don's instructions are all made from what could only be called "unconventional" grape varietals and blends. They are definitely not the same old Cabernet, Merlot and Chardonnay that define the wine experience of our western coast brethren in California, Oregon and Washington.
Blanc Du Bois, is a white wine grape, a hybrid originally designed at the University of Florida for hot growing regions like Texas. Within only the past ten years, growers found harvest parameters and winemakers defined cold fermentation techniques that combined to yield a grape of amazing potential for Texas wines. Even better, this grape can be grown literally anywhere in the state without fear of the mortal enemy of Texas wine grapes: Pierce's disease.
Black Spanish (also known as Lenoir) is a black-skinned grape that bleeds red juice, a hybrid that to the best of our knowledge developed (intentionally or accidently) in the vineyards of the French settlers on the east coast back in the 18th century. It came to Texas via western trade routes and Spanish trails and found a home here. Touriga Nacional is a Portuguese red-vinifera grape variety that has a legacy of performance in hot regions in Portugal  for originally making Port wines and now for incredible red table wines with the unusual combination of power and finesse. Under the hand of Don Pullum and oversite of Ken Maxwell, they have been combined into fine red wines.
The three Torre di Pietra Port-style wines were fashioned from the aforementioned same varietals into sweet nectars and awaited our sampling, too.
My party and I slipped into the subdued light of the tasting room at Torre di Pietra. Top-lit wine glasses hanging over the bar focused our attention on the locale where we would attend to Don's wine tasting directives.
We were greeted by Janice Maxwell, Ken's wife and partner in their family winery venture, and lead to the bar. She departed to find Ken who was working out back. Meanwhile, the barista cordially introduced us to the wines of Torre di Pietra.
As the Torre di Pietra 2009 Blanc Du Bois was being poured, Ken arrived and noted that we had the cool, light amber fluid in our glasses. It was refreshingly light and crisp offering notes of citrus, pear, and peach and a prevalence mineral. Ken indicated that they were pleased with the way the 2009 turned out and how well it had been selling in the tasting room despite being unconventional in terms of the standard California set.
Ken said, "Wait a minute. I'll get you a taste of the 2011 Blanc Du Bois. It's been fermenting and hasn't been clarified yet. It's got some really intense fruit character. It's probably because of the heat and drought that we've seen this summer. It's resulted in really concentrated juice in the harvested grapes."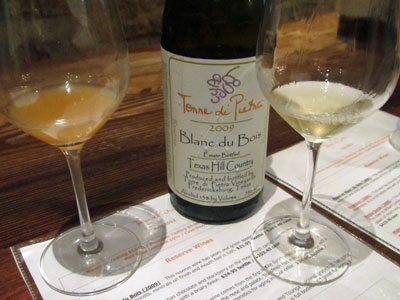 In a minute, Ken returned with a laboratory beaker containing an apricot-colored, opaque fluid. While not the most appealing presentation, I poured it in my glass and immediately I knew that Ken was spot on when the cloudy unfiltered wine hit my palate.  Tasting an unfinished wine like that required me to do something akin to peeling back the petals of a flower to enjoy its fragrance. I looked past the hazy cast and the remnant yeasty notes to focus on the dominant fruit characteristics of stone fruits, the especially targeted apricot nectar. I can't wait to taste it again when the 2011 Blanc Du Bois is released.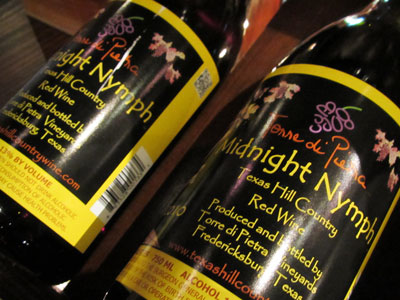 Then, we tasted the Midnight Nymph, I was surprised at its presence in the glass. While just 30 percent Touriga (balance being Black Spanish), it showed a prevailing aroma that I've come to identify as Touriga Nacional and appreciate from a previous trip to Portugal back in 2005. In this wine, it had strong notes blueberry and spice ending with a dry, crisp red-fruit taste and finish. The dominance of the Touriga characteristics, combined with the pleasant mouthfeel and weighty glass-presence of the Black Spanish, resulted in a quite satisfying red wine.
Then, in succession, we tasted the three Port wines of Torre di Pietra:
Porto Blanco – Made from Blanc Du Bois, this white dessert wine provided nuances of honeyed pear compote and underlying mineral finishing with a hint of almond, crème brulee.
Ruby Port – A blend of Black Spanish and Touriga, this medium bodied red dessert wine yielded characteristics of dark cherry and mulberry with a moderately sweet finish.
Tango Port – After 7 years of aging in American oak, this full-flavored wine provided the essence of dark berries, mocha, and carmel with a soft creamy finish.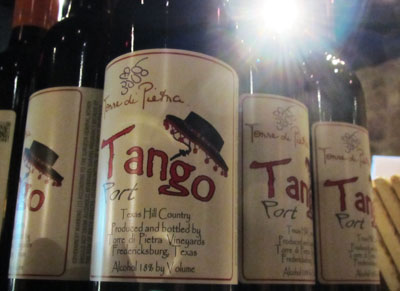 A smart marketing idea that I will have to attribute to Ken Maxwell was to bottle each of these three Port-style wines in 375 ml bottles (half the size of the standard 750 ml bottle) outfitted with a screw cap. He realized that not many people end up dispatching a whole 750 ml bottle of Port wine at one sitting, even with help from their friends. The smaller 375 ml bottles are handy, useful and far more convenient (and they're cute, too) generally offering enough for about six two-ounce pours. For a single drinker, it can easily resealed and saved for the next encounter.
I can honestly say that Ken and Don have upped their game at Torre di Pietra. Click here for more information on these wines. Click here for more information on Torre di Pietra and directions. Also, don't forget to check on the entertainment on the weekends.