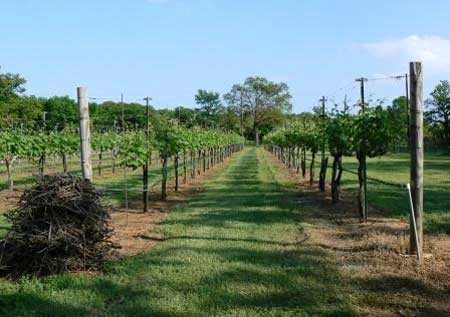 North Texas Trip Entry 7 – Lone Oak Winery, Last Stop before Home
As my previous day's travels ended, I stopped in Dennison and had dinner with friend and writing colleague, Henry Chappell. The day was getting late and after dinner we made our way to his house on Lake Texoma in time to see the last rays of winter sun glancing on the lake through the winter-denuded trees. We talked until late into the evening while sharing a bottle of a decade old Texas Cabernet in the company of his two dogs. We had a wide range of topics….wine, history, kids, corporate life, dogs, writing and back to wine; sharing stories of our past. Sleep came fast in what seemed to be minutes. I awakened to the aroma of brewed coffee which permeated from the kitchen into my bedroom acting like a chisel breaking through the bonds of sleep, unlocking my brain for another day on the road.
Legacies of the Grubb Family and Texas
Before leaving on my final day of north Texas travels, Henry fixed a country breakfast and we walked across the street from his house through short brush into a small family graveyard nearly obscured by time and the elements. The simple plot with names on raw cut headstones is the only memorial for the Grubb family that settled these wooded hills over 100 years ago. There were likely many settlers, nondescript and of modest means like the Grubbs who came to Texas from places back east – West Virginia, Tennessee and Kentucky to name but a few locales. In the 1800s, Texas was a frontier and many decided to suffered the difficulties of this rural land to establish a new life. Some succumbed and paid dearly for it with their young lives while many that remained dedicated their lives to establishing a better existence for generations to come. From these meager beginnings, Texas agricultural tradition was born and it still continues to evolve today.
Henry Renfro was also a migrant to Texas from his native Tennessee, landing here in 1853. Renfro befriended Dr. Rufus Burleson, president of Baylor University and influential Baptist minister. Renfro prospered as a farmer and rancher and, with Burleson's guidance gained prominence as a north Texas Baptist minister. Renfro acquired land in central and northern Johnson County and sold some of his holdings to Mellen Dodge for establishment of a town site.
As I progressed down the highway, the Texas town-now-city in my sites was Burleson, named for Renfro's mentor and friend. Dodge also divided the town of Burleson into blocks and lots; selling land to dozens of the area's pioneering merchants and settlers. His efforts established a growing north Texas community known for limestone, sand, gravel, cattle, cotton and now (in present times) grapes. After my early Sunday start from Lake Texoma, I arrived just before noon at Lone Oak Winery. I sat with its owner Gene Estes and we talked about his entry and efforts into the world of Texas wine that has found a new use for the areas limestone, sand and gravel.
Starting a Winery in Burleson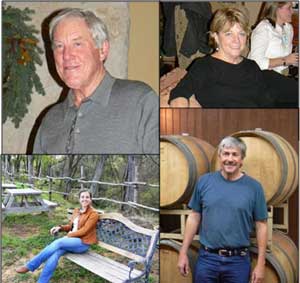 I've found that most Texas winery owners get their motivation as the result of a life experience. Gene was no different. As he explained, "I had an interest in making wine since college where I studied and degreed in microbiology. I was located back southeast and started by making fruit wines from blackberries, plums and even bananas. I expanded my talents into Muscadine wine with the help of local winemakers and studied further by correspondence. However, in the mid-1990s after a 30-year career in industry, I took an assignment in Alsace, France. For the next two years, I met local grape growers and visited wineries. I knew at that point that I needed to try my hand at real winemaking when I got back to Texas."
Gene realized that starting a winery was a big investment and he saw many Texas wineries come and go. He realized that many of these wineries did not have a business strategy. From his time spent in Alsace, however, he learned that many French wineries were smaller, family-run enterprises that were successfully run for generations. Gene said, "The Alsatian wineries had a very simple business model based on selling every bottle of wine directly from the tasting room. From this, I decided not to have unrealistic plans about getting my wines into Wal-Mart or Costco. My plan was to focus on making good wine and selling it ourselves. I realized that the main element of our success would be to draw people to our winery".
In 1998, Gene partnered to start his first Texas vineyard. It was only one acre of land and he planted lots of what he refers to as his "cold climate grapes" from his experience in Alsace. They included Riesling, Pinot Gris, and Gewürztraminer. Gene also planted hybrid grape varietals like Champanelle and Chambourcin. The cold climate grapes did not do well, and he replaced some with Syrah that continues to be a good producer even today. In 2001, Gene sold some of his grapes to Robert and Jamie Wolf at Lone Oak Vineyard. He also helped them prune their vineyard. In the meantime, Gene and his wife Judy became good friends with the Wolf's.
Gene described his path forward from there as a serendipitous win-win (or maybe wine-wine) situation. "Back then, Robert Wolf was starting his Rudy's BBQ franchise and literally had too much on his plate (no pun intended). I was especially impressed with the Lone Oak 1999 Merlot and Robert's concept of the high density Bordeaux vineyard in Valley View. So, I purchased Robert's winery assets and moved them to Burleson after I bought this property on the FM 731 right-of-way. In keeping with my business plan, I felt like this would be a great, high-visibility location just off I-35W with easy access to nearby Burleson proper. To make a long story short, Gene said simply, "It has been a story of trying to keep pace with growth ever since."
Walking the Vineyard
Gene and I walked his estate vineyard that he runs along with the original one acre offsite vineyard. He indicated that his experience with what he now calls his "warm weather grapes" has been exceptional. Gene has planted more Syrah (including an Australian Shiraz clone), Spanish Tempranillo and the hybrid Ruby Cabernet for his estate's red wines. His white grapes include Malvasia Bianca known in both Spain and Italy, and Blanc Dubois, a hybrid grape with a Muscat lineage used widely on the Texas Gulf Coast. Gene augments his estate and nearby grape growing efforts with grapes purchased from Texas growers in other locations around the state. He is particularly impressed with grapes from the expanding number of major Texas High Plains growers like Newsom, Bingham, Reddy, and Timmons who we agreed "just know how to grow things".
"We also rely heavily on the Bordeaux grapes from Robert Wolf's Valley View Vineyard," said Gene. "We have shown that we can make exceptional wines with Bordeaux grapes from this location (See https://vintagetexas.com/?p=521). The Petit Verdot has been incredible and when blended with Merlot and Cabernet Sauvignon makes a fine wine at our winery." I can attest to this fact as well (based on Robert's blending "experiments" with me at his vineyard the preceding day).
Lone Oak Winery – The Tasting
After returning to the winery, we tasted through the Lone Oak Wines starting with a pair of white wines. Their Fiore Bianco, a Blanc du Bois – Muscat Canelli – Malvasia Bianca blend, was a smooth white wine with a forward, floral bouquet. This wine may appeal to the white wine drinker looking for Texas alternatives. The semi-sweet Lone Oak Blanc du Bois had good acidity that carried a mild and palatable sweetness. This wine is made for easy sipping on a shady patio with cheese and fruit.
Gene poured two red wines made from different blocks of Lone Oak estate Syrah grapes. I could see that he was like a proud father showing off his children, yet he was trying hard not to lead me to conclusions allowing me to seek my own. The Shiraz 2007 Vineyard Block B was made from younger fruit in a rainy year that gave a lighter intensity to the color of the wine. However, aging in a combination of French and American oak made for more aroma and flavor than I first expected. This wine should actually be a delight for people that prefer medium bodied red wines. By comparison, the Shiraz 2007 Vineyard Block A was noticeably more intensely extracted resulting from these older 10 year vines. When combined with 100 percent French oak aging the taste presented a fruit-forward wine with an old-world twist expressing an earthy and complex experience on the palate.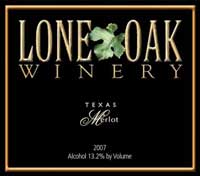 We segued into the barrel room and tried a taste of Gene's soon-to-be-bottled Lone Oak Tempranillo made from Newsom Vineyard's rich, red High Plains fruit. In obvious excitement, Gene climbed the barrel racks with his wine thief in hand searching for our taste. The Tempranillo had appealing color, a smoky aroma punctuated with traditional American Oak followed by dark berry flavors. This grape of Spain bodes well for our Texas wine future. You might say in song that "The grape of Spain grows well in this domain". I believe I've got it!
We admitted that the Texas Tempranillo was a hard act to follow, but proceeded to taste barrel samples of Merlot from two sources. The first was a 2007 vintage from a vineyard near Tokio, a city on the edge of the Texas High Plains. This wine was inky black with ripe, dark plum flavors and a deep extraction.
I commented that many Texas winemakers appear to be fearful of the extended maceration (skin contact with the juice) required to provide this type of intense red wine experience that I find currently demanded by wine consumers. Gene responded that the challenge is to extract color and intensity of flavor while not producing bitterness and this comes with experience to those that take the extra time required.
I also had the chance to taste the "real" 2008 Lone Oak Merlot only a few months in oak. This wine, while predominantly Merlot was blended with a suite of Bordeaux varietals including Petit Verdot, Cabernet Franc and Malbec. Again, the wine was similar to the one that Robert and I had "bottle blended" at his vineyard – a bit fresh and fruity, as you would expect due to its limited time in oak. The color however was that of "India Ink" as I recalled from my early school day writing exercises. It was evident that the Bordeaux varietals in this wine were starting to "join hands" to give the complete experience from the forward fruit, the important middle palate with a still developing complexity and finish.
Focus on Texas Quality
Before leaving I talked briefly with Gene about his upcoming term as President of the Texas Wine and Grape Growers Association (TWGGA). Being a member of the organization since around 1980, Gene has seen the Texas wine industry go through many changes. Gene said, "Most importantly, I want to help growers and winemakers in Texas focus on quality. We cannot afford to let the smaller wineries fall behind. We need to give everyone the opportunity to improve. The quality issue needs to start in the vineyard with growers understanding their soil type and climate and then selecting the right grape varietals for their site. We are still learning a lot of new information in Texas, need to share these experiences and, most of all, be willing to learn important new lessons."
Gene is particularly interested to see growers of other crops around the state allocate some of their less productive fields for grape growing to help recover from the Texas grape shortage caused by the recent explosive growth in the number of wineries. He likes the efforts being made in Texas to emulate warmer weather wine regions like those in Spain, southern France and Australia and the pursuit of red wines made from unfamiliar names like Syrah, Tempranillo, Malbec, and Sangiovese. However, he emphasizes his experience with Merlot and Cabernet has taught him that Bordeaux varietals can also work well at particular Texas vineyard sites and should not be abandoned.
On the Road Back to Houston
We said our farewells and I returned to the road for the final segment of my trip back to Houston. With each passing mile southward, the winter air seemed a little warmer and sultrier, and the sun hung a little lower in the sky. As I entered the Houston city limits, the odometer reading rolled past 1100 miles and I realized how big of a state Texas really is and also reflected on how big the future for Texas wine can truly be.