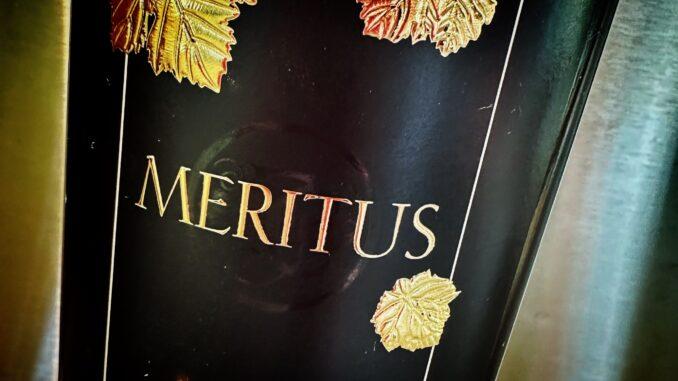 About ten or twelve years ago, I made the following statement, "Texas isn't Bordeaux and sure as hell ain't Burgundy." Well, as I've been reminded on several occasions since then, "Russ, you should eat your words."
Well, get ready because this is exactly what I'm doing, and I just happen to have the perfect wine at my side: Fall Creek Vineyards 2018 Meritus. First, a little about this very special wine.
Fall Creek's Meritus is the "beau ideal" of Fall Creek Vineyard's winemaking exploits. As the name (Meritus) signifies, it is a wine of merit distinguished by selecting the vintage's best grapes and using world-class winemaking techniques culminating with 18 months in French and American oak barrels and four years of bottle age in my wine cooler.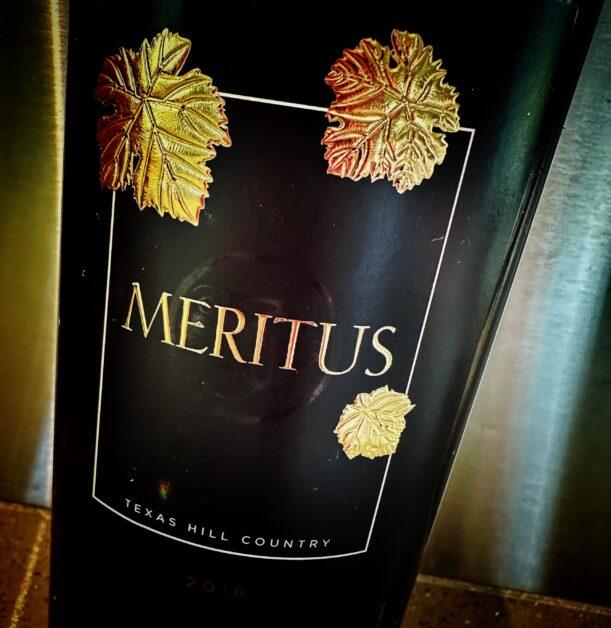 2018 Meritus – The First Taste
Firstly, I can attest that the Fall Creek Meritus had a near-opaque, ruby-black color looking thick and rich, and full-bodied. The aromas and flavors were bold with generous dark-berry fruit and black cherry notes arising over cassis and ripe plum. Closer exploration while it settles in the glass finds mint and cinnamon, and a finish of soft silky tannins.
The T-Bone Steak that Followed Me Home
Secondly, what started this episode was a visit to Whole Foods were I spied a nearly two-pound, nicely marbled, T-Bone steak. I think it had a sticker on it that said "BuyMe" or maybe I just imagined it; I had been thinking a lot about T-bones recently. Anyway, the steak did follow me home and I allowed to warm up on my kitchen island for about two hours. This gave me time to select the best steak-pairing wine that I could find from the available bottles in my wine cooler.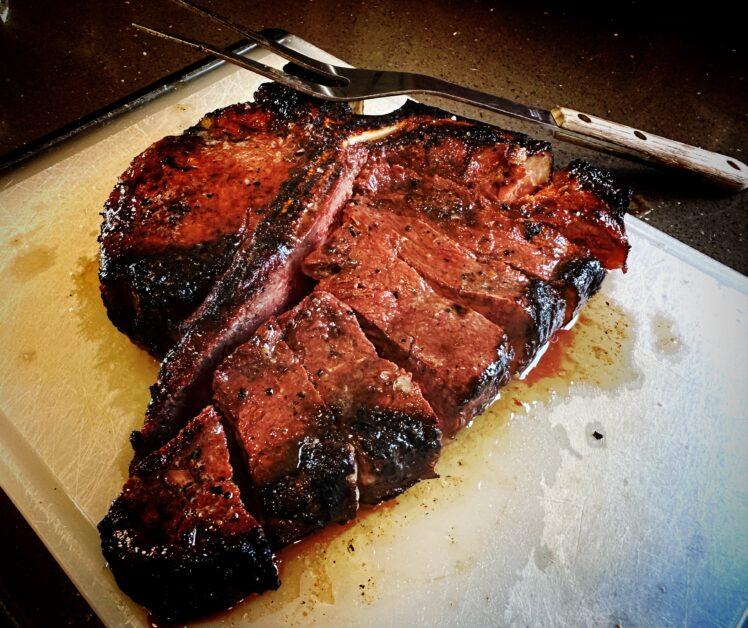 Why is Fall Creek Meritus So Special?
Meritus is a Bordeaux-style blend that melds the power of Cabernet Sauvignon, the finesse of Merlot and the body of Petit Verdot in percentages of 50%, 37.5% and 12.5%, respectively, in this 2018 vintage. The wine was made from a few of the Texas Hill Country's most distinguished vineyards: Merlot and Petit Verdot from Alphonse and Martha Dotson's Certenberg Vineyard in Voca, and the Merlot from near by Salt Lick Vineyards and Oxbow Vineyards both just west of Austin just about a stone's throw from the Fall Creek Vineyards tasting room in Driftwood.
OK, It's Time to Eat My Words Using a Reverse Sear
Ever heard of a "Reverse Sear" as a better way of cooking steak? If not, it's about time you did. Rather than throw your meat into a plasma-hot skillet straight-away like most people do, let's reverse that.
First, preheat your oven to about 225 F, place your (room temperature) steak on a wire screen in a shallow baking sheet, and slide it into the oven with a meat thermometer inserted in the meat's central location. Set the thermometer alarm (or manually check it with a instant-read thermometer) for an internal of 120 F. It will usually take from 30 to 60 minutes to reach temperature depending on the thickness and size of the steak.
In my case, the T-Bone steak was just shy of two pounds and just a little more than 1.5 inch thick. Once the meat reaches a 120 F internal temperature, I apply coarsely ground salt and pepper to each side (with a little garlic power for good measure). Only now, can the steak be thrown it into the very hot cast iron pan (that you've been dying to use) but [IMPORTANT] just 30-60 seconds per side.
In this case, I've evolved the reverse sear method to get smoke flavor into the meat by substituting my DynaGlo vertical smoker for the 225 F oven, and my 700 F outdoor Ooni pizza oven for the hot cast iron pan. Either way, the reverse sear method results in a beautifully medium-rare steak from surface to surface. Gone are the overcooked top layer and raw center often produced by the old fashioned steak-cooking process often gives you.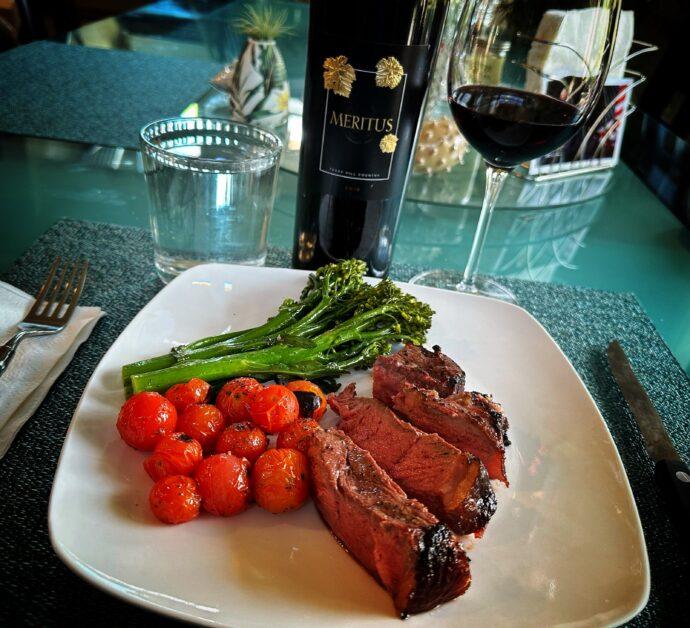 The Wine and Food Pairing
Bring all this together was great fun, especially because I had an A-list wine like the Fall Creek Vineyards Meritus in my wine cooler and wonderful T-Bone steak to pair together. Give the reverse sear steak cooking method a try and you will not be disappointed. It's not hard to do, and so is the wine pairing if you happen to have a supply of Fall Creek Meritus in your wine cooler. Since the Meritus is currently a FCV Wine Club offer only, my suggestion is to go with the Fall Creek Vineyards GMS (Grenache, Syrah, Mourvèdre) Terroir Reflection, Salt Lick Vineyards, Texas Hill Country 2019, which has been one of my go-to wines for my wine classes for many vintages, and it's available at the winery and for online purchase, too.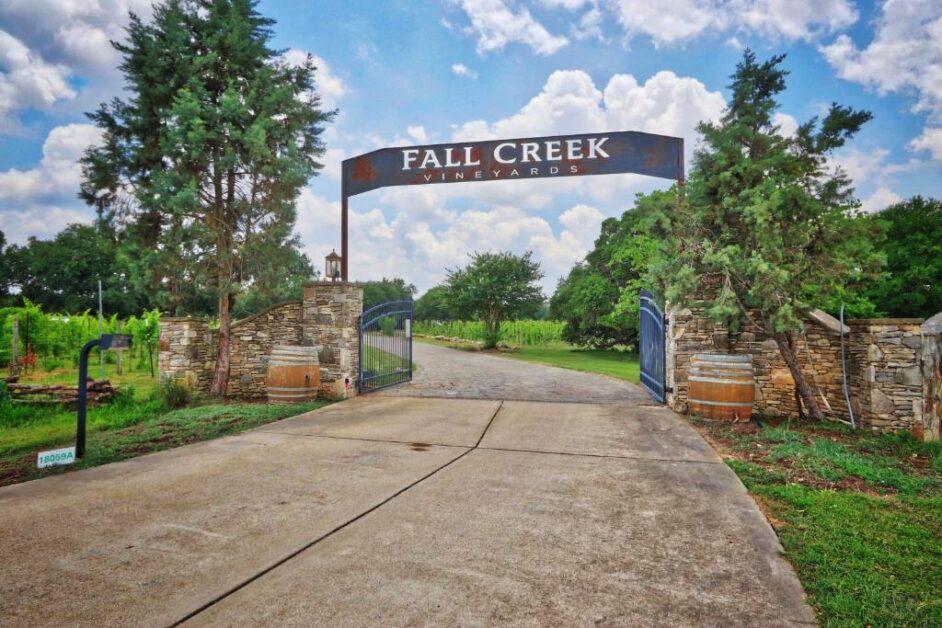 Visit Fall Creek Vineyards
To visit Fall Creek Vineyards and experience their wines, check out these locations:
Fall Creek Vineyards in Driftwood | Texas Hill Country Wine Tasting – 18059A FM 1826, Driftwood, TX 78619
Fall Creek Wine Country Inn | Spend the Night at the Winery – 18059A FM 1826 Driftwood, Texas 78619
Fall Creek Vineyards in Tow, Texas | Texas Hill Country Wine Tours & Wine Tasting – 1820 County Rd. 222 Tow, Texas 78672
For more information on these visit options and details on Fall Creek Vineyards wines, click here.