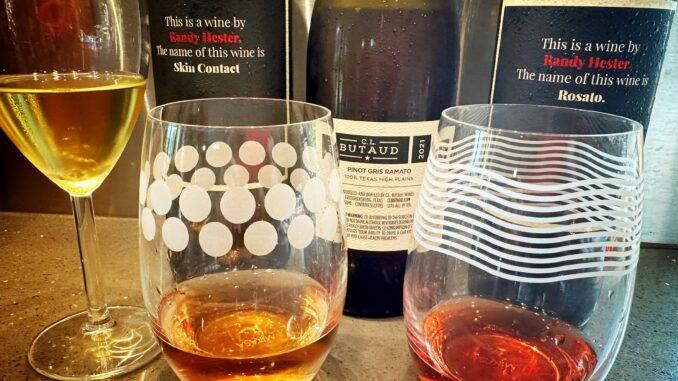 Just when you think things are standing pat with no new twists in sight, here comes C.L. Butaud winemaker Randy Hester with this magic. The treats I have for you today are three "Randy-styled" wines to ignite your summertime wine drinking, and they prove that he really does have "skin in the game".
From his Austin-based winery, Randy is always ready to infuse his winemaking passion and creativity. The results are usually something a bit different. Some may call it offbeat, while others refer to it as unique, still others call it cerebral yet exciting. Either way, as far as I'm concerned, it's just plain old "Randy's Magic". You just have to expect the unexpected, and just be ready for a summer of fun and enjoyment.
To paraphrase what it says on his wine bottle labels, "These are wines by Randy Hester!" Check out the three wines below from C.L. Butaud (made from a Trebbiano, Pinot Grigio, and a Counoise that prove Randy's got "a lotta skin in the game" and in his wines.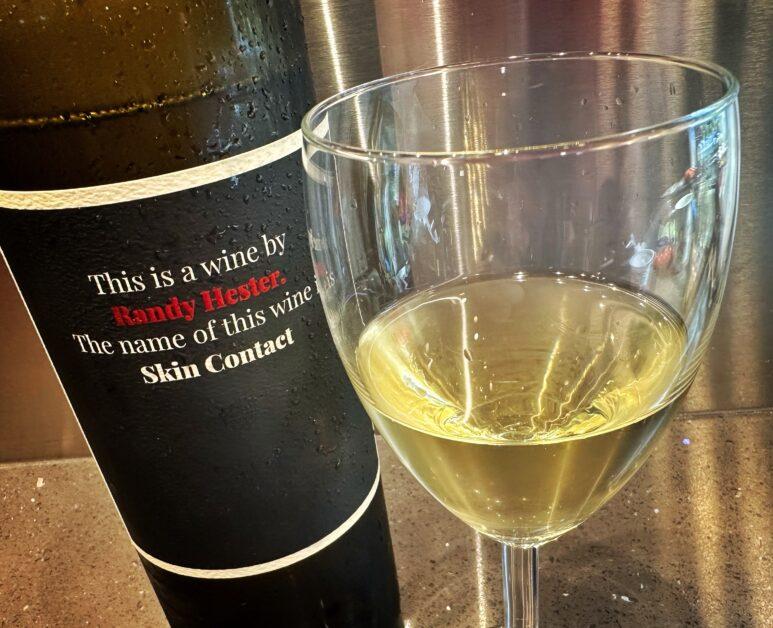 "Skin Contact" 2021 Trebbiano, C.L. Butaud, 100% Texas
You might catch from the name of this wine, that Randy has made grape skins a featured attraction in this wine. Most everyone I know making Trebbiano wines in Texas (or just about anywhere) go straight for the classic "light and bright" style, get the juice off the skins quick and stick it in a tank to ferment. However, this is not the way Randy does it.
First out of the glass, Randy's skin contacted "Skin Contact" brings pineapple and fresh, green herbs, layered with lemon and green apple. The palate is still brisk with acidity but tempered from aging on the lees in new French oak. The flavors are driven by citrus, tart melon and lemongrass.
Randy brings out these components not found in other Trebbiano wines with a process of extended skin contact like used in red winemaking. The fruit was de-stemmed and layered into a fermentation tank just like a red wine (now that's different) and left to pre-fermentation cold soak that extracts skin tannins, and add complexity to the aromas and flavors. After fermentation with wild native yeasts, Randy's "Skin Contact" Trebbiano is aged on the lees in 50% new French oak barrels and 50% stainless steel barrels and bottled unfined and unfiltered.
If you like crisp Chablis or a good White Burgundy, you'll find this wine to your liking. Chill and pair this wine with fish or fowl or pasta in a butter or cream sauce.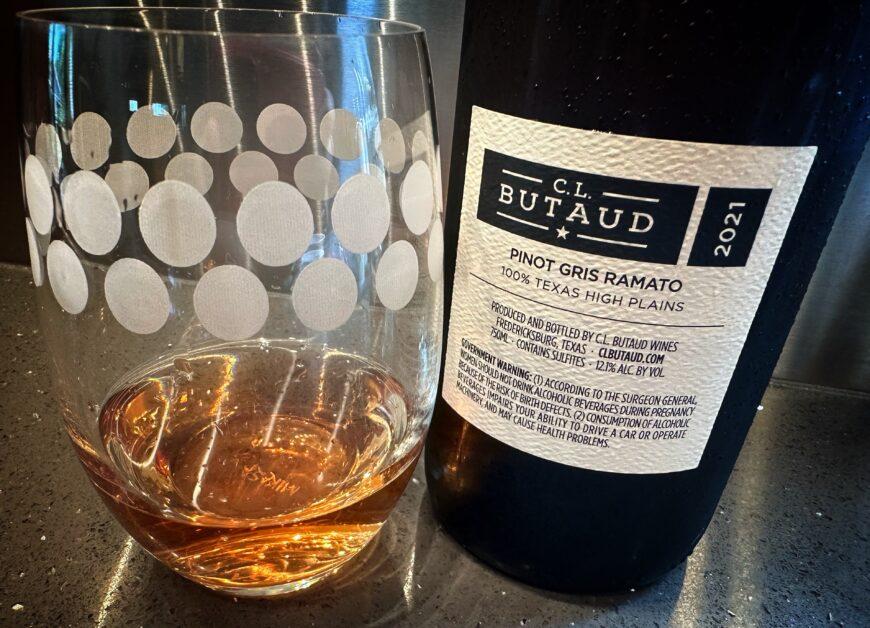 "Ramato" 2021 Pinot Gris, C.L. Butaud, 100% Texas High Plains
First off… No, Ramato was not the name of the catch for the Cleveland Indians back in the 1960s. That was Johnny Romano.
Ramato is an Italian style of making wines from Pinot Grigio grapes with a tradition dating back hundreds of years in the Italian wine region near Venice. Ramato is made almost exclusively with Pinot Grigio grapes using the historical skin-contact winemaking process of the region.
This lively Pinot Gris will continue to evolve with time, but for now Randy says, "It's like a charcuterie board in a bottle. It is bone dry and approachable with ample savory influences and soft florals. Mineral notes also play a large role in the sensations of this wine, from the warm sand aromas to the briny finish. It yields chalk on the first taste, then white flowers and apple on the nose with an herbal note, too. You feel dryness and texture on the palate with flavors of persimmon, ginger, and dill with dried citrus rind on the finish.  
Once picked, the fruit was macerated with its juice in a low oxygen environment and fermentation is allowed to begin spontaneously. The extended skin contact produced the copper color with unique tastes and textures. Randy was the first Texas winemaker to make a skin contact Pinot Gris in the tradition of northern Italian Ramato and this is his 4th release of it.
Pair this wine with roasted or grilled chicken, shrimp or salmon. Prepare it any way you want… you can't go wrong with this wine.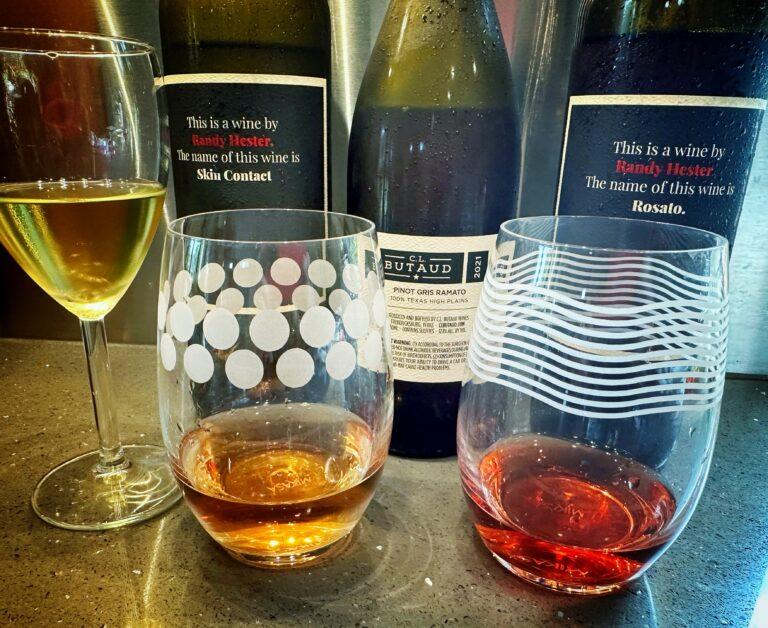 "Rosato" 2022 Counoise, 100% Texas High Plains
From the moment this wine enters the glass, it's captivating. The watermelon color is somewhere between pink and red, and if you hold it up to the light just right, it shows off a hint of metallic purple. Again, something new for me.
The Counoise grapes were destemmed with whole berries added to the tank and kept cold soaking and finally allowed to enter native yeast fermentation on Day 10. The wine was then pressed off of the skins on Day 14 then fermented to dry in tank with malolactic secondary conversion.
This is a wine made for shear summer fun and enjoyment! It brings some of that old world earthiness and gaminess, melded with aromas of cranberry, mushroom, forest floor, and spice. There's a gentle tannic grip and fresh acidity as underpinnings for its clean, fresh fruit, and even a lick of peppery spice.
Backstory Alert: Randy credits Ben Brenner and Matt Nagy of Benevolent Neglect Wines, old friends from his Napa Valley days, for this wine. Randy says, "They came to Austin and I couldn't get enough of their Italian inspired Rosato that fit right into our summer scene. When I found out it was made with Counoise, I was hooked. "They felt the same about our carbonic maceration Counoise, so in 2022 we made a skin contact Counoise and they used carbonic maceration, and the inspiration from their visit to Texas continues in both of our brands."  
Chill this wine well before serving make sure you have a well-prepared Charcuterie selection of soft and hard cheeses, meats and sausages, and dried fruits & figs to enjoy with it.
— — — — —
If you are in the Austin area, please make time to take a visit to C.L. Butaud Wines and experience Randy's wines:
Friday: 3-7 pm
Saturday & Sunday: 12-6 pm
12345 Pauls Valley Road (at Fitzhugh)
Austin, Texas 78737
To schedule a tasting, click here.