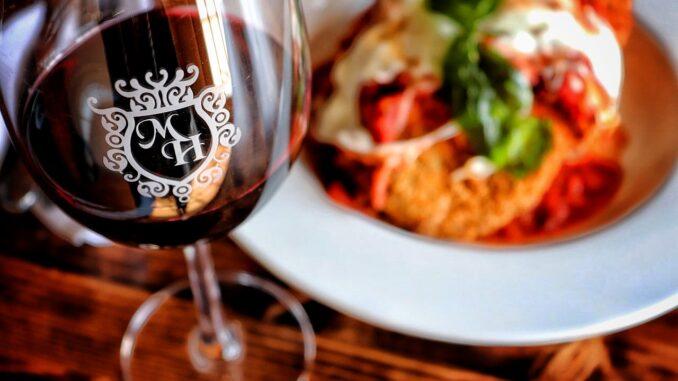 Just in time for spring, Messina Hof Winery's Vintage House welcomes guests to try its revamped menu, that continues the tradition of its renowned Vineyard Cuisine™. This approach to fine dining takes Messina Hof's award-winning wines and pairs them (and, in many cases even cooking with them) together with fresh herbs and vegetables harvested directly from the estate's gardens. Guests can enjoy this experience for breakfast, lunch and dinner. 
My recent trip to Messina Hof's Winery in Bryan to sample the innovative new cuisine at their Vintage House was a bit nostalgic. The reason for my reflection was, 27 years ago only a year after the restaurant was opened on the Messina Hof Winery Estate, my wife and I went there for a winemaker dinner event to celebrate the newly formed Houston Chapter of the Wine Society Texas with several other WST charter members. That event was hosted by winery founders and owners Paul Victor and Merrill Bonarrigo.
Recently, the restaurant's ivy-covered facade intimately facing the estate vineyard was much the same as I recalled it was in 1996. While our initial visit was in summertime when the vineyard was hanging heavy with blue-black Lenoir (aka Black Spanish) grapes, this visit came in early Spring with leave just emerging in multicolor radiance.
This year's reunion with Messina Hof's Vintage House Restaurant brought us together for dinner with Paul Mitchell Bonarrigo, son of Paul V. and Merrill and the family's seventh-generation Bonarrigo winemaker, and his wife Karen who together have taken over winemaking operations and management of Messina Hof winery.
While the restaurant maintains its cellar room panache, the revamped Vintage House menu features dishes like the tantalizing Pecan Crusted White Fish, a pecan-crusted white fish filet with Sémillon lemon butter and wilted spinach, fan-favorite Grilled Ribeye, a hand-cut grilled Ribeye with garlic Gewürztraminer chimichurri, roasted garlic chive mashed potatoes and seasonal vegetables and the crowd-pleasing Table-Side Flambé available in Bananas Foster, Cherries Jubilee and Strawberries Romanoff. With Messina Hof being the wine winningest Texas winery, these incredible menu items are all paired with the winery's award-winning wines.
Prior to dinner we had a selection of appetizers selected from the menu that included: Truffle Mushroom Arancini in a blended Merlot Marinara and Chardonnay sauces, Mama Rosa Meatballs with Merlot Marinara sauce, and my personal favorite Honey Crusted Baked Ricotta with Gewürztraminer herb honey with thyme, crispy garlic and lemon peel. After a comment from Karen that the Chicken item on the menu was big enough with flavor to pair with red wine, I was all in and ready to order… although, the Grilled Ribeye was extremely tempting. I ordered the Gorgonzola-stuffed Chicken Breast complete with truffle oil and mushroom risotto and a Chardonnay Gorgonzola cream sauce.
With appetizers and dinner we tasted a sampling of Messina Hof wines including: Sparkling Rosé, Bonarrigo Heritage Select White Blend (of Trebbiano and Pinot Grigio), and Chenin Blanc (Texas High Plains, Lepard Vineyard). These were followed by three Messina Hof red wines: Mourvèdre Artist Series, Petite Sirah Private Reserve, and Estate-grown Sagrantino.
Dessert consisted of a flambé of Bananas Foster prepared table-side and paired with Messina Hof Orange Muscat Mistella (Late Harvest).
If you are living in or planning to be in the Greater Houston area, you should look forward to making Messina Hof's Bryan, Texas estate a great addition to your Spring trip planning as the property has three memorable features to enjoy. Guests are welcomed to savor Messina Hof's award-winning wines in its Tasting Room, relax and restore with overnight stays at The Villa Bed and Breakfast, and experience its Vineyard Cuisine™ at its award-winning restaurant, The Vintage House.