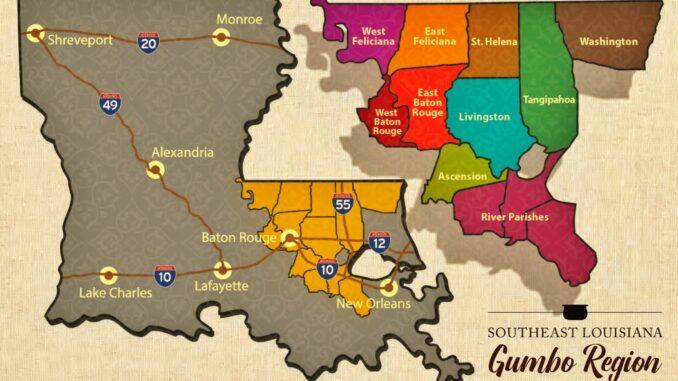 The Southeast Louisiana Gumbo Group came back in town to visit us in Houston and they really let the good times roll for a media lunch at Ruth's Chris Steakhouse. This year, featured artist Amanda Shaw  brought her fiddle and sang lively Cajun songs. She was joined by regional chef Chef Chris Motto to share his particular gumbo recipes and gumbo-making tips, resulting in a luncheon that was a Southeast Louisiana extravaganza of tastes and sound!
You might ask, "Russ, why are you covering this Southeast Louisiana Parishes visit to Houston?" Well, I'll give it to you in just a few words… "Recently, I was wondering what wine(s) would I pair with a nice warm bowl of gumbo. I was perplexed by the cacophony of ingredients and flavors found in gumbo, make it not an easy approach for many of us who are inclined to serve wine."
To approach a wine-gumbo wine pairing, there's a rich and long standing culture surrounding Louisiana gumbo that needs to be considered. For starters, in Louisiana Creole, this dish is known as "Gombo". It consists of a flavorful stock made with meat and/or fish (in the classic preparation it could be fish heads or normally discarded parts). The stock is then combined with what is known as the "Creole Holy Trinity": celery, bell peppers, and onions. It can be further defined by the type of thickener used (more on this later), or whether okra, filé powder or sassafras leaves are included. You should already be able to see that with this large variety of ingredients, wine pairing has to be anything but routine, something that causes many people to default to beer. More on pairing later, but now back to the luncheon and our hosts…the Southeast Louisiana Parishes.
I was greeted at the door at Ruth's Chris Steakhouse by Tico Soto, a joyous, bearded and baldheaded man, sequined with an intense sparkle dotting him with every one of the three Madi Gras colors (purple, yellow and green). I was feeling really snazzy that day with my purple pants and green teeshirt (I've got nothing in yellow), but standing there next to Tico, I must admit that I felt like I did not arise to the occasion like he did.
We started the luncheon with a splash of sparkling wine and then the music started. Following this, we were welcomed and listened to presentations describing each of the unique Southern Louisiana Parishes (click here for descriptions and cookbook). Then, the gumbo was served followed by classic Ruth's Chris steaks that we all know and love, likely sheared at a "gabillion" degrees yet cooked to perfection inside. We also had a Gumbo cooking demonstration by Chef Chris Motto (featured on Season 8 of Hell's Kitchen), who cooks in the Baton Rouge area and showcases different cultural influences in cuisine.
If we are going to talk wine and gumbo pairing, let's first understand what gumbo is. The base for the soup is an amalgamation of centuries-old cultures that converged in Southeast Louisiana like no other single place in the world. You would have to travel to four or five countries to experience the totality of what is found in a bowl of Louisiana gumbo. In this case, the place – the Southeast Louisiana Parishes, have been called "the greatest pantry of raw ingredients that God has ever given anyone," the French and Spanish, Africans and Caribbeans all lent their magic to create Cajun, Creole, and other styles of cuisine. And, from this, gumbo was born.
Many people judge gumbo based on one defining feature of gumbo, the thickener… the Roux – dark or light. It actually comes in four types: white, blond, brown and dark brown. They all contain the same ingredients —equal parts flour and fat (Chef Motto prefers rendered chicken fat) — but the colors differ based on how long you cook the mixture going from white to dark brown, thus producing light to dark gumbo. You might factor this into a selection of wine as, in many cases, white and lighter wines generally go with lighter fare and reds and heavier wines go with darker fare.
But wait, it's not that easy, there is a heck of a lot more to consider in a bowl of gumbo. While the "holy trinity" of celery, bell peppers, and onions is a constant, it's the meat (usually chicken or andouille sausage), fish or shellfish that should also be factored into the final wine selection, as well as the degree of infused cayenne or tabasco spiciness.
For pairing gumbo with chicken, fish and/or shellfish my recommendation is to stick with light and crisp white wines like Albariño (the seemingly universal seafood wine), but you might also find Sauvignon Blanc and excellent pairing. An equally good option is to keep your wine selection local (i.e. East Texas and Gulf Coast) and go with a light, dry locally-made Blanc Du Bois. Picpoule Blanc would fit the bill here, as well.
As the degree of spicy heat in the soup increases, consider exploring alternative white wines like slightly sweet versions of Riesling, Chenin Blanc, Muscat, Blanc Du Bois or an aromatic Viognier (but keep the alcohol low).
As the roux darkens and when sausage or other dark meat is included, you can easily switch to a red wine, but keep it dry, fruity and low in tannin (no or only limited oak aging or a fruit-forward red wine made by carbonic maceration would be a plus). Lighter bodied red wines like Texas Grenache or Counoise might also be good options.
One classic approach is a lean Oregon Pinot Noir and another is a French Cru Beaujolais. But, I tend to go more regionally with fruit-forward juicy or jammy red Texas wines like Syrah, Petite Sirah or a soft Merlot (again keep the tannins and alcohol low).
Well, that's all there is to wine pairing with bowl of Louisiana-style gumbo with enough options to keep you busy through many bowls of Louisiana gumbo. Just remember to keep it regional if you can with Texas wine pairing with Louisiana gumbo. Also, plan to pay a visit to the exotic land nextdoor…Southeast Louisiana, only a short drive away. It's a cuisine-rich country that seems to come from half the world away, but it's actually just next door! Click here for more information, and plan your trip and enjoy. Or, create your own Louisiana gumbo with the recipe provided below and find a Texas wine for a true regional delight.