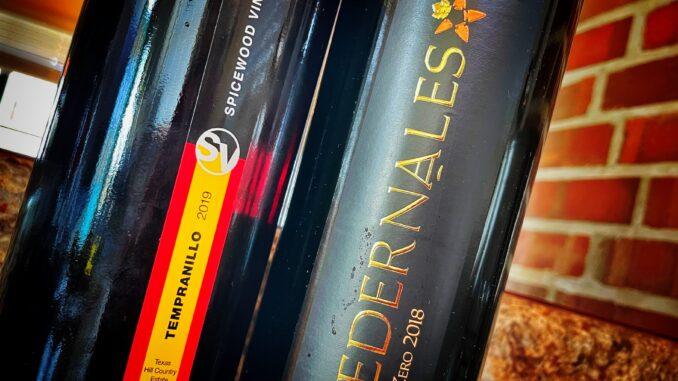 Finally, in the Texas hill country, the weather has cooled down to the point where we can enjoy the outdoors, dining and wine together again. Today, we are making two stops where we can enjoy them both; first, Spicewood Vineyards just off Route 71 west of Austin and then on westward to Route 290 trail to Pedernales Cellars near Stonewall, about half way between Johnson City and Fredericksburg. Now, your next question should be… What are we going to taste?
Let's start at Spicewood Vineyards where it is going to be one of winery owner Rob Yates's favorites, his 2019 Spicewood Vineyards Estate Tempranillo (Hill Country AVA) with its label paying honor to the red and gold of Spain. I'll clue you into something else. It has also been one of my favorites over many vintages since I first tasted it early in the 2010s. Rather than tart red cherry and crisp acidity as you might get from the Texas high plains, this wine leads with concentration of black cherry, plentiful but balanced tannins and a medium-plus-bodied splendor gained from the hill country's growing conditions accented with hints of Mediterranean herbs between mid-palate and the finish.
At Pedernales, we are tasting a bit of modern Texas wine history in the Pedernales Cellars, 2018 Bock Zero, red blend. 2018 was a grand vintage for Texas, but for Julie and David Kulhken – brother and sister duo that run Pedernales Cellars – it was a bittersweet harvest on their estate vineyard near Fredericksburg. "We are thrilled but also feel a bit of nostalgia in releasing the 2018 Block Zero. It will be the last time we will do so," said Julie Kuhlken. "Block Zero was the original vineyard planted by our parents in 1995. As part of our current project of replanting; however, we decided not to replant that section of Kuhlken Vineyards."
So, now is the time to get what you can to drink up or cellar. With the decline in Block Zero production, there was a need in 2018 to add grapes from other vineyards. In total, the blend encompasses grapes from Kuhlken, Parr, Lahey, and Newsom Vineyards. It is almost entirely comprised of varieties originally in this block, but augmented with a little Tannat and Malbec resulting in 49% Merlot, 22% Cabernet Sauv, 10% Tannat, 14% Sangiovese, 5% Malbec.
The 2018 Block Zero is a medium-bodied, aromatic wine, characteristics that it shares with Pinot Noir. There are fruit notes of cherry kirsch and cola, that meld with leather, menthol, green peppercorn with bright acidity and soft tannins.
Both of these Spicewood and Pedernales wines are made for outdoor gatherings and alfresco dinning this Fall. They complement just about anything beef, pork, game or cheesy, and especially grilled, BBQ'ed or smoked meats. Set-up the lawn chairs, set the picnic table, invite friends and/or family, light the grill, and pour some comforting Texas red wine.
If you care to recreate this two-winery tasting experience complete with winery visits, it will make for a leisurely and rewarding afternoon trip. The wineries are only about 45 minutes apart by car going from Spicewood Vineyards on Routes 71, 281 and 290 until you see the Pedernales Cellars road sign. However, you can delve off the more direct path to a more scenic road less traveled by turning right while heading south on Route 281 onto TX 1323 before you get to Johnson City. From there, follow TX 1323 to TX 1320 to TX 2721 then TX 1623 to Route 290 at Stonewall. It will only add about 10 or 15 minutes to the drive, but it will be a much more enjoyable ride.
Click the following links for more details on Spicewood Vineyards and Pedernales Cellars, their hours and wines.