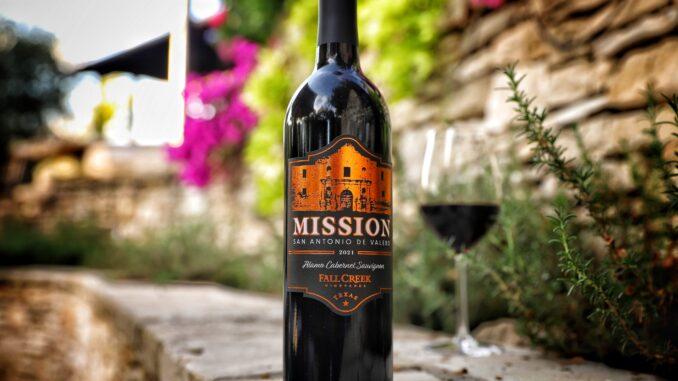 Fifth-generation Texas rancher, avid Texas historian, and co-founder of Fall Creek Vineyards Ed Auler wanted to make a special wine as a tribute to the brave souls who fought and gave their lives for the sake of our Lone Star State in 1836. Ed Auler said, "With the release of this wine, we seek to help highlight and preserve a most cherished shrine to Texas liberty, the Alamo."
The wine Auler will release on October 30th, is Fall Creek Vineyards 2021 Mission San Antonio de Valero, Alamo Cabernet Sauvignon, a limited-edition wine that celebrates Texas history and heritage. Some of the grapes used in this wine were harvested from Fall Creek at Driftwood's Oxbow Vineyard, land originally owned by Texas patriot William B. Travis.
Fall Creek's Alamo Cabernet Sauvignon is an interesting and celebratory, medium-body wine with soft tannins and moderate alcohol (13.8% ABV) made for easy enjoyment. From my tasting, Alamo Cabernet brings ripe black cherry, dark plum, spices and pleasantly light oak nuances. According to Fall Creek Director of Winemaking, Sergio Cuadra, "This wine creates a perfect harmony between fruit and acidity. We made it with 75% Cabernet Sauvignon, 17% Merlot, and 8% Tempranillo and it was aged one year in 32% new French and American oak barrels before being bottled."
Production of this special edition wine with the iconic "Alamo" graphic on the label is limited with about 550 cases made. This wine was made for an important purpose. A portion of the proceeds from the sale of each bottle of "Alamo" Cabernet will go to supporting the Texas General Land Office's restoration, operation and maintenance of the Alamo. 
The 2021 Mission San Antonio de Valero, Alamo Cabernet Sauvignon will be released on Sunday, October 30 and will be available for purchase at Fall Creek Vineyards as well as through select retailers and restaurants across Texas.
— — — — —
Fall Creek Vineyards, founded in 1975, is located on the northwest shores of beautiful Lake Buchanan at Tow, Texas, and at the gracious winery and vineyard in Driftwood, Texas. As one of the founding families of the Texas wine industry, Fall Creek Vineyards has made exquisite wines with grapes sourced from its estate and farmer-owned vineyards in the Texas Hill Country and west Texas for four decades. Additional information on this wine release and the winery is available at the website: www.fcv.com.