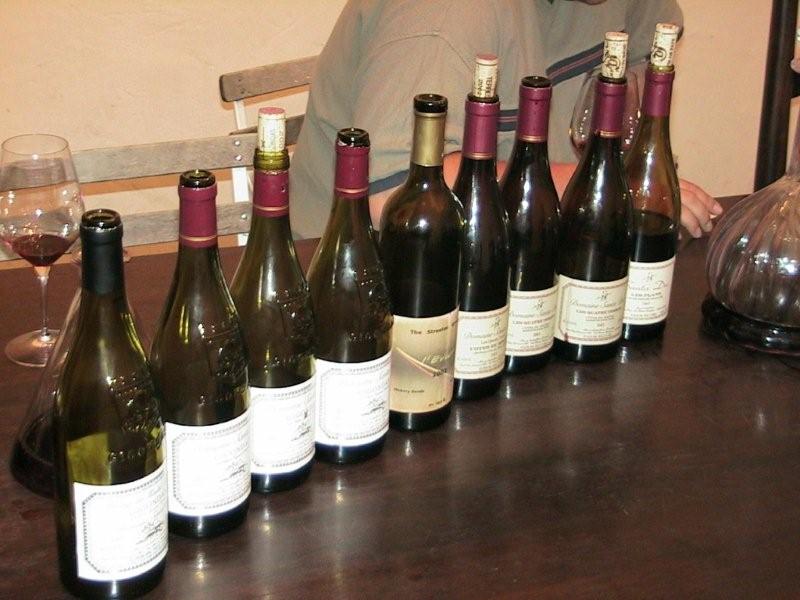 After spending a day in Chateauneuf de Pape and a tasting at Chateau le Nerthe, we drove on to Gigondas farther up the road. The wines from this area are some of my favorites, a little lighter than found in Chateauneuf with a delightful interplay of darkberry fruits, dry dusty earth, and acidity that craves lamb and game.
I had already sought an audience with one of the key wine makers in this region – Yves Gras the owner and fourth generation winemaker at Domaine Santa Duc – and had scheduled a tasting. We arrived to find a small winery with a 22 hectare vineyard of old-vine Grenache with Syrah and Mouvedre on the edge of the Dentelles de Montmirail, a high ridge of limestone outcroppings.
When we arrived, Gras and his friend from Germany were inside sitting at a tasting room table with a few opened bottles of Santa Duc's recent cuvees. We talked a bit and we presented him with the bottle of Don Pullum's (consultant Texas wine maker) L'Evier, at which point we were joined by two men in the wine business from Lyon.  After tasting a selection of recent vintages (1999 thru 2002) from Domaine Santa Duc, Gras opened the L'Evier and began swirling, sniffing and sipping. With a somewhat astonished but approving look on his face, he then poured some for the rest of his guests.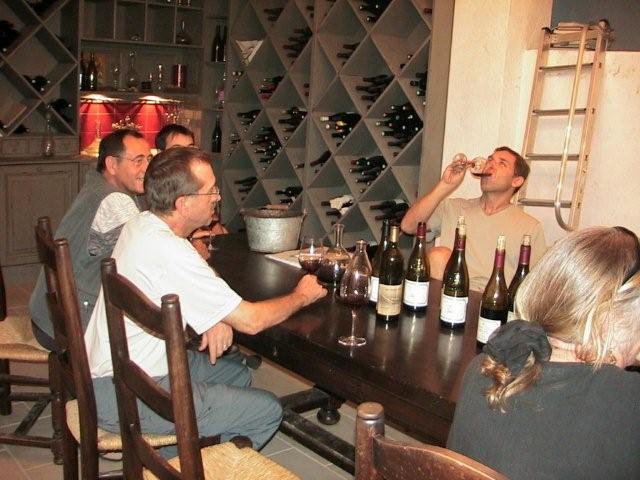 From that point on, the focus of the conversation was not the wines from Santa Duc, but the Texas wine. In bilingual French and English we conversed about where these grapes were grown, the appellations of Texas, and of course…..terroir.
They were most astonished that a wine with such flavor and aroma, came from vines on only their fourth leaf, merely "enfants" on the French viticultural scale. They predicted that with wines like this, Texans will certainly be joining the "majors" of wine production in the coming years.
Actually, when we returned to Houston, I finally clued in Don Pullum as to where I had taken his wine. He responded by saying, "Oh, my! Had I known you'd be tasting my L'Evier in the company of Domaine Santa Duc wines, much less personally with Yves Gras, I'd probably not have given it to you. Santa Duc's 98's and 99's were rated in the 90's by the Wine Spectator. Their 2004 Gigondas scored an 91!." But, none the less, Don was very pleased with the outcome.
The afternoon at Santa Duc proceeded to go from delightful to somthing more like surreal!
We were joined by a tour group brought by a California winery representative expecting to taste Gras' wines. Then, the most amazing thing happened. Once everyone in the growing group was introduced and had a chance to get situated, Gras certainly surprised us by pouring another round of the L'Evier and telling the Californians that they really needed to try this wine from Texas.
Needless to say, this raised a few eyebrows. After the tasting and a short vineyard tour, the Californians bid farewell and presented Gras with a bottle of their wine. After they left, we noticed that he placed the bottle on a rack with a growing stockpile of about 20 more bottles of wine that had been recently presented to him by touring parties.
In reflection, we found the people of this wine region much more open to our Texas wines than expected and that they were especially able to identify with our TexMed wines (Mediterranean varietals and blends) that have a commonality with theirs.
In addition, we also came away with a better understanding of what "wine culture" really means. Winemaking in this region of France dates back to pre-Roman times. Through the millennia it has evolved into something deeply rooted in the lives of its people that supersedes even the politics of the moment.
Most importantly….Texans, be proud!
You don't have to apologize for drinking Texas wine. Just listen to the French.