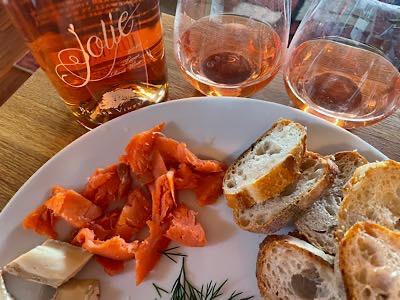 The Texas Hill Country Wineries are spectacular, interesting and fun, and believe it or not, they are attracting one million annual visitors. In this and once a week on VintageTexas.com, we are going to take a whirlwind trip, making stops at several Texas hill country wineries, tasting all the way. Some wineries you will know, but others may be new to you. Either way, I know you will enjoy the "trip" and you are bound to find some wines you'll like. So let's get started.
Our first stop is at Becker Vineyards in Stonewall, TX. It's a name you will likely recognize. In 1990, Dr. Richard and Bunny Becker were searching for a hill country getaway and purchased a log cabin on 46 acres of raw land that in 1996 became the site of Becker Vineyards and their winery. Today, they are known for award-winning Bordeaux, Burgundian, and Rhone-styled wines and are one of the largest premium wineries in Texas.
As summer approaches, you should seriously be considering a glass of dry rosé in your hand. You can find one of the best at Becker Vineyards – It's their Becker Vineyards 2019 Jolie Rosé. It is a multi-varietal, multi-vineyard blend that is made by the saignée method of "bleeding" juice from ripe red grapes. In this case, the juice is only allowed limited skin contact to produce its salmon-pink color, and to make a delicate, aromatic, yet savory tasting wine. This wines dominance of Syrah and Tempranillo (French and a Spanish derived grapes) bring red fruit and savory notes. These are combined with three more grapes – Mourvèdre, Grenache and Cinsault – that bring crisp acidity and floral characteristics.
The 2019 Jolie brought together grapes from several vineyards. The Tempranillo and Mourvèdre came from Farmhouse Vineyards (Meadow, TX), the Syrah was from Lahey Vineyards and Hill Vineyard (Brownfield, TX), and the Grenache and Cinsault from Tallent Vineyard (Mason County, TX).
Rosé wines like this one go particularly well with a variety of hard and soft cheeses, charcuterie, and (my favorite) smoke salmon and dill. That said, rosés are extremely flexible food-friendly wines. They also pair with simple foods such as hamburgers and pizza, but can also accompany baked or fried chicken, salads, shrimp and fish. As Summer approaches, think rosé.
Becker now employs over 50 people and cultivates approximately 56 acres of estate fruit. In addition to wine tasing and production facility tours, winery visitors can enjoy the winery's spacious outdoor tasting and entertainment venue, lavender fields and seasonal flowers. Becker Vineyards staff also offers elevated tasting experiences such as The Art of Food & Wine Pairings, Riedel Wine Glass Tastings, Reserve Library Tastings, Chef Table Luncheons, Wine & Dine – Dinner at Becker Vineyards, and Lavender Fest. And, don't forget they also have a tasting room in downtown Fredericksburg, TX.
Estate Winery & Tasting Room
464 Becker Farms Rd
Stonewall, Texas 78671
830.644.2681 x 502
Main Street Tasting Room
307 East Main Street
Fredericksburg, Texas 78624
830.644.2681 x 322
See you soon for the next stop on our hill country winery tasting tour. For more information on the approximately 50 hill countries click here.