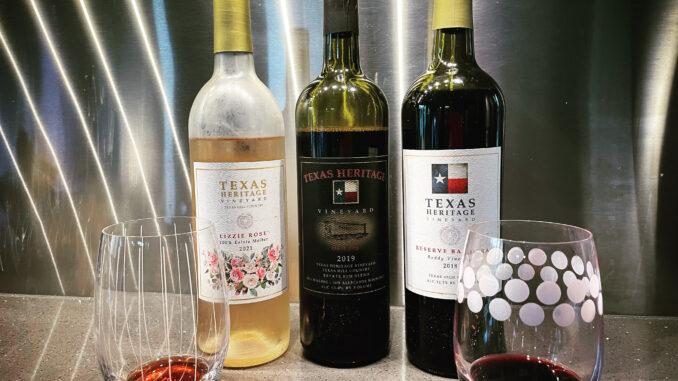 Susan Johnson had a dream of someday connecting with the Texas soil; something agricultural, something creative, and something that she could do with passion. Her family came to Texas in the 1830's and laid down deep roots in the Texas soil, which is where she wanted to return. For most of her life, Susan's passion for Texas dirt remained alive but hidden deep inside her. Then in 2002, Susan and her husband, Billy Johnson, moved from Austin to Fredericksburg, the heart of the Texas Hill Country – the center of Texas Hill Country viticultural area. Eventually, they started planting grapevines, making wine, and opened their own Texas Heritage Vineyard (THV) winery on the Route 290 wine trail just east of Fredericksburg.
Only a few days ago, several of us wine writers joined Susan and her winemaker Tyler Buddemeyer on a Zoom tasting arranged by Matt McGinnis of BigThirst Marketing with a setup of three THV current wine releases: 2021 Texas Hill Country Estate Malbec Lizzie Rosé, 2018 Reserve Barbara (Texas High Plains – Reddy VIneyards), and Old 300 Texas Hill Country Estate Red Blend (50% Malbec – 50% Alicante Bouschet). For a hour, we tasted these wines, asked questions of Susan and Tyler, and compared our tasting notes on the wines. Here are some of my reflections on the wines:
Texas Heritage Vineyard 2021 Texas Hill Country Estate Malbec Lizzie Rosé – Pale salmon color and light character (very Provençal). It was interestedly aromatic with floral notes of rose with strawberry and watermelon flavors filling the palate with creamy and minerally notes on the finish. A great wine to enjoy in the summertime heat with seafood salads or fried chicken on picnics, outdoor barbecues, open air dinners, or just to sip by the pool in the evening breeze.
Texas Heritage Vineyard 2018 Reserve Barbara, Texas High Plains (Reddy Vineyards) – A lighter-bodied non-estate wine that has gained nuance from long term aging in neutral oak barrels. Neutral oak tends to not bring tannins, but rather micro-oxygenation to the wine that soften its presence and mouthfeel. This particular wine brings wild cherry notes on the nose and palate along with essence of herbal Mediterranean thyme combined with a comfortable and food-friendly level of acidity. Due to its lighter body and moderate alcohol, it makes for a great summertime red wine especially if served slightly chilled and served with chicken or even fish – think Salmon.
Texas Heritage Vineyard, 2019 Old 300, Texas Hill Country Estate Red Blend (50% Malbec – 50% Alicante Bouschet) – Alicante Bouschet (also called Garnacha Tintorera in Spain) provides deep purple hues and tannins to red wine blends. This wine shows a perfect match between these qualities and the structure and acidity from the Malbec melding together nuances of dark ripe plums, cocoa, and black olives with an added hint of black pepper. This wine is big and juicy, but only carries a moderate 13% alcohol.
I must admit that my familiarity with Susan and her agricultural passion goes back about a decade ago on their property just down the Old San Antonio Road from where I have my country cottage. There, the Johnson's planted a three-acre field of lavender surrounded by a quite impressively tall fence and worked that farm each weekend. At the time, I recalled wondering who designed this grand venture. I now know that it was Susan Johnson.
Upon retirement in 2013, Susan started fulfilling her creative passion for the Texas soil by enrolling in the Texas Tech Viticulture program and began exploring growing grapes. The Johnsons planted their first grapevines in 2015 and have expanded their vineyard acreage each year with more vines. Texas Heritage Vineyard's estate vineyard currently has 12.5 acres under vine with several grape varieties growing including Alicante Bouschet, Malbec, Tempranillo, Tannat, Souzao, and Viognier. In 202, Texas Heritage Vineyard harvested 28 tons of grapes from this estate vineyard. While the winery is located on Route 290, the vineyard and wine production facility is about 10 mile south on Grape Creek Road (only two miles from my cottage). I only recently realized that THV has the closest vineyard and wine production facility to my back door, only a couple miles down the road.
Tyler Buddemeyer the winemaker, after being into other ventures, eventually came to the wine business enrolling in Texas Tech's Viticulture and Enology programs and meeting people who connected him with jobs in that area. At one stop, he interned with one of the best – The Frenchman, Ben Calais of Calais Winery near Johnson City. He later joined THV in the spring of 2018, where John Rivenburgh made wines in 2016 and 2017. John consulted through the 2018 crush, although Tyler impressively worked on and was responsible for 133 tons of 100% Texas grapes. In addition to winemaker duties, Tyler now manages the 12.5 acre Texas Heritage estate vineyard. Although a relatively young vineyard, it produced 28 tons of fruit in 2020.
I'm looking forward to an upcoming visit to the THV estate vineyard and wine production facility and, of course, blog about it. I'll keep you posted.