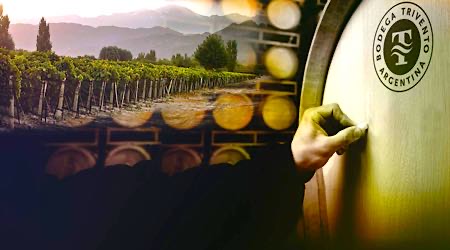 Malbec powerhouse doubles performance over five years to assume top position in global value
Bodega Trivento is now the world's top Argentine wine brand following a 2020 report from global consulting firm IWSR Drinks Market Analysis. Founded in 1996, Trivento specializes in acclaimed Malbec and Cabernet Sauvignon from some of the most sought-after high-altitude vineyards in Mendoza. Contributing to the brand's global momentum are ongoing strategic investments in infrastructure, vineyards, and people to drive recognized quality in the glass. Trivento CEO Marcos Jofré credits this worldwide milestone to the extended Trivento team, saying "This is the result of the efforts of so many people, from our workers in the vineyards to those who represent our wines in international markets."
Trivento U.S. – Leveraging Excellence, Tech and Partnerships in Equal Measure
"It's exciting to see Trivento take its place as the leading Argentine wine brand in the world," noted Rodrigo Maturana, senior vice president of marketing and international business for Fetzer Vineyards.
In Argentina, Trivento continues to enhance its foundation for growth, strengthening sustainability commitments with—among other initiatives—completion of the largest winery solar array in the nation, and investing in winemaking infrastructure and vineyards. The recent purchase and ongoing revitalization of a winery and circa-1940 villa in iconic Luján du Cuyo expands Trivento's winemaking footprint in a prime terroir and complements ongoing excellence at Trivento's celebrated winery and visitor center in Maipú.
About Bodega Trivento
Rooted in the energy of Argentina's passion for wine, Trivento—meaning three winds in Spanish—is synonymous with expressive, terroir-driven Malbec that paints a vivid portrait of Mendoza's high-altitude vineyards in the foothills of the Andes Mountains. The character and quality of each wine is guided by the spirited vision of Chief Winemaker Germán Di Cesare, who honors the varied soils, mountain snowmelt and powerful winds that shape Mendoza's vines.
Trivento welcomes visitors to experience the wine and culture of Mendoza at Bodega Trivento in Maipú or through a virtual tour of the winery's modern art space. For Texas wine drinkers, Trivento's combination of Malbec and Cabernet-based wines and local availability offers great value that is highly compatible with their extensive love of beef, lamb, and game meats.