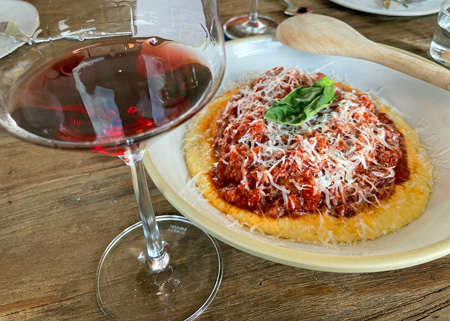 It is an understatement to say, at Ab Astris Winery, the food and wine pairing sessions are immersive experiences, both fun and educational. Furthermore, based on my recent visit, I can also say that they have taken the Route 290 Wine Trail winery food and scene to a new high. For those of you who have not yet stopped by this relatively young winery and its 12-acre estate vineyard in Stonewall, TX, I wholeheartedly recommend it.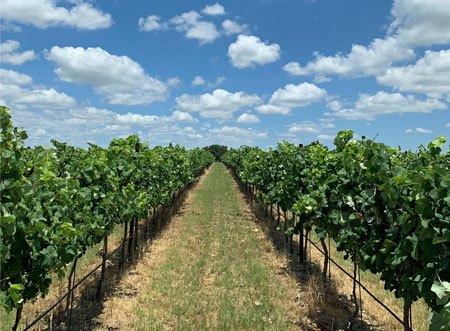 The maestro leading the Ab Astris wine and food pairings is in-house sommelier and executive chef, Mitchell Sharrock. Mitchell masterfully and seamlessly brings together his hospitality background, culinary experience and wine education, and combines it with his smooth personal presence in front of his visitors. As he prepares and serves your food, he also pours your wine. He is a literal one-man show discussing each wine and his chosen food preparation in incredible detail.
Mitchell's food and wine pairing sessions are based on a classic Italian 5-course presentation, starting with antipasti (appetizer), Primi (1st course), Insalata (salad), Secondi (2nd course), and finishing with Dulce (Sweet or Dessert). More than any other beverage, wine is meant to go with food, and his presentation is factual, fun and educational. During our session, Mitchell elucidating how food and wines can complement each other, show that one plus one CAN actually equal three. Furthermore, he also focuses on the locality of the food, searching to find nearly all items used in these preparations from within one hundred miles of Ab Astris Winery.
The session I attended featured a summertime tasting menu with a series of small plates paired with wines that were clean, fresh, and crisp; appropriate for light summertime dining on sunny Texas afternoons and evenings. Check it out below…
Antipasti
It consisted of a shared charcuterie board featuring hard cheese, sliced hard sausage (chorizo), petit sweet red peppers, roasted almonds, and sliced artichoke hearts – Wine pairing: 2020 Ab Astris Aurora Rosé. The wine was Provençal in style and light salmon in color. This Texas High Plains wine brought aromatic notes of strawberry and other refreshing red fruits, and dry minerals from a blend of Cinsault, Mourvèdre, and Montepulciano.
Primi
Mitchell called the Primi his "toast course", which he used to build a light savory dish. In this case, the crostini was made with toasted poppyseed sourdough topped with onion-tomato jam and a sliced cherry tomato. With this, Mitchell served 2020 Ab Astris Apricus Rosé made from the winery's estate Montepulciano, Petit Sirah and Tannat grapes. As this vineyard and its vines are rather young, the grapes were harvested not to make a heavy red wine, but specifically for making a Rosé with a light character yet a bit heartier than the previous Rosé.
Insalata
Probably the most intricate pairing Mitchell presented was his Pea, Seed & Grain Salad with roasted baby carrots, torn herbs, and spicy tomato aioli. Those of you who might have tried to pair wine with salad know that it can be challenging. Mitchell's experience showed by making a salad dressing that was not vinegar-based but a gentler and creamier concoction incorporating the tomato aioli to soften its presence on the palate next to the wine. The wine was Ab Astris 2020 Stello white blend consisting of Roussanne (my personal fave), Clairette Blanche, Picpoul, and Marsanne that brought pleasant lemony-herbal qualities to complement the salad.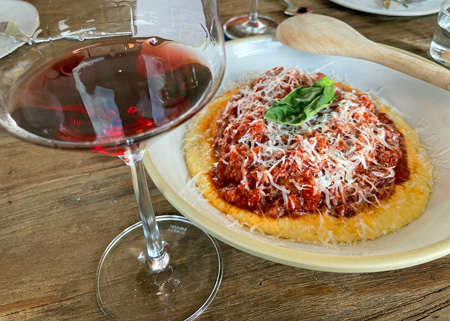 Secondi
The previous pairings built up to this one, the most intense of the preparations, a Bison-Wild Boar Meatball Diavolo with ricotta parmesan polenta. It was flavorful but crafted to be not too heavy with the palate presence ameliorated by the creamy and cheesy polenta. To match intensities, the selected wine was a medium-bodied (what usually describe as a) summertime red, 2017 Ab Astris Montepulciano from Reddy Vineyards, Texas High Plains AVA with its tart cherry and light tobacco notes, crisp acidity (pairing with the tomato sauce) and a dry cherry cola finish.
Dulce
Making only dry wines, Mitchell admitted that he was challenged on how to pair dry wines with potentially sweet desserts. His dessert course posed an excellent solution: Almond Olive Oil Cake with Jenschke Orchard peach, having minimal sweetness and pairing it excellently with the Ab Astris 2020 Estate Petillan Naturel (Pet-Nat). The Pet-Nat is naturally sparkling made with an ancestral technique of primary fermentation performed in the bottle and the yeast left in. This opaque, creamy wine only lightly effervescing was like drinking peach sourdough bread in a glass with light fruit and pleasant yeasty notes to pair with the olive oil bread and fruit.
The food and wine pairings at Ab Astris Winery are for those who relish or want to learn more about the interesting interactions of food and wine that enhance the experience. These tastings also highlight now local wines can work especially well with food preparations made fresh with locally sourced ingredients. Most importantly, they also highlight how wines taste when being sampled alongside other flavors and textures and how they might fit on your family's dinner table.
A+ to Mitchell Sharrock and Ab Astris Winery for offering these wine-food pairings. They are worth making a reservation (click here), look for dates that have wine and food pairings indicated, and taking the time to stop on the busy Route 290 Wine Trail. You can also reserve a regular wine tasting from this link, as well. For more information, send an email through their website (click here).
Hours:
12:00 PM to 5:00 PM Friday and Sunday; 12:00 PM to 6:00 PM Saturday. The last tasting is 30 minutes prior to close.
Address
320 Klein Road, Stonewall, TX 78671