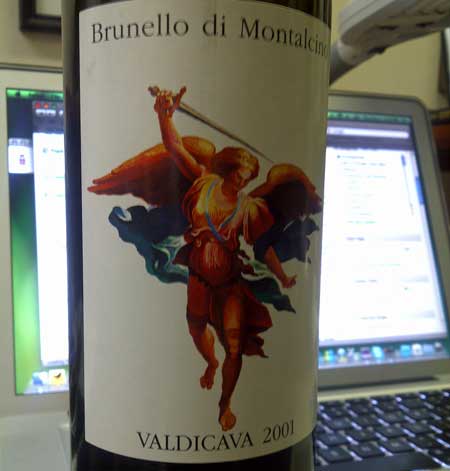 Valdicava Brunello 2001! Does Texas Have Anything that Comes Close?
Well, here I am again at Texas Winedrinkers Anonymous (TWA). I have to confess something. Last night, I had a moment of weakness while at the open door of my wine cooler. I was searching the hinterlands of the cooler when I came across several bottles that I bought in 2006 during another moment of weakness. You might recall that I once made a confession: Guilty as Charged. Texas WineSlinger Admits, "I Drink Foreign Wine" – See: https://vintagetexas.com/?p=1864. Well, I fell off the Texas wine wagon again.
In my wine cooler last night, I came across my stash of Valdicava Brunello di Montalcino 2001. Wine experts professed that the year of 2001 was perhaps the best year ever in the portion of Tuscany near Montalcino, the region of Italy acclaimed to offer the best incantation of the Sangiovese grape on the planet. Upon its release, the 2001 Valdicava was given high marks from the Wine Spectator (WS):
Valdicava Brunello di Montalcino 2001 – WS Score: 98 Release Price: $110 (my price at Spec's $85) Current Auction Price: $93, Country: Italy, Region: Tuscany. "Black hued, with intense aromas of crushed berries and licorice with hints of oak. Full-bodied, with loads of fruit, velvety tannins and a long, long finish. Superb. One of the best Brunellos I have had in a long time. Best after 2010 [VT – I'll also admit that I couldn't wait any longer. This bottle was burning a hole in my wine cooler waiting my beck and call.]. 2,500 cases made." –JS
This was also the year that this wine's even bigger brother Valdicava Brunello di Montalcino Madonna del Piano Riserva 2001 garnered a WS score of 100. Frankly, this was my target; but I was unsure if I could get to it in Houston. However, I rationalized my purchase of its lesser brother with the question: Could I actually discern the difference between wines with WS scores of 98 and 100, anyway?
Why buy a wine of the magnitude of the Valdicava Brunello di Montalcino 2001 in the first place? It wasn't to impress anyone. After having sent in my book manuscript to the publisher on Monday, I figured that my wife and I simply needed a treat….a private tasting of this wine. Secondly, the excuse that I gave during my previous blog confession applied again last night. I simply have to periodically recalibrate my palate. What better way to do this than to taste the best there is of a particular type of wine. This is a very important reason for wine drinkers in Texas, an emerging wine producing region. It helps to know how close we are getting to something really fine, or not.
Last night, I opened the bottle. It was the first of several bottles of this wine that I have in my cooler. I let it sit a while. Then, my wife and I shared it in private. It was paired with a seared New York Strip steak prepared in a hot iron skillet and simply seasoned with salt, pepper and coriander and a finishing splash of aged balsamic vinegar. This latter touch of balsamic was decided after my first trial taste of the wine and running smack into its blade-sharp crisp acidity and deep balsamic undertones. The steak needed this tweak to pair with the wine. [Ahhhh, wine pairing can be so much fun. It's almost like painting a picture, but a picture composed of flavors, aromas and subtle tactile sensations.]
I will agree with the critics that this Valdicava Brunello di Montalcino was an outstanding expression of Sangiovese in all of Italy, if not all the world. It had the promised essence of dark fruit and a silky (weighty but graceful) mouthfeel. Brunellos, unlike Chiantis, must be produced from 100 percent Sangiovese. Even further, the Sangiovese must be the particular Brunello clone that is attributed to providing the thick, rich, dark wine rather than the medium bodied experience in many Sangiovese-based wines from the Chianti region.
My 2001 Valdicava Brunello was saturated with deep red near-black color.  Aromas were an interplay of lows and highs, a quality that I've now grown to appreciate is the true meaning of the wine term – Complexity.   Dark berries, chocolate, and balsamic were superimposed on higher aromatics of floral, mint and mineral.  The taste was an explosion of black cherries and dark red-fleshed plums that seemed to linger on and on and on. While being a huge wine, it avoided the doldrums with incredible acidity that was still too much for casual easy drinking. At this point in its life, this wine needs food and the additional embellishment afforded by the balsamic vinegar splash, added about two minutes before the completion of the steak to its medium rare condition.
Perhaps, I was a few years too early on this wine. The wine was at its best in the latter stages of the dinner, and I know that it will be better still in another few years and will last in its prime for possibly another decade. I've penciled in 2014 and 2018 for my next visitations with this wine.
The question that I know everybody is waiting to ask me is…Does Texas have an expression of Sangiovese that's this good? The answer is unfortunately, no. But, we do have some interesting possibilities.
I particularly liked my recent tasting of the 2007 Llano Estacado Viviano. It is a blend of 76.9% Cabernet Sauvignon and 23.1%  Sangiovese that is aged 27 months in a combination of new and used American and French Oak. I ranked this wine high on intensity of fruit with good acidity. Duchman Family Winery is offers a varietal Sangiovese wine that yields a medium bodied expression, cherry fruit and crisp acidity. It's made from Texas high plains grapes that come from vines that are still quite young by international standards. Patience and encouragement will be required. As I mentioned in yesterdays blog, lower yields will be important as is more age on the vines themselves. Growers also need to check their clonal selection to make sure it is one known to produce intense dark fruit qualities.
McPherson Cellars has made an excellent Texas Sangiovese wine with more fleshy notes and rugged old world character than exhibited by Duchman's "new world styled" offering. But alas, Kim McPherson had to break from Texas Appellation in 2008. As reported by Vinotology, "The label says "For Sale in Texas Only", so I know that it's less than the 75% required to be labeled a 'Texas Wine'." This was most likely due to the weather-induced shortage of grapes in Texas and pressures of distribution. My fear is that Sangiovese is one of the unfortunate grape varieties that buds early, particularly when compared to other red varieties of grapes. This puts it right in the line of sight for late spring freezes so common in Texas. Let's hope for more good Sangiovese from the excellent 2010 Texas harvest.
Other Texas wineries have tried varietal Sangiovese wines and super-Tuscan style blends with Cabernet, but have not yet hit the mark to my pallate. But, as I said, I'm being patient and I definitely want to encourage Texas growers and winemakers to try. However, if it doesn't fit with our winegrowing climate, I will understand if we have to cast it aside and leave it behind. Only time will tell, but shouldn't wait too long to decide.
In the meantime, I will just have to be patient with my stash of Valdicava Brunello and my another Sangiovese "ace in the hole" that's gaining time in my wine cooler. It is Casanova di Neri Brunello di Montalcino Cerretalto 2001 – WS Score: 100. WS description: "It's hard to imagine a more concentrated, layered young Brunello, with aromas of crushed berries, treacle tart, light raisin, coffee and chocolate that follow effortlessly to the palate. Full-bodied, with chewy yet velvety tannins and a long, long finish. Develops wonderfully in the glass and grows fruitier with every minute. A great wine, with extraordinary depth. One of the greatest Brunellos of all time. Classic. Best after 2012.895 cases made. – JS"
When will I drink it? Who knows. Patience, patience, and more patience…….
P.S.
IMPORTANT: If anybody knows the name and/or story behind the label art of the Valdicava Brunello, please enlighten me. To me, it kind of looks like a winged man wearing woman's silk stocking and wielding a sword. There's nothing like it on a bottle of Texas wine, or at least, that I know of.