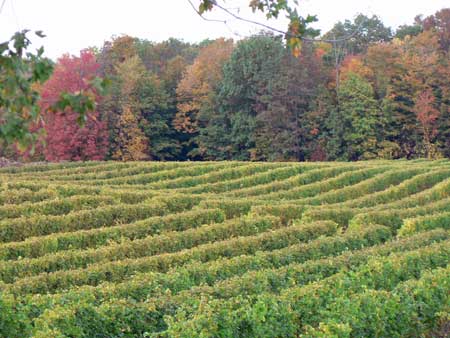 VintageTexas Sunday 'Cyclopedia of Wine: Ohio Wine
Regional Wine Week is approaching; See: www.drinklocalwine.com.  Join in the wine fun. Also, if you are tasting a wine from Ohio or visiting a vineyard or winery in the state, post your Ohio Wine experiences on Twitter and use the tag #OHwine.
I'm traveling in southeastern Ohio, back in the country of my mother's family, the "Foothills of the Alleghenies" as she always says. She's only months from being an even hundred and wanted to come back to visit the place of her 1911 birth and shoot the bull with some of her old pals. I 'd not been up from Texas for many years, but it's still cold and damp, just the way I remember the gray days of October. However, the leaves are turning colors and it adds a bit of zest to the scenery, even if it is for only a last gasp before the weather changes to the bitter cold of winter.
While escorting my Mother from place to place, I've been trying to find an AT&T cell phone signal without success. I've found a wireless hot spot to post this short blog, and I might try a Skype call or two.
A good thing is that I may have left Texas, but I'm still in wine country. It's really interesting seeing things from another perspective. I remember growing up here and the only wines you could find were made from the foxy trio: Niagara, Concord and Catawba. The latter was actually pink Catawba, which is a pretty soft rose color and, as I recall, best appreciated in its sparkling form. My recollection tells me that the bubbling action of the carbon dioxide helped to drive off the fox and its musky scent leaving behind the heavy essence of grape. Not the nuanced essence of red berries, pomegranate, cassis or blackberries, that we associate with our favorite European-derived vitas vinifera, it was pure, unadulterated grapey grape. Catawba grew plentifully on the southern shore of Lake Erie, especially around the area west of Cleveland around Sandusky and out east to Panesville and Ashtabula. [Funny, as I recall, you could always get a laugh at a party if you found a way to get the word Ashtabula into the conversation. It just sounds funny.]
Today, over thirty years later, I've found a much different Ohio wine experience. There are Four Ohio Appellations:
Lake Erie Appellation – Includes grapes grown near the shores of Lake Erie in Ohio, New York and Pennsylvania.
Isle St. George and Grand River Valley Appellations – Two recognized appellations within The Lake Erie Appellation
Ohio River Valley Appellation – Borders the Ohio River from Wheeling, West Virginia to Cincinnati and continues on to Evansville, Indiana.
Loramie Creek Appellation – Bordered by Loramie and Tuttle Creeks as well as State Route 47 in Shelby County. The Loramie Creek appellation currently has no operating winery in its jurisdiction.
Ohio's soil and drainage are ideally suited for growing a variety of grapes, and its latitude is similar to that of the great wine-producing countries of Europe. Additionally, the fertile limestone soil and moderate temperatures along the Ohio River and Lake Erie result in an intensely flavored, excellent quality grape.
Ohio has what is known as "cool climate viticulture", similar to many European, Australian, and even California growing regions. The resulting wines made from cool climate grapes have full fruit flavors, but slightly higher acidity. Wine types common to Ohio viticulture are indicated below:
White Wines
Vinifera: Chardonnay, Riesling, Pinot Gris/Grigio, Gewurztraminer; French/American Hybrids:  Seyval Blanc and Vidal Blanc; other hybrids:  Traminette and Vignoles
Red Wines
Vinifera: Cabernet Sauvignon, Cabernet Franc, Pinot Noir, Syrah; French/American Hybrids: Chambourcin; others hybrid Catawba and native Concord
More information at: http://www.tasteohiowines.com and http://www.ohiowines.org
Recent Wine Awards
The Ohio Agricultural Research and Development Center (OARDC) of The Ohio State University hosted the 2010 Ohio Wine Competition between May 10-12 this year in Wooster. With over 230 entries in the competition, the ten judges handed out 5 Concordance Gold medals, 16 Gold medals, 63 Silver medals, and 74 Bronze medals.
Grand River Cellars, Chardonnay 2006 Grand River Valley – Gold
Ferrante Winery & Ristorante, Pinot Grigio Signature Series, 2006 and 2007 Grand River Valley – Both Gold
Ferrante Winery & Ristorante, Gewurztraminer Signature Series, 2007 Grand River Valley – Gold
St. Joseph Vineyard, Shiraz, 2006, Grand River Valley – Gold
Ferrante Winery & Ristorante, Vidal Blanc, 2007, Grand River Valley – Gold
Henke Winery, Vidal Blanc, 2007 Ohio – Gold
Ravens Glenn Winery, Vidal Blanc Ice Wine 2007 Ohio – Gold
More results at: http://www.oardc.ohio-state.edu/grapeweb/2008winecompetition.pdf