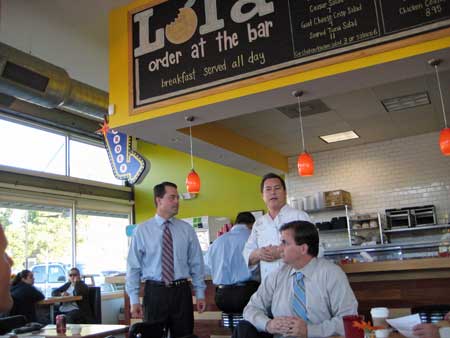 Breakfast with the Texas Ag Commish for GOTEXAN Restaurant Roundup Kick-Off
It was early in the pre-8:00 am light of morning as I drove a just few miles north of home to the "The Heights" of Houston, a locale that people oft refer to as the little town within the big city. I joined a gathering hosted by Lola Restaurant Chef Ken Bridge to kick-off the GO TEXAN Restaurant Roundup that runs from September 17 through October 1. During this week-long period, throughout the state of Texas, restaurant goers can eat local and drink local while helping their local food banks. Dine out for a very good cause. Todd Staples, the Texas Agriculture Commissioner, is helping to bring home this message.
As we shared a big Lola breakfast with local eggs and sausage, Staples said, "People are caring more and more today where their food comes from and they want to have a local dining experience. This is what the GO TEXAN program is all about. It encourages people to enjoy what's Texas." Brian Green, President of the Houston Food Bank added, "We really appreciate the support and added visibility that comes to the Houston Food Bank with this annual week-long event. We are now seeing an all time high demand for our services."
The list of restaurants around the state of Texas participating in the GO TEXAN Restaurant Roundup has grown steadily over the past several years. They are now categorized by city and can be found on the web at:
http://www.gotexan.org/restaurantroundup/participate.html
Find your city and click on the link to find a whole host of fine eating establishment.
For example in my town of Houston, the list not only includes Brennan's, Mark's, Pappas Steakhouse and Pesce, but also many smaller eating establishments like the Black-Eyed Pea, the Burger Shack and Hickory Hollow Restaurant. In Fredericksburg, were I have some acreage and keep a small cottage, restaurants involved in this program include the Cabernet Grill, in San Antonio, it's the Lodge at of Castle Hills, and in Dallas its III Forks, to name only a mere few. Even wineries with restaurants are involved in the program, including LightCatcher Winery and Bistro and at Messina Hof Winery's Vintage House Restaurant. Each has special offerings that include local ingredients in the food preparation and many also feature a selection of Texas wines made from grapes grown in local vineyards across the state. The "locavore" and "locapour" movements for locally produced food and wine have become major influences in the restaurant business in both Texas and around the country.
Chef Bridge said, "On a day-to-day basis, we try to focus on sourcing local items to include in our menu. This includes eggs from La Grange, sausage from Yoakum, bread from local bakers and juice from companies that source fruit within Texas."
Staples indicated that this makes good sense to support establishments like Lola's that feature local farm-to-table menus. Staples said, "Supporting restaurants that use local Texas raised ingredients is good for the economy. It channels hard earned money back into the local community and keeps it in the state where it can do good for everybody."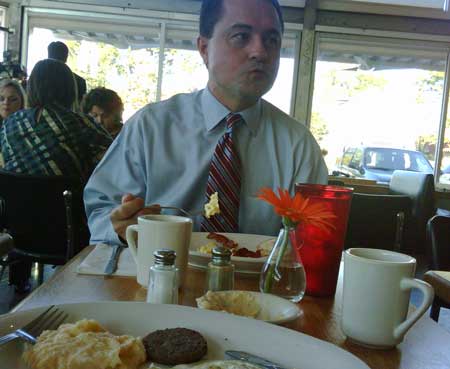 My apologies to Commissioner Staples for this photo. It shows the fine spread of food prepared by Lola Restaurant this morning. But, it also shows that its hard to take a good photo while trying to eat breakfast and take notes at the same time, and hard to look completely picture perfect while eating breakfast and talking at the same time.
P.S. When we were just about finished eating breakfast, I realized that I had forgotten my wallet at home. I had a quick thought: If I was presented a bill for breakfast, would be be in bad form to ask Commissioner Staples to float me a loan.