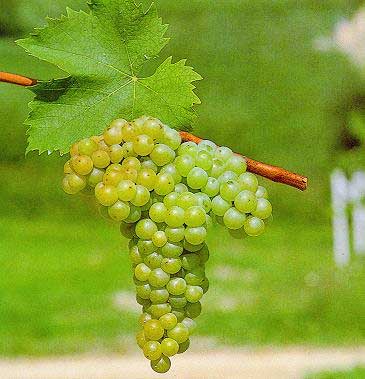 VintageTexas 'Cyclopedia of Wine: Muscat Canelli, First Wine to Show True Texas Terroir
Muscat Canelli with its floral, heady aromas is often called a "seductive" white grape. Muscat Canelli is known under a variety of local names such as Muscat Blanc, Moscato Bianco, Muscat de Frontignan, Muscat de Lunel, Muscat d'Alsace, Muskateller, Moscatel de Grano Menudo, Moscatel Rosé and Sárgamuskotály. There are numerous grapes called Muscat, many of them redundant. It is said that the a catalog of the various sorts of Muscats would be a more interest to a botanist than a wine drinker.
In America, it's common to find grapes called Muscat Canelli and Muscat Blanc. Some say that in Texas, the Muscat Canelli grape has reached a pinnacle of greatness not seen anywhere else in the United States and it's wines rival those of Europe capable of both luscious sweet and aromatic dry wines. It is the first grape that actually bears a new world "Texas Terroir", like the often cited Sauvignon Blanc has attained in New Zealand.
In France, it is more likely called Muscat a Petits Grains or Muscat de Frontignan. It's the oldest cultivated grape in France, most likely brought to Frontignan, by the Romans. The French even have a term, musqué, that describes clones of other varieties with notable floral, muscat-like perfume.
In Italy, the grape is the most widely planted member of the Muscat family and is most commonly known as Moscato Bianco. It is the oldest known variety grown in Piedmont and is the primary component of the Asti Spumante and Moscato d'Asti wines. In fact, Muscat Canelli is the fourth most planted variety in Italy.
Whereas Muscat Canelli and Muscat Blanc are regarded as functionally similar, Muscat of Alexandria is less highly regarded. The ancient origins of Muscat grapes make it particularly subject to mutation, which adds to the mystery. While Muscats are most often white, as various names imply, mutations may be pink, red or brown; white Muscat grapes when ripe may appear with a rosy hue or bronzed!
— — — — —
Other varieties of Muscat are:
Muscat Rose à Petit Grains, Muscat Rouge à Petit Grains, Moscato Giallo (or Goldmuskateller), Moscato Rosa (or Rosenmuskateller) are thought to be closely related colored versions of Muscat Blanc à Petits Grains.
Moscatel de Setúbal and Moscatel de Favaios are the most widely consumed varieties in Portugal, usually served in bars or as an aperitif at restaurants.
Muscat of Alexandria (also called Moscatel, Moscatel Romano, Moscatel de Málaga, Muscat Gordo Blanco, Hanepoot, Lexia, Moscatel, Gordo, and Zibibbo) This grape is used for sherry, moscatel or muscatel wines, Moscatel de Valencia, Muscatel Passito and other Muscatel liqueurs and also as a raisin and table grape.
Muscat Ottonel (also called Moskately) Used for dessert wines in Romania, Bulgaria, Austria, Slovenia and Croatia, and dry wines in Alsace, Slovakia and Hungary.
Black Muscat (also called Muscat Hamburg, Moscato di Amburgo) Used for some Eastern European wine but mainly for table grapes in Italy and Australia. A dessert wine made from this grape is produced in California and Cyprus.
Orange Muscat. Used for dessert wines in California and Australia. Not surprisingly, has something of an orange aroma.
— — — — —
Muscat Canelli is gaining favor in the winemaking community as it provides lively and interestingly aromatic wines. It can be blended with other white varietals such as Viognier, Riesling, and even Chardonnay in almost unlimited variations. Wines made with Muscat Canelli pair well with healthy new world cuisines that meld aromatic spices and spicy hot chilis with seafood, white meat and vegetables.
Texas Muscat Canelli flavor chacteristics: Orange blossom, lychee, apricot, honeysuckle
Wine Characteristics: Still and sparkling wine: light and crisp to full bodied/fortified; dry, off-dry, semi-sweet, sweet/dessert