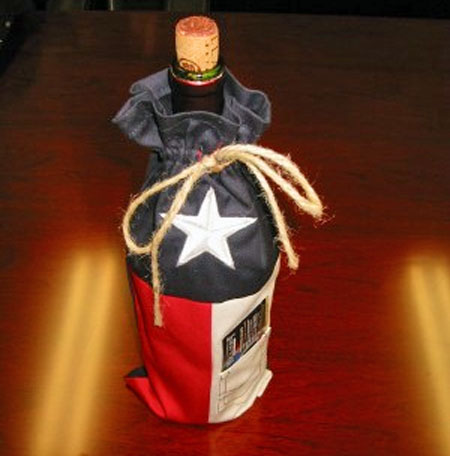 Write Off the Vine: Texas Wine News – Wine Tweets Edition October 6, 2009
The following items were obtained monitoring the Twitter Feed (www.Twitter.com) for Tweets tagged with "Texas Wine" or "TXwine"….Suggestion: Try TweetDeck to organize your Twitter Life (www.tweetdeck.com).
Texas Has 9 Wine Trails to Follow
By Ron Saikowski – Houston Wine Walk
Texas has NINE exciting wine trails to follow and have fun. These fun excursions include:
Texas Bluebonnet Wine Trail north and west of Houston consisting of eight wineries (www.texasbluebonnetwinetrail.com)
Grapevine Wine Trail in the Grapevine area (DFW metro-plex) consisting of eight wineries (www.grapevinewinetrail.com)
Dallas Wine Trail with four wineries in downtown Dallas (www.dallaswinetrail.com)
Texas Hill Country Wine Trail in the Texas Hill Country with 24 wineries (www.texaswinetrail.com) This wine trail is the "Grand Daddy" of wine trails in Texas and the second largest "wine country destination" in the country.
Way Out Wineries (WOW) consisting of eight wineries to the west and south of Fort Worth. (www.wayoutwineries.org)
Fredricksburg Wine Road 290 Wine Trail with nine wineries in the Fredricksburg area (www.wineroad290.com)
Munson Wine Trail in the north Texas area consisting of 13 wineries. This wine trail is named in honor of Thomas V. Munson who lived in the area and is considered one of the world's prominent grape growers and researcher. (www.munsonwinetrail.com)
Crosstimbers Wine Trail in the Ft. Worth area with seven wineries. (www.crosstimberswinetrail.com)
Piney Woods Wine Trail is Texas' newest wine trail and has 14 wineries in the East Texas Piney Woods area east of I-45, from Palestine to Pittsburg. (www.texaspineywoodsexperience.org/northeast_texas_winery_trail)
More information and suggestions from Ron at: http://ow.ly/sTdT
Second Annual Regional Wine Week set for Oct. 11-17
What do we do for an encore after the success of the first regional wine week last October and the DrinkLocalWine.com conference in Dallas last month? We're getting ready to hold our second annual Regional Wine Week, Oct. 11-17.
This year, we're shooting for more than 50 bloggers and writers from around the United States and Canada (who aren't in California or the Pacific Northwest) to write about "wine from around here" -– wherever "here" might be. You can write about any wine you want, and you don't have to be some of sort of wine geek. If you like local wine and you have a blog, we want you.
If you'd like to participate, send Dave McIntyre an email or drop us a note here. All you have to do is to post something during the week of Oct. 11-17 and send us the link. We'll post the link on DrinkLocalWine.com, which will act as a portal to allow interested readers to find you and other bloggers who are writing about local wine. All we ask that you  mention DrinkLocalWine.com and Regional Wine Week in your posts and on your blog leading up to Oct. 11 so we can get that viral Internet thing working.
More at: www.drinklocalwine.com
Upcoming Texas Wine Events in October 2009
If you have an event that you would like to share, please email the details to events@savorsa.com.  
Celebrate Fall with Alamosa Wine Cellars
Friday, October 9, 7:30 p.m. reception, dinner to follow, $55 plus tax & gratuity. The Palmer Course Clubhouse
17865 Babock Road (across from Crown Ridge)
Alamosa Proprietor and Winemaker Jim Johnson will share his experiences making Texan wines.  Westin's Executive Chef John Armstrong has crafted a menu to match the selected wines.  The meal includes: artisanal breads, cheeses & dried fruits; Pecan Smoked Brisket of Buffalo with Pumpkin Seed Cowboy Candy Toast, Crispy Spiced Sweet Potato, Gonzales Wild Mushrooms, Panhandle Pumpkin Gnocchi, and Mustard Oil; Canella Dusted Amber Agave Glazed Apricot, Coriander Axis Venison with Fall Mini Greens; Texas Redfish with Truffle Infused Creamed Bi-colored Corn; and Caramelized Pears with Pear Chantilly Cream, Light Almond Biscuit.  Wines include: 2008 Viognier Texas High Valley Block, Cherokee Creek Vineyard; 2006 Palette; 2004 Texacaia; 2004 El Guapo; and 2002 Texas Port. More information on the wines is at www.alamosawinecellars.com.  Please call (210) 558-2253 for tickets or visit www.westinlacantera.com.
23rd Annual Gruene Music and Wine Festival
October 9 – 11
Gruene Hall
1281 Gruene Rd.
Events include "Rockin' with Texas Wine & Food", "Texas Tastings & Tunes" with samples over 40 wine and food producers, and "Texas-Style Music Festival" with beer tastings.  Proceeds benefit the United Way of Comal County.  http://www.gruenemusicandwinefest.org
Texas Wines – So Are They Any Good? – Tasting Class
Wednesday, October 21, 6:30 – 9:30 p.m., $21 + $18 wine fee
Patriot Heights
5000 Fawn Meadows
This is the most frequently asked question to SavorSA's Cecil Flentge who says that the answers have changed over the years.  Join him for a tasting of red & white Texas wines so you can have the answer too! Snacks and printed wine list. Part of the Northside ISD Adult & Community Education program.  To register, go to http://tinyurl.com/nloepw
Fredericksburg Food & Wine Fest
Saturday, October 24, noon – 7 p.m.
$20 Adults • $5 under 21 • Under 12 free
Downtown Fredericksburg, Texas, on Marktplatz (100 block of West Main Street).
Taste Texas – Guest Chefs, 25 wineries, 50 specialty booths, 100 different wines, all in one day! The Fredericksburg Food and Wine Fest will be in its 19th year in 2009.  It is a full-course celebration of Texas food, wine, music, specialty booths, food court, and fun for all. http://www.fbgfoodandwinefest.com/
Dungeness Crab Dinner at Dry Comal Creek
Saturday, October 24, 6:30 p.m., $85 per person / $160 per couple
Dry Comal Creek Vineyards
A dinner of fresh Dungeness crab overnighted from the Northwest, paired with the vineyard's wine.  Mallots will be provided for you to crack open your crab.  The first course is Poblano Bisque with Tortilla Threads, Avocado & Queso Cheese, paired with your choice of 2008 Demi-Sweet French Colombard or 2007 Unoaked Cabernet Sauvignon. The next course is Classic Caesar Salad with Firecrackers and Sourdough Bread served with Normandy Butter, matched with your choice of 2008 Sauvignon Blanc or 2008 Cabernet Sauvignon. The main course is Dungeness Crab & Lemon Butter, Grilled Corn with Lavender Butter, paired with 2008 Bone Dry French Colombard. Trio of Handmade Truffles (Raspberry, Coffee & Honey) served with your choice of Comal Red IX or 2007 Orange Muscat. There will be 1096 Port, Dark Roast Coffee, and Cigars on the Patio. Live music will be by Brenda Varné.  Only sixty seats are available; make your reservations at their website.
Check out these and more up coming Texas wine and food events at: http://www.savorsa.com/upcoming-events/
Texas Wine Month
by Vinotrails
The month of October is Texas Wine Month, an effort to promote partnerships between wineries, retailers, restaurants, and communities through wine-related events and festivals.  In recognition of this month, the Texas Department of Agriculture (www.gotexanwine.org) has announced that Texas wine promoters can apply for individual grants up to $10,000 to be used to increase the current marketing of Texas wine at wine related events, festivals, and educational activities, as part of the new Wine Regional Partnership Grant Program.
To appreciate Texas Wine Month consider the following….According to the Texas Department of Agriculture's GoTexanWine site, Texas is the fifth largest grape and wine producer in United States.
Texas boasts over 220 family-owned vineyards that cover 3,100 acres.
The Texas wine industry contributes more that $1.35 billion a year to the state's economy and supports roughly 8,000 jobs for Texans.
In a 2006 article for the Austin Chronicle, Wes Marshall stated that, "Wine grapes provide more profit per acre than any other crop."
Jennifer Mcinnis wrote in a San Antonio Express-News article that Texas has,  "more than 170 wineries that produce more than 2 million gallons each year."
More at: http://vinotrails.wordpress.com/2009/10/01/texas-wine-month/
Would You Like Wine in Your Doggy-Bag?
By Daniel Hamermesh (Freakonomics)
Texas allows you to transport open but covered bottles of wine in your car. Even when there are only two of us at dinner, rather than buying a glass of wine for each, we buy the whole bottle and take home what's left.
Everybody wins: the law that allows transporting the wine creates a Pareto improvement. The restaurant is better off because it sells a whole bottle at a substantial mark-up. With three people, the cost to us is almost the same, and we get the leftover wine; and even with two people, we get access to good wines I might not see elsewhere.
Finally, this creates a positive externality; after buying a bottle in the restaurant, I don't feel compelled to drink more than would be desirable and possibly create a hazard while driving home. Recognizing this, more states are allowing transport of open bottles, although in some (Illinois, e.g.) the restaurant must seal the bottle in a special bag.
For more interesting discussion on this topic (25 comments posted so far) or to post your personal comments, go to: http://freakonomics.blogs.nytimes.com/2009/10/05/would-you-like-wine-in-your-doggy-bag/