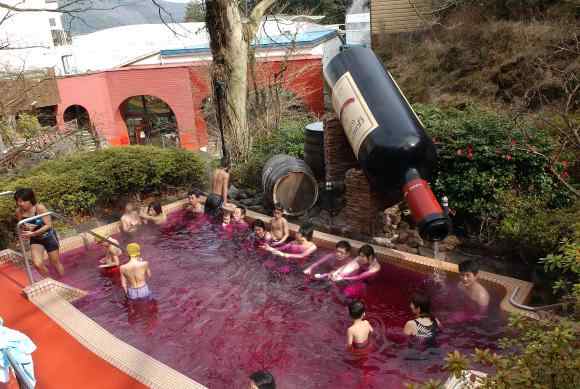 Texas Wine Pairing: Pool Plunges and Satisfying Sips
From Sacrebleuwine.com: Let's begin the search for the perfect pool wines with the obvious.  This pool is in Japan and the pictures taken back in 2007 but it is indicative of the importance of wine in the Japanese culture.  If the health benefits of drinking vino are so apparent, logic follows that swimming in it must increase those same benefits exponentially.  It really doesn't matter much.  We're running with it.  The reality of pool wines is, of course, a bit different.  I'll immerse myself in a clean, cool water pool and save the vino for when I return to my sunglasses and chair.
More: http://sacrebleuwine.com/girls/the-perfect-pool-wines/
— — — —
From VintageTexas.com: In Texas, we can use our pools just about all year….well, maybe not in February when temperatures dip to the low thirties. But, for most of the year, and especially this weekend when the temperatures are hitting the upper nineties, a plunge in the pool and a satisfying sip, or a few of them, makes for a good pairing in my mind.  Texas is one place where you are likely to get your monies worth out of both your swimming pool and a large wine storage cooler.
Here are a few Texas poolside sipping wines to try this summer:
Brennan Vineyards (www.brennanvineyards.com)
VIOGNIER
Aroma and flavor of white peaches and citrus; luscious fruit, silky feel.
— — — —
Llano Estacado (www.llanowine.com)
VIVIANA
Enticing exotic tropical fruit, aromatic honeysuckle and melon combine to create a lush texture kept fresh by a lift of citrus zest.
— — — —
Becker Vineyards (www.beckervineyards.com)
FLEUR SAUVAGE
Essences of pineapple and orange with a rich mineral finish. 2.5% residual sugar.
— — — —
Haak Winery Vineyards (www.haakwine.com)
BLANC DU BOIS (DRY or SEMI-SWEET)
A grape that can lay claim as a true Texas varietal; more here than anywhere else in the whole dang wine world! Dry version – fresh citrus finish of grapefruit and green apple. Semi-Sweet – each, apricot, pear, green apple, figs and grapefruit. The residual sugar in this wine is 2.5 %.
— — — —
McPherson Cellars (http://mcphersoncellars.com/new/?page_id=61)
ROSÉ OF SYRAH-GRENACHE
A collision of Syrah with it's rich smoky violet aromas and the rebellious berry character of Grenache.
— — — —
McPherson Cellars (http://mcphersoncellars.com/new/?page_id=90)
HOOK, LINE & SINKER RED
Light-bodied, red mash-up of Ruby Cabernet, Cabernet Sauvignon, Sangiovese, Grenache, Mourvedre, Syrah, and a little Chenin Blanc thrown in for some extra fruitiness.