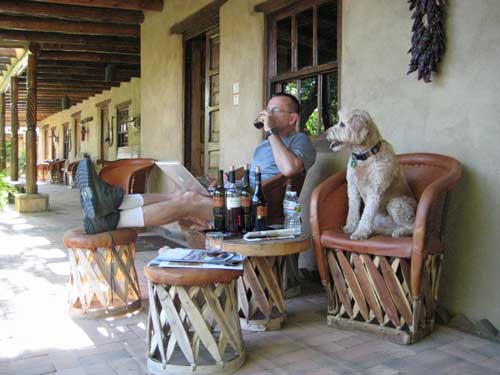 Ten Things I Learned at the Vinotology Mandola Twitter Tasting and Tasting Notes
For those of you that did not follow the Ben Simon's Vinotology Mandola Twitter Tasting using the Twitter tag #tastetexas this past Thursday evening; you missed a fun time. A quick look at the stats showed that there were 51 tweeters with over 500 tweets generated! I have not run the numbers, but from my past Twitter tasting experiences, these events typically generate about 200,000 or more media impressions, or roughly equivalent to something in a single issue of Texas Monthly.
Here are the Ten Things I Learned:
1. Wine in the United States has progressed beyond geeky terms, esoteric descriptions. My first tweet in Ben's Twitter Tasting was, "AND NOW THE MOVIE FOLKS….TaDa! Featuring Ben Simon and the cast at Mandola Winery: Brump Boom Crash!". I also liked Denise Frasers non-geeky description for the Rosé: "Jolly Rancher cherry".
2. Texans might be ready for dry Rosé. It had lots of good comments in the tasting and it certainly fits the summertime climate here and the price is right. I hope that Dry Rosé can break with the stereotypical sweet, pink blush wine image and the misconception that cowboys don't drink pink wine.
3. People are thinking more of wine with food versus just as a sipping drink. Many tasters included references to food and wine pairings in their comments, e.g. VintageTexas: "Rosé and smoked chicken or Gorgonzola Dolce"; JennyGregorcyk: "We're having it w/Gouda". This is a twitpic of pizza and the Mandola wine set included in Thursday's Twitter Tasting.
4. Drinking Texas wine is not the same as drinking wine in Texas. Suburbanwino tweeted @SipwithMe "Drink whatever you've got and put on some cowboy boots or something".
5. Texas needs to find its Hallmark varietal wines. McKinzeyC said, "So many to choose in TX! RT @TheOther46: VA Viognier, NY Merlot, Texas ???? #TasteTexas, #TXwine My vote, Tempranillo."  Maybe she's right for our red wine. Viognier is it so far for the key white wine in Texas – I call it "Texas Chardonnay".
6. Sangiovese grown in Texas is still young, but has good possibilities as the vines mature and winemakers learn how to make it. Per Houstonwino: "This Mandola Sangiovese needs more extraction, but the fruit almost tastes Italian". Suburbanwino: @MandolaWinery as hot as I assume #TasteTexas wine country is, I'm pleased at the "terroir" earthiness & low alcohol". BillElsey mentioned @vintagetexas Forth leaf for this vintage – young vines.
7.  Texas wineries still have a way to go on price, but this should improve as Texas wine production increases and its grape shortage moderates. BillElsey said "Retail for Mandola Sangiovese $24". Suburbanwino tweeted, "$24 a little high". MandolaWinery tweeted, "Dolcetto is $26 retail". Davetxwine said "@TheOther46 800+ Dolcetto and 1200 of Sangiovese". VintageTexas responded, "Limited production wines."
8. In the wine community, Texas still has to overcome its cowboy reputation. ThomsonVnyrd tweeted, "Who's drinkin' wine out of their Cowboy boots tonight?"; I must have left my webcam on!
9. Sweet wine can be serious wine. Roadtrips4wine tweeted, "This Canto is my FAVORITE. Hint of cinnamon, nutmeg…spicey…me likey". VintageTexas said @houstonwino "2008 Mandola Canto Felice: Sweet Red [is common in] many warm wine regions (e.g. Banyals). Starts sweet but finishes dry and crisp."
10. Remember, it's only wine. Some people just can't have a civil discussion about wine when opinions diverge. Houstonwino tweeted, "Mandola Canto Felice <— Everything that comes to mind when I think Texas wine. F***ing AWFUL!" and finished with "Wine only Russ Kane could love." Oh, well. I keep in mind that our topic of discussion that night was only wine and not world hunger, geopolitics or other problems that need serious treatment.
11. Oh hell…here is the eleventh thing I learned. Virtual is Beautiful. Because I was traveling the back roads of Texas during the Vinotology event, I took my wines with me not really knowing if or where I would be able to participate. Because of virtual nature of the Twitter Tasting, I was able to do the tasting and participate in the fantastic and frenitic Twitter Tasting from the glorious backdrop of Bend Big National Park (Chisos Mountain Lodge). Amazing enough, I did not have cell phone coverage, but I had Internet access courtesy of the park's wireless network. I eventually got my Skype account activated again and used this for phoning.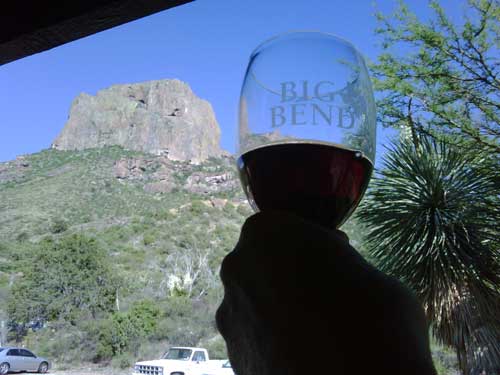 Ben Simon, The Mandola Twitter Tasting organizer, is also posting his own ten lessons learned today on Vinotology. To see his ten lesions at 9:00 am, go to:
http://www.vinotology.com/2010/05/the-top-ten-things-i-learned-during-taste-texas.html.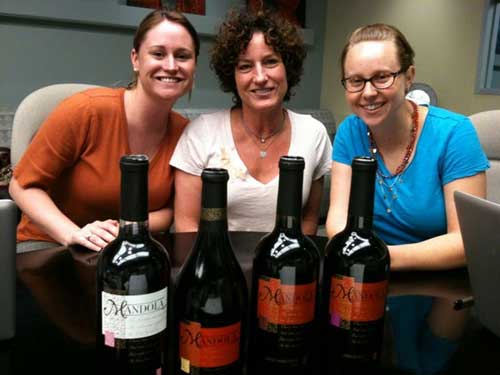 Here are some details of the wines in the Vinotology Mandola Twitter Tasting with winery notes and notes from VintageTexas:
Wine #1
2008 Mandola Dry Rosé.
[Winery Notes] Cabernet based, with notes of red berries and spice, drink slightly chilled.
[VintageTexas Notes] Candy apple red in color. More than Rosé more like Rosato style with deeper red coloration. Nose and fruit restrained, but red fruit perceptible both nose and palate with a steely finish. It is a bit more serious than summertime quaff (e.g. Provence-style Rosé) Needs food or cheese for best expression – suggest smoked chicken, aged brie or gorgonzola dolce
Wine #2
2008 Mandola Sangiovese
[Winery Notes] From Reddy Vineyards, medium bodied with strawberry and cherry, neutral oak 9 months.
[VintageTexas Notes] Medium bodied with red berry, to black cherry qualities, characteristics of classic Sangiovese (lighter than Brunello style). Hints of smoke, and lemon thyme herb; Lead pencil and dryness on finish. Bright acidity – should be great food wine.
Wine #3
2008 Mandola Dolcetto
[Winery Notes] From Bingham Vineyards, Dark black fruit, medium tannin- acidity neutral french oak 9 mos
[VintageTexas Notes] Fruit forward yet medium body and extraction, could possible do more with older vines. Dark berries and touch of beet root on nose and palate with dry finish; not as tart as Sangiovese. Light on the oak aging as Dolcettos should be per Alba style "breakfast wines".
Wine #4
2908 Mandola Canto Felice
[Winery Notes] Our best selling red with 3.5% residual sugar, lush red fruit, serve slightly chilled w/ chz, fruit, chocolate
[VintageTexas Notes] Sweet Red is something of a "Texas Thang"; but many warm wine regions produce sweet red (e.g. Banyuals). Sweet red fruit more on palate – somewhere between red plum and mulberry.  Starts sweet but finishes dry and crisp. Good sugar acid balance. Suggest serving for summertime fare esp. BBQ with sweet red sauce or duck with cherry or plum sauce.