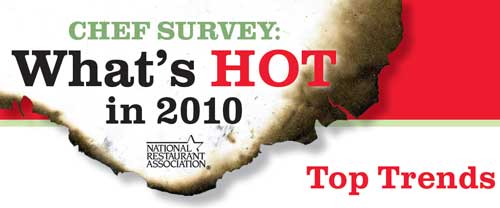 CHEF SURVEY – What's HOT in 2010: Locally Produced Wine
See what the Chef Survey from the National Restaurant Assocaition (www.restaurant.org/foodtrends) said about the top trends in Alcoholic Beverages.
Come on Texas Restaurants, lets get with the program…..The Texas Wine Program
                                                                               
Keeping up with food and beverage trends is crucial to develop the right menu mix. That's why restaurateurs turn to the National Restaurant Association to help them stay abreast of the hottest menu trends.The  association each year surveys professional chef members of the American Culinary Federation. The latest survey, conducted in 2009, was based on the input of more than 1,800 chefs. Respondents ranked 214 items by how trendy they would be in 2010.
Alcohol and Cocktails
1 Locally-produced wine and beer 79%
2 Culinary cocktails (e.g. savory, fresh ingredients) 73%
3 Micro-distilled/artisan liquor 72%
4 Organic wine/beer/liquor 64%
5 Food-beer pairings 63%
6 Craft beer/microbrews 62%
7 Bar chefs/mixologists 61%
8 Gluten-free beer 60%
9 Specialty beer (e.g. seasonal, fruit, spiced) 58%
10 Organic cocktails 56%
I want to give special thanks to the delightful Miss Jane Nickles at  www.winespeak101.com for giving me a heads up on this survey. This is great news for Texas wines that have the quality to be placed in the best restaurants. See the recent head-to-head blind taste off of Messina Hof wines versus some of the best selling wine brands in America (https://vintagetexas.com/?p=1355).