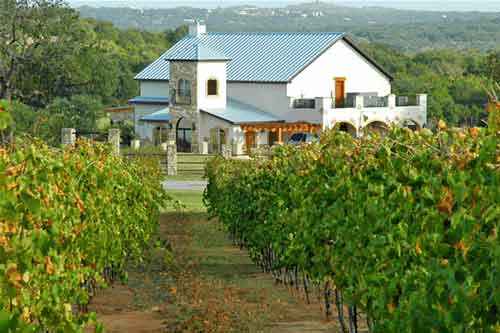 Time to Saddle Up for the 2009 Harvest Wine Trail
Win Tickets on This Year's Hill Country Harvest Trail
Two Weekends Aug 14-16 & 21-23 , 2009
The verve of the wine industry in The Texas Hill Country begins each year in August with the birth of the next vintage. You are invited to savor the sight, sound, smell and taste of Harvest with the Texas Hill Country Wineries. Make your plans to join the 2009 Harvest Wine Trail, August 14-16 and 21-23, and enjoy a wealth of opportunities to immerse yourself in the experience and lifestyle of harvest.
Tell us Your Personal Wine  Experiences and Win Trail Tickets (two sets of two tickets will be given away) 
VintageTexas would like to hear more about your first grape harvest, wine making experiences, or winery visit.  A lot of you have backyard/garage wine making stories or ones about your great-grandparents. Post your comments on this blog [click the balloon icon in the upper right side of the page next to the title to go to the comments page]. To leave your comment, you will have to input your name and email address, but your email address will not appear online or otherwise be used without your permission. Deadline for submission of your Texas wine experience comments is Tuesday, August 11, 2009. The coments submitted will be reviewed the winners will be selected to receive a set of two tickets. The winners will be notified by email on August 12th. The sets of tickets will be provided from Texas Hill Country Wineries (www.texaswinetrail.com). These tickets are good for activities at all participating wineries on both weekends (See below for more event information and winery activities).
2009 Harvest Wine Trail Details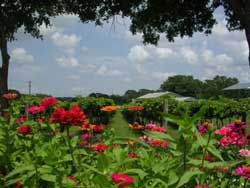 It's 6:00 am in the Texas Hill Country wine region. The air is brisk, the only time all day. The vineyards are peaceful and quite, the sounds of tractors echo over the grapes. The commotion begins…work boots crunch the cool soil, cluster stems snap under the knife, a gentle pattering of grapes as they tumble into buckets and the roar of pickers, winemakers and owners laughing. Their labor of love has truly begun!
Harvest is the season when wineries bring to the forefront those rarely seen vineyard and crush activities for wine enthusiasts to appreciate. Ticket holders traverse the twenty-four participating wineries sprinkled throughout the Hill Country debuting exciting new wines, watching and learning vineyard practices in motion, taking part in wine seminars or jumping feet first into a two ton grape stomp. The wine trail weekends are yours to plan…no need to start at 6am with the harvest though.
This year ticket holders will be able to add to their wine experience by collecting wine labels and taking notes on your favorite wines from each participating winery in a one-of-a-kind Texas Hill Country Wineries case bound label and wine notes book. Harvest Wine Trail is the launch of the Wine Trail Promotions. During the trails each winery will offer a custom 3-bottle selection carefully selected for the season at a 15% discount to Wine Trail ticket holders only.
Ticket prices are $35.00 per person and good for Fri-Sun of both weekends. Label books will be available for pick up at your choice of designated winery or can be mailed to you direct from THCW. Please designate which one of the delivery options you would like, pickup or mailing. For pickup, choose one of the 24 participating wineries where you would like to receive your label book. For mailing, please allow 3-5 business days. If you are buying your tickets (or win your tickets) on the Wednesday before the trail or once the trail has begun, mailing is not an option. NOTE: Books left at home cannot be replaced or re-fulfilled upon arrival to the wineries. One book per ticket only.
Enjoy the festivities, taste your favorites, enjoy exclusive discounts and take home the memories of harvest in the Texas Hill Country.
Those who want to purchase tickets can go to: http://www.texaswinetrail.com/events.html
To avoid overcrowding and easy distribution of label books, a designated winery will be assigned for all tickets. You will have the opportunity to select your starting winery when you purchase your tickets. Winery designation may not be changed after ticket purchase. If you can not make it to your chosen winery during the trail, you may arrange to pickup your book from the winery at another time.
:::::::::::::::::::::::::::::::::::::::::::::
Special Winery Harvest Wine Trail Activities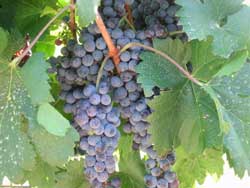 NOTE: All wineries participate in each trail regardless of whether their details are shown below or not. See complete list of wine trail wineries at: http://www.texaswinetrail.com/wineries.html. Note the event details for the following wineries:
Alamosa Wine Cellars • (325) 628-3313
Join Alamosa Wine Cellars for the release of some new wines and a complimentary tasting of our current wines. Your ticket is good for a discount on wines of YOUR choice. Bring a picnic to enjoy on our veranda near the misting fan. Play bocce on the lawn or just relax with a glass of wine.
www.alamosawinecellars.com
Becker Vineyards • (830) 644-2681
Join us at in our newly remodeled Large Tasting Room! Becker Vineyards will be in full harvest! A trio of newly bottled wines (Barbera, Provencal, and Gewurztraminer) will be available for a 15% discount to Harvest Trail ticket holders. Enjoy a glass or bottle on our Winery Verandah and listen to live music from local Texas Hill Country musicians! Artisan cheeses will also be available for sale in the Large Tasting Room. Our popular Becker Vineyards Lavender products are also for sale. Sign up for our Wine Club and receive quarterly shipments of wine, too! We look forward to your visit!
www.beckervineyards.com
Chisholm Trail Winery • (830) 990-CORK
Come on out and help us celebrate the 2009 Harvest Wine Trail. On Friday August 21 see us at the Gillespie County Fair parade. Then come on out and visit us at the winery for exceptional wines. Live country music with Lonnie Lett will be from 2 – 5 pm. On Saturday August 29 we will be having a dance from 7 -10 pm with country music by Lonnie Lett. For more information be sure to call us at 830-990-2675 You will have a great time!
www.chisholmtrailwinery.com
Comfort Cellars Winery • (830) 995-3274
Join us for the Harvest Wine Trail and sample the 'Hill Country Hottie' a fabulous new cocktail featuring our very own Jalapeno wine. Our 15% Three pack will feature the 2002 Cabernet Sauvignon, 2002 Pinot Noir and Chenin Blanc. While in Comfort plan to take advantage of our fine restaurants, B&B's, antique and specialty shops. Visit www.guadalupevalleywinetrail.com for more information.
www.comfortcellars.com
Driftwood Estate Winery • (512) 858-9667
Harvest time fills the air with excitement! Driftwood Estate Winery looks forward to your visit. We will have our State-of-the-Art Mechanical Harvester on display. Gary Elliott, Owner and Winemaker, will be signing bottles of wine while visiting with trail participants. Don't forget to do a tasting while you are here. Gary just earned 8 medals in the Lone Star International Wine Competition, which included Gold Medals, a Double Gold Medal Winner and the Grand Star Award! Gary has also selected a wonderful 3-Bottle Selection for Harvest Trail participants. It includes our newly released 2008 Chardonnay, the 2007 Dry Rose' (Silver Medal Winner), and the NV Lone Star Cab (Gold Medal Winner.) Pack a picnic or snack on cheese & meat trays available in the Tasting Room. When you see our stunning view of the Texas Hill Country, you will want to sit and relax with a glass.
www.driftwoodvineyards.com
Dry Comal Creek Vineyards • (830) 885-4121
"Order of the Purple Foot" Grape Stomp, August 1, 2 8 & 9. Join Dry Comal Creek Vineyards for our 7th annual grape stomp competition. It's a stomp with a TWIST. Designed "for adult couples only", this event assigns one person to do the "stomping" and the other to do the "collecting". The couple producing the most juice in the allotted time wins. One prize will go to the overall winner and inclusion of their names on a permanent plaque displayed proudly in the Tasting Room. Music provided by Jazz Blues and Diamonds. Online register now at www.drycomalcreek.com.
www.drycomalcreek.com
Flat Creek Estate • (512) 267-6310
First Crush: Flat Creek Estate has expanded again! Our NEW 10,000 case winery is experiencing it's "first crush". In celebration of this historic event, join us on two Saturday evenings, August 15 & August 22 in a class/dining experience beginning at 4:30 pm for $50/person. A class on Harvest/Winemaking process will be instructed by Charlie Kidd, vineyard manager & winemaker. Following class, a chef-inspired, 3-course dinner will be hosted by Chef Scott Jurges in the Bistro. Limited attendance. Reservations required. Complete invitation details are posted on the website or call to reserve. Can't join us for class? We've a full schedule of events/activities posted on our website: Jammin' Sunday, Bistro 3-course luncheons, Diva tastings at "One of the 50 Most amazing places to taste wine in America"-Food & Wine Magazine.
www.flatcreekestate.com
Fredericksburg Winery • (830) 990-8747
A trail in the middle of harvest? We never know what will be happening – filtering – racking – bottling? Come see and check what new releases are included in the 15-20 wines available for tasting. Harvest Trail ticket holders will be receiving a 15% discount on a 3-bottle package of wines selected by our G-1. Come and see which ones at the Fredericksburg Winery. In the meantime watch the development of our new website as it is happening at www.fbgwinery.com. Our next project is the wine club – The Flite/Flight Club – more details soon.
www.fbgwinery.com
Grape Creek Vineyards • (830) 644-2710
Tuscany in Texas!! Be sure to visit Grape Creek Vineyards during the Hill Country Harvest Trail weekends. Enjoy our tastings, scheduled tours, and the beautiful Tuscan atmosphere. You can linger over a glass of wine, listen to live music on our patio with a view of young Italian grapevines. During the trail, Grape Creek's 3-bottle selection will be a trio of medal winning wines selected for the season at a 15% discount to Wine Trail ticket holders only. We have selected our 2008 Viognier, recently winning Grand Star and Best Texas White wine in this years Lone Star Int'l Wine Competition. Secondly, 2007 Cabernet Trois, a blend of three Cabernet grapes, recently winning medals at three differnet international competitions. Finally, the 2008 Cabernet Blanc, a rose', also a three time medal winner this year. Please check www.grapecreek.com for information on the cellar
www.grapecreek.com
Lost Creek Vineyard • (325) 388-3753
Celebrate Harvest at Lost Creek Vineyard. On August 15 and 22, our tasting room opens at 11:00 am but our celebration begins at 6:00pm when the sun goes down. We will be offering free grape stomping, with live music, wine trivia contests (with prizes), and food from our TreeHouse Bistro. You may also purchase a t-shirt to commemorate your grape stomping at Lost Creek.
www.lostcreekvineyard.com
Mandola Estate Winery • (512) 858-1470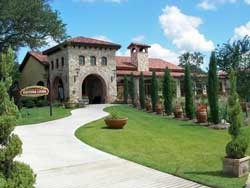 Come join us at The Mandola Estate Winery and Trattoria Lisina during this year's Harvest Wine Trail! We are anticipating the release of several new wines to accompany our recently released 2008 Dry Rosé and 2006 Limestone Terrace Riserva Sangiovese. Your wine trail ticket includes a 15% discount on our trio of 2008 Mandola Moscato, 2007 Mandola Zinfandel, and 2008 Dry Rosé. Come by our tasting room to try our wines and join one of the 16 complimentary tours that we offer on the weekends. The winery will be in full production mode. With our one of a kind facility, you can see each step of the wine making process with a brief tour down the "Grand Hallway". Our restaurant, Trattoria Lisina, will be pouring all of our Mandola Wines paired with a wide variety of excellent menu options. Bring your appetite and join us for a great Texan-Italian wine and food experience!
www.mandolawines.com
McReynolds Winery • (830) 825-3544
Join us during the Harvest Wine Trail for a Grape-Stomping good time! Smell the heady aroma of newly fermenting wines! Enjoy a glass of wine with a cheese and fruit tray while sitting on the tasting room porch overlooking the vineyard. Purchase a trio of our wines at a special discount for wine trail ticket holders. Get a souvenir t-shirt that you can imprint with your own grape-stained footprints. We will be open both week-ends: Aug. 14-16 and Aug. 21-23. Fri and Sat from 10 AM to 6 PM and Sun. from noon to 6 PM.
www.mcreynoldswines.com
Pedernales Cellars • (830) 644-2037
Celebrate the Harvest Wine Trail at Pedernales Cellars. Bring family and friends and take in the harvest time at the vineyard. We invite you to come and spend the day, relaxing with a glass or bottle of wine under the oak trees surrounding our deck. Tours of the largest underground cellar in the state of Texas, will be given all day. We offer a beautiful selection of Texas wines, to pair with exotic cheeses and meats that we have for sale in the tasting room. The Hill Country Wine Trail is the third and fourth weekends in August. But on August 22nd, we will also have Wine Til Nine, so you can come and enjoy the trail and finish your day at Pedernales Cellars with music from Derek Spence. This is a weekend that should not be missed. Entrance and parking is free. Wine tasting fee is $6 for 5 wines (waived with any bottle purchase.) Tours and live music are complimentary.
www.pedernalescellars.com
Pillar Bluff Vineyards • (512) 556-4078
Join us for some fun under the pavilion as we stomp grapes to make them whine. Bring you picnic lunch, buy a bottle of our new Bronze medal winning Enology 101 and find out why the grapes of France would not be there except for a Texan. For a lighter affair buy a cheese plate and the winery and enjoy it with a glass of cold Chenin Blanc. Otherwise Lucy you have some plainin to do.
www.pillarbluff.com
Sister Creek Vineyards • (830) 324-6704
It's harvest time! And what better occasion to take a relaxing drive to the beautiful Texas Hill Country. You can stroll through our winery while sampling our award winning wines and enjoy our famous cab brownies along with some gourmet cheese, crackers and dark chocolate. Participants in the Harvest Wine Trail will receive 15% off on our Muscat Canelli, Chardonnay, and our double medal winner Cabernet Sauvignon 3-Blend.
www.sistercreekvineyards.com
Texas Hills Vineyard • (830) 868-2321
Join Texas Hills Vineyard and celebrate the smells of new wine and the excitement of the harvest season. Enjoy a glass of wine paired with a selection of our artisian cheeses and crackers on the patio while stomping grapes ( just like Lucy!!). Don't miss out on footprinting a t-shirt to remember the occasion. Stomp hours are Sat 10AM-5PM and Sun from 12-4PM. We taste 4 wine complimentary & stomping is free, t-shirts can be purchased at the event. Our Trio of 15% off wines will be Pinot Grigio 2007, Rosato de Sangiovese 2007 & Syrah 2005. Chrissy Omo from CKC Farms (Blanco) will be sampling her fabulous goat cheeses on the 15th & 16th. Great for taking out on the patio with crackers and a glass of wine. David Lewis of Bistro Blends of Texas (Spicewood) will be here on the 22nd & 23rd sampling vinegars & oils & sharing recipes for party ideas.
www.texashillsvineyard.com
Texas Legato Winery • (512) 556-9600
August 15, Texas Legato will be having a manual picking and the crush. Everyone is invited to come and participate. A grape stomp will be available with the purchase of a souvenir T shirt. August 22 we will possibly be pressing the picking
www.texaslegato.com