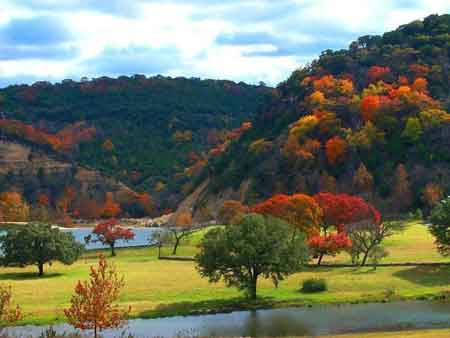 Write Off the Vine – Texas Wine News: January 17, 2009
PROVENCAL WINE LUNCHEON: THIS SUNDAY, January 18th 11am at Mirabelle.
The Wine and Food Foundation of Texas
Mirabelle Restaurant – Austin, Texas with Christine Chapot, Owner / Chef Jardin de Bacchus- Tavel – Provence (www.jardindebacchus.fr and www.provence-escapade.fr)
GREAT VALUE! $35 (all inclusive of tip/tax). Call 327-7555 Reservations Only.
The State of Texas Wine
by Gretchen Roberts
I was in Texas in November for the San Antonio Food & Wine Festival, and while there hopped up to Becker Vineyards in the Texas Hill Country, an hour or so northwest of San Antonio, for a lunch and tasting….. I only brought back one bottle of Texas wine from my trip: the Becker Vineyards Prairie Rotie, a Rhone-style blend of Carignan, Mourvedre, Syrah, and Grenache.
Read more at: http://www.slashfood.com/2009/01/11/the-state-of-texas-wine-wine-of-the-week/#thankYou
Win Two Free Tickets to the Texas Hill Country Lovers Wine Trail – February 6-8 & 13-15, 2009 – 26 entries received so far…send us your Romantic Texas Wine Moment to enter!
Post your Romantic Texas Wine Moments to VintageTexas.com using the comments field (bottom of page) at: https://vintagetexas.com/?p=423 or email me at russ@vintagetexas.com. This will enter you to win two free tickets good for 4 people, to the Texas Hill Country Lovers Wine Trail compliments of http://www.texaswinetrail.com. The deadline for posting your comment to VintageTexas.com is Friday, January 23, 2009. The winning entry will be selected and notified by email by Wednesday, January 28, 2009.
More Texas Hill Country winery and wine trail details at: http://www.texaswinetrail.com
Texas Gets Coonawarra Envy…..
By Russ Kane
Just a short post today, but it is something important. A few days ago, I blogged on the terrior of the Texas High Plains at: https://vintagetexas.com/?p=387. In response, a half a world away (but virtually in our backyard), Aussie wine writer PHILIP WHITE responded to my blog on his blog (Drinkster) as follows: White wrote, "Texas has up and got Coonawarra envy…."
More at: https://vintagetexas.com/?p=402
On-Premise Report: The Texas Wine Market
A closer look at what makes this dynamic market so unique.
by Liza B. Zimmerman
 ….Texas has always marched to its own drum. Residents are proud of their heritage and slow to forget the days when the state was its own republic. The density and pride of this region's inhabitants often make it seem more like a country than a state. I don't think the flag of many other states can be found flying in as many places as that of Texas.
What was once primarily a land of beer drinkers is warming up to wine at a fast and furious pace. ….. Total wine consumption in Texas is up from 31.68 to 32.51 million gallons in 2005 compared to 2006, according to Adams Wine Handbook 2007. Per capita consumption was also up from 2.10 to 2.12 gallons as was the number of legal drinking age residents in the state in the same period of time, according to Adams. All three figures are promising for the Texas wine market.
More at: http://www.winebusiness.com/wbm/?go=getArticle&dataId=55357
A Little Taste of Texas Wine Country
by Lauren Aggie
In celebration of our very first wedding anniversary, my husband and I spent last weeked in "Texas Wine Country," also known as Stonewall.  We only made it to three of the numerous vineyards on the Texas Hill Country's so-called "Wine Road" along Highway 290 between Johnson City and Fredericksburg….
For more: http://www.blogher.com/little-taste-texas-wine-country
Upcoming Haak Winery Dinner and Vineyard Events (Galveston County, Texas)
January 18, 2009, 11:00 a.m. to 2:00 p.m.  "Winter Lunch at the Vineyard" featuring our Vintage Port
January 23, 2009, 5:30 to 9:00 p.m. (Last seating at 8:30 p.m.) – Friday Night Dinner Service
January 24, 2009, 9:00 a.m. – Start time Pruning Day and Oyster Fry 
Yes…they have heaters!
For more information on these and other events: http://www.haakwine.com/winery_events.htm