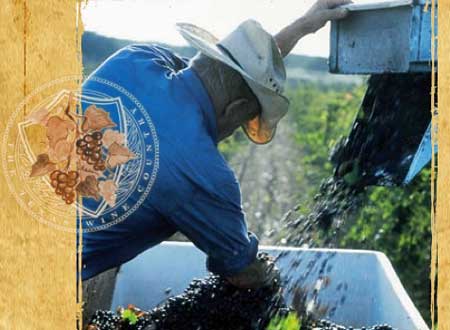 Wine Consuming Texans, I Ask You…Will Texas Cut Off its Nose to Spite its Face?
In the most recent issue of TWGGA Legislative News – January 31, 2011, Dacota Haselwood, Chief Governmental Affairs Officer, led with  the following headline: "State Budget Affects Wine & Grape Industry Development Funds". After reading the news, I had to just sit back and shake my head as I thought…there's a definite possibility that Texas will cut off its nose to spite its face.
In Austin, our Texas state government's Legislative Budget Board released their budget recommendations for the 2012-2013 biennium.  Their recommendation was to ZERO OUT ALL MONEY appropriated to  Texas Department of Agriculture (TDA) for wine and grape industry development.  That is $4.3 million per biennium for education, research and marketing that is typically either spent directly by or re-granted out through TDA.  That means the industry will lose the valuable personnel, expertise and programs that have taken a decade to build up in Texas…and this in the face of the detailed and recently released 2010 study that demonstrated that the Texas grape growing and wine industry provides an economic impact to Texas of $1.7 Billion (That's with a "B") annually.
Why is this Bad Policy?
Frankly, this pending budget action puts this income stream of $1.7 Billion for Texas in dire jeopardy…all for saving $4.5 million (That's with a "M"). It just doesn't make sense. Former Lt. Gov. Bill Hobby calls this mindset from Texas legislators  "a catastrophic cuts-only approach to balancing the state's budget." It totally misses the impact of the cuts on the other side of the budget ledger…INCOME.
For more background on the $1.7 Billion economic impact that the Texas wine industry provides to its fellow Texans and its state government, click here.
What Will We Lose?
Such pending budget-cutting action should be of concern to every wine consumer in Texas. Right now Texas is the fourth largest wine consuming state in the USA and 95 percent of Texas wine production is consumed by Texans. Furthermore, every transaction for a bottle of Texas wine represent dollars that are spent right here to the benefit of the local economy rather than being sent to foreign lands like California, France, Italy and Australia.
The bad part of these Draconian budget-cutting measures is that they will not reduce but eliminate among other things, critical state-funded programs on varietal selection related to our specific climate conditions in Texas that have been instrumental in improving both Texas wine quality and the economics of producing quality wines in Texas. These measures will also eliminate Texas wine marketing support provided by TDA that has brought Texas wines national and international recognition in recent years since the inception of these research and marketing programs.
Also at risk here are the jobs of the state employees involved in the wine and grape industry at: the Texas Department of Agriculture, Texas Tech University, Texas A&M University, and Texas Agrilife Extension. This group of specialist will be hard, if not impossible, to replace in the future. They came to Texas with a vision and have worked hard to create the next major wine producing state in the United States. Some even consider their work on a larger scale; Texas is about the same size as France and these efforts are working to establish and secure the world's next major wine region right here in Texas.
Call to Action – Contact Your Elected Officials
It's imperative that as many industry members, wine consumers and stakeholders (that includes our vendors, city and county officials, and friends) contact their state representatives and senators in an attempt to educate elected state officials and their staff about how important these funds have been and could continue to be to the growth of the Texas wine and grape industry.
To identify and get contact information for your state representative and senator, please click the following link and enter your address:  http://www.fyi.legis.state.tx.us
It is Easy, By the Numbers
When making the phone calls do the following:
1. Establish that you are a constituent and ask to speak with your elected official
2. Explain how you are involved in the Texas wine and grape industry. Note: Calls from loyal consumers are as important (if not more) than calls from winemakers and grape growers.
3. Relate information on the talking points document
4. Talk about how each agenda item will impact your business or the ongoing viability of the Texas wine industry
5. Offer to e-mail the talking points for their file
6. Send follow-up e-mail to dacota@twgga.org with details of your call – including contact information for the person with whom you spoke
7. For talking points and agenda items when speaking to your elected officials and their staff members, please click here.
8. For a copy of the most recent economic impact numbers please click here.
In order that the legislative and regulatory committee may stay apprised of how extensive our message has been broadcast, following your phone calls, please send an e-mail with follow-up information to Dacota Haselwood at dacota@twgga.org.  Please also direct questions and/or comments to Dacota Haselwood via e-mail or at 210/867-2576.
— — — — —
The bottom-line is that the Texas wine industry is a grassroots movement that is built on Texas's great agricultural tradition of grit and gumption. Wine grapes provide a new and modern product for family farms across the state. Grapes are a new cash crop that exceeds what can be offered by traditional crops like cotton, corn and soybeans. It is part of the future of the Texas economy.
Hard Times are at hand. However, we need careful considerations by our electrode officials in Austin, with insights of the full economic and business ramifications of their budget-cutting actions.
Don't let Texas cut off it's nose to spite its face!
Call your representatives and senators and let them know the importance of the state-funded Texas wine programs both in terms of what it means to family farms, but also in terms of the contribution these programs have to the state's economy that they could put at risk: $1.7 Billion INCOME for Texas at risk from their pending $4.5 Million in budget cuts.