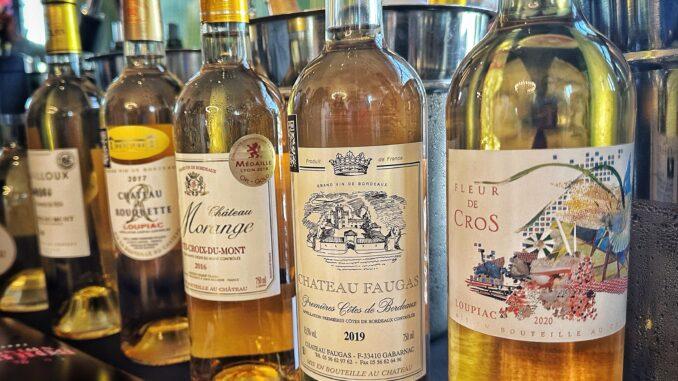 I recently attended Bordeaux Undiscovered 2023 that came to Houston. It was a lovely display of over a hundred wines from the Bordeaux region of France that I heartily enjoyed. Many wine drinkers in Texas, at the mention of the word "Bordeaux" immediately think RED… red wine that is. However, there is also another Bordeaux color out there… and it's WHITE, or as you might also refer to as Blanc.
Realize that over 80 percent of Bordeaux wines are, in fact, reds made from a blend of mostly Merlot, Cabernet Sauvignon and Cabernet Franc. However, let's not forget the whites made from Sauvignon Blanc and Semillon in both dry and sweet styles.
There were to two aspects of the Bordeaux Undiscovered tasting line up that I enjoyed. Firstly, there was the plethora of featured Chateaux and brands making excellent Bordeaux wines that were not in the usual list of foremost and illustrious names – Petrus, Cheval Blanc, Margaux, and Haut-Brion. Secondly, but in my mind the more notable aspect of this tasting, was the front-and-center featuring of white Bordeaux, perhaps the most undiscovered of Bordeaux wines in Texas. They were grouped together going along one wall of the tasting venue. The wines starting from the left were the dry, bright and some sparkling (Cremant de Bordeaux – another undiscovered type of Bordeaux white wine), morphing to more palate-weighty wines midway down the line, and finally yielding to sweet and succulent wines at the end of the row.
Dry and Sassy Sauvignon Blanc
The first grouping of Bordeaux Blanc were dominant in Sauvignon Blanc yet some with a bit of Semillon. These dry wines proved to be an excellent accompaniment for the cold, fresh Alabama Gulf oysters being served.
But, it was the last grouping of wines mentioned above that attracted my attention.
Sweet Show-Stopping Semillon
On the topic of Sweet Semillon-based White Bordeaux, you may have heard of the heralded Sauternes of which Château d'Yquem is the most heralded of all. But, back to the 'undiscovered", the first of the sweet Semillon-dominant Bordeaux Blancs I tasted was Château Mathereau Cuvée, a moderately sweet wine that provided immediate richness with its floral notes followed by lemon with added honeyed elements. The palate was rich with lively acidity and citrus that balanced its honeyed sweetness.
What happened next can only be categorized as simple serendipity. While I still had the Château Mathereau in my glass and its residue on my palate, I walked over to the hors d'oeuvre station and picked up a piece of spicy jalapeño cheddar cheese sausage. As the two came together, it stopped me in my tracks. Clear as a bell, it hit me… Point and Counterpoint: sweet is the perfect foil for spicy!
So, I repeated the process again a bit farther down the line of whites sampling more sweet Bordeaux Blancs. I sipped the still sweeter Château Morange Sainte-Croix-Du-Mont and followed it with a bite of spicy jalapeño sausage, and again my palate was alive… it was alive with the sweet, spicy essence created by this food and wine pairing. The wine's rich notes of candied oranges and white flowers seduced my palate and intertwined with the hot spiciness of the sausage. Again, another wow moment.
More French/Tex-Mex Wine & Food Pairings
This got me thinking of the nearly infinite possibilities for the sweet white wines from Bordeaux here in Texas with our spicy cuisine. Most notably, we can start with Tex-Mex favorites like Chiles rellenos (with stuffed poblano peppers) then build further to Enchiladas (tortillas filled with lots of cheese, meat, and beans cooked with chilis with a sprinkling of chopped jalapeños on top), and eventually finding one the spiciest dishes Chilaquiles (toasted corn tortilla pieces cooked in spicy green or red sauce made with chilis).
While we are on this journey, let's add one more dish that you might not suspect… a hearty bowl of classic Texas Chili made with ground beef, lots of chili powder, onions, garlic and topped with jalapeños, and of course, NO BEANS. I'm going to try BBQ beef brisket and pork ribs next.
Let me thank the Bordeaux Undiscovered wine tasting tour for making Houston one of its stops. While there is definitely a lot of ground to cover in the red wines of Bordeaux, please don't overlook the many undiscovered Bordeaux Blancs dry and sweet. They have a lot to offer us wine drinkers of Texas.