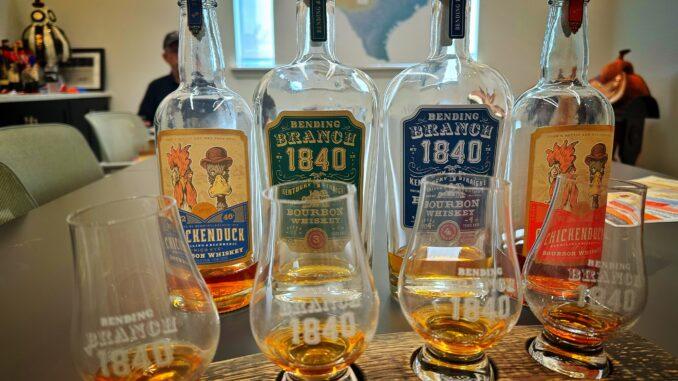 I'm back at Bending Branch Winery for a visit with Dr. Bob Young and had the opportunity to meet-up again with his daughter Alison Young to taste something new: Four newly-ready-for-market Bourbons. The secret is out!
Out of their family's Kentucky Bourbon Country heritage and their interest in sharing quality bourbon with their friends in Texas, Bending Branch Winery CEO Dr. Bob Young and President Alison Young have brought some of this heritage to Comfort, Texas. Bending Branch recently announced their launch of two new bourbon brands, Bending Branch 1840 and ChickenDuck.
After successfully growing the Bending Branch reputation for quality, exceptional and bold wines and experiences, this Young-family duo has decided to literally kick things up a notch.
President and Master Blender, Alison said, "Bob and I are excited to expand the Young family of beverage brands with the launch of outstanding bourbons from Kentucky."
After my on-premises tasting yesterday, I can definitely attest to two things: the quality of these bourbon offerings and the differentiation they offer in blend, style and price point. I admitted to Alison and Bob that I am not a REAL Bourbon drink with my spirits drinking focused very narrowly for over 40 years on Manhattans made with Bourbon and Sweet Vermouth. But, with this, I did bring something to the table. After all Manhattans are Bourbon drinks.
The Bending Branch 1840 brand features premium Kentucky straight bourbon and high rye (more than 20% rye) bourbon whiskeys, aged for a minimum of four years in new American charred oak barrels, that Alison and Dr. Bob have sourced over the last two years for additional aging and bottling in Texas. 1840 pays homage to the year the Bending Branch Winery property was settled and to the original log cabin home on the property. The first two 1840 Bourbons offered from Bending Branch are barrel strength (108 and 109 proof) premium high rye bourbon and a signature four-grain mash bill bourbon.
With my admittedly limited Bourbon palate, I quickly found my niche with ChickenDuck. This serious bourbon is purposefully crafted differently very much in the Young-family way. It is named after two of the original chickens and ducks that  roamed the vineyard managing pests and entertaining guests. Continuing Bending Branch Winery's expertise in innovative techniques, the ChickenDuck bourbons use an advanced extraction technology. Would you expect anything less from the family that introduced Flash Détente wine extraction technology to Texans. 100% of the aging of these bourbons takes place on the property in Comfort.
With my Manhattan drinking experience, I proclaimed the ChickenDuck my favorite. It was smooth, aromatic with charred sugar, black cherry and vanilla with a super smooth approach and finish. I think my first comment to Alison and Bob after tasting it was, "This one is great and just to my linking. It's like a Manhattan without having to buy the Vermouth."
Bourbons are currently only available at the Bending Branch Winery estate tasting room. Flights of four tastings are available noon to 6 p.m.daily. Click the above links for product details and prices.
Reservations are recommended on the weekends. Call 830-995-2948 or make your reservation on Tock.