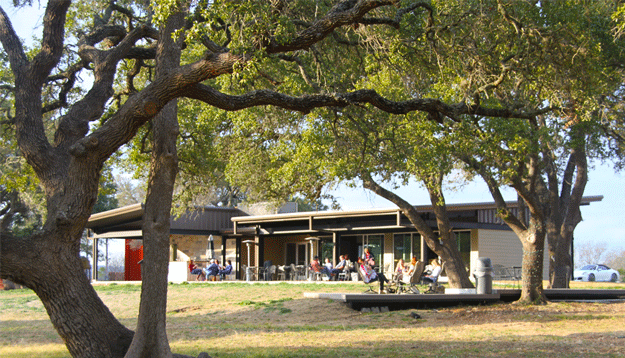 If you haven't heard of or had the opportunity to taste Hye Meadow Winery's 2017 Red Blend Boooom (Yep… with four "o"s), there is no better reason to make a stop at the winery near the budding metropolis of Hye, TX. The 2022 Houston Rodeo Uncorked International Wine Competion judges scores placed this wine at the top of all Texas wine entries in the competition garnering it the title of 2022 Best Texas Wine.
Rapper, music producer and Champagne executive Curtis "50 Cent" Jackson dropped a cool $125,000 on a bottle of this wine at the 2022 Houston Livestock Show and Rodeo Wine Auction earlier this year. He commented that this was "Rolls Royce" money. Luckily, you can get a bottle of Hye Meadow Winery Boooom at a much lower price than 50 Cent paid. All you have to do, is stop by the winery or purchase it online, also from the winery. I'm sure that winery co-owners Mike and Denise Batek will be glad to sell you a bottle or two, or more.
If you stop by Hye Meadow Winery, you will be impressed with its gorgeous property under tall oak trees. Their covered patio, tasting room and wooded green space are the perfect spots to kick back, relax and enjoy a glass of wine from 100% Texas grapes. Indulge in one of their artisan cheese plates, and, oh yes, let's not forget a bottle of Boooom to go with it.
I first tasted Boooom at a Houston Rodeo media day and was impressed with its breadth on the palate, dark red fruit intensity, intermixed cola notes and tannic structure with beautiful French oak highlights. This wine is a blend for four different red grapes highlighting the major regions of mid-to-lower Italy, but grown in Texas, and by the way, are not blended together in Italy. The four grape varieties are: Negroamaro that brings its bramble-fruit, rural, rustic character; late-ripening Montepulciano with its fruit-forward and plummy qualities; Aglianico known for its acidity and firm tannins; Sangiovese bringing its tart red cherry and cola notes. The wine spent 24 months in 40% New French oak and 60% neutral oak Together, all this literally goes Boooom the moment it hits your palate.
Recently, I scored a bottle for a more relaxed sampling that led to a dinner pairing for this wine. If you are a meat-and-potatoes person like I am, search no further. Boom is a wine that you will enjoy immensely. I pulled out one of my special meat preparation techniques called a "reverse sear", but performed unconventionally in a smoker, on a rack of New Zealand lamb. This brought lots of flavor to match the explosion of the aromas and flavors in this Hye Meadow wine. While Boooom is definitely a food wine, I found it remarkably pleasant as a sipper, if served with only a slight chill.
Hye Meadow Winery Boooom is available in the winery tasting room or for purchase online from the winery. The winery is located at: 10257 W. US HWY 290, HYE, TX 78635. More details on the winery and this wine can be found online at: https://www.hyemeadow.com.
Photo Credits: Hye Meadow Winery, Texas Hill Country Wineries, VintageTexas.com, and Houston Livestock Show and Rodeo.