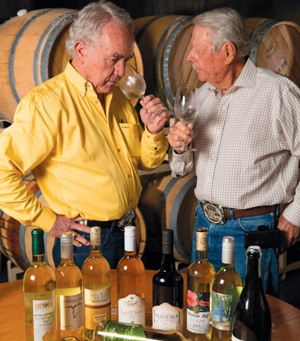 The Gulf Coast Winegrowers Association 29th Annual Field Day, postponed in February due to Covid 19 has been rescheduled for May 7 from 8am – 3:30pm at the Cat Spring Agricultural Society Hall, 13035 Hall Rd, Cat Spring TX. Educational sessions of benefit to both commercial and hobby wine grape growers will be available for virtual and in-person participation. The agenda of presentations was put together by Fran Pontasch, the Gulf Coast representative from Texas A&M AgriLife Extension Service.
The recent artic freeze that blanketed the state of Texas crossed into uncharted territory for grapes grown along the Gulf Coast and the damage, both actual and potential (still to be determined) will be directly addressed and touched upon by many of the presenters from the Texas A&M AgriLife Extension Services.
Those interested in planting a new commercial vineyard or just some vines for their own personal wine making will not want to miss the New & Prospective Winegrower Session to start the day and presented by Fran Pontasch.
Other sessions include: What Happens to a Pruning Wound (Dr. David Appel), Optimizing Wine Quality in the Vineyard, (Dr. Andrea Botezatu), Fertilizing Damaged Vines (Dr. Justin Scheiner), Potential Impact from Viruses (Dr. Femi Alabi and Sheila McBride), IPM – Traditional & Biological Pesticides (Jim Kamas) and Gulf Coast Status & Predictions (Panel Discussion).
Registration is $35 for GCWA members and Virtual attendees and $40 for on-site NON-members of GCWA. Lunch is included for on-site attendees. Pre-registration is not required but requested as follows:
For ON-SITE attendance – gulfcoastwinegrowers@gmail.com
VIRTUAL ATTENDANCE – paradoxhouse@gmail.com
Registration also available at the door.