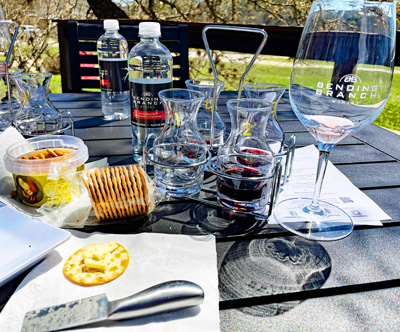 COVID-19 has seen to it that it has been over a year since my wife and I have made a full-contact visit to a Texas winery for tastings. In detail, Actually, it's been thirteen months of self-imposed isolation followed by two doses of Moderna vaccine for me, and a December case of the virus and an injection of monoclonal antibodies for my wife, that has finally given us the courage to take the plunge. But, where to go?
The selection was actually very simple… Dr. Robert Young's Bending Branch Winery in Comfort, Texas.
In early 2020, I recall seeing Dr. Young in one of his videos explaining the concerns with the coronavirus pandemic, the industry shut down by governor's decree, and the situation it bought to Texas wineries shutting them down followed by limited opening. It was very thoughtful, thorough and factual, just like you would expect of a medical doctor talking to his patients and as a doctor like Young having served in Public Health in Kentucky and Georgia. For one of his videos: click here.
When his winery was entering the reopening phase, the good doctor also explained the efforts he has his employees were taking to minimize the impact of coronavirus for visiting consumers: outdoor seating and wine tasting set-ups, masking and social distancing of servers, requiring customers to mask unless seated with people in their party, disinfecting serving areas, glasses and utensils with ozone and ultraviolet light. It was also very thorough and impressive.
So, as I've already said, the choice to ending our self-imposed winery exile was a no-brainer: Bending Branch Winery.
It was a sunny yet cool Friday afternoon in Comfort, but the welcome was warm. Having already made our online tasting reservation (click here), we showed up at the winery and were presented with individually packaged glasses for tasting, a set of four pre-poured tasting portions of Bending Branch wines (see image at top of blog), and a set of tasting and ordering sheets. Since we always like our wine with food, so I purchased a small block of dilled Havarti cheese, a package of water crackers and a tin of interesting mixed and lightly salted nuts. 
Seated at a table on the deck, we laid out our wine and food cache, unwrapped our wine glasses, and then removed our masks. At first, my wife and I just sat there looking at each other. Then, in unison we both took a deep breadth the ended in the smile that highlighted how much we had enjoyed winery visits before COVID-19 and pleased that we found a way to do it again safely.
The tasting du jour was a Bending Branch four-wine set:
2020 Tannat Frizzante, Texas Hill Country (New Release!)
2017 Tempranillo, Newsom Vineyards – Top of Class / Gold Medal, 2021 San Antonio Stock Show & Rodeo)
2017 Malbec, Newsom Vineyards (Gold Medal, 2021 San Antonio Stock Show & Rodeo)
2018 Texas Tannat
Just about halfway through our very light and pleasantly effervescent Tannat Frizzante, Dr. Young paid us a visit sporting a very snazzy multi-colored face mask, his ever-present Bending Branch ball cap, jeans and sneakers. When he arrived, I think that we still beamed with the smiles that started when we sat down on the winery's partially shaded deck.
In the next 20-30 minutes we must have hit every pent-up topic that we both wanted to share: our year's long list of trials and tribulations in the new coronavirus world and casting all the way back to our first meeting and side-by-side discussion of Tannat on a bus going to an evening wine event at a TWGGA meeting. He was just starting to make Tannat wine and I had just tasted it for the first time in a Rio de Janeiro restaurant. Searching for dates, we agreed it was likely in 2012 almost a decade ago. 
Young also asked for us to receive a fifth pour to celebrate our return, his Bending Branch Winery 2017 Cabernet Sauvignon, Newsom Vineyard with a long list of accolades (see below). All, I managed to say after taking in the aroma and tasting it was a single word – long and drawn out… Gooooood!
DOUBLE GOLD

– 2021 San Francisco Chronicle

GOLD/BEST TEXAS CABERNET SAUVIGNON 2020 Lone Star International
GOLD 2021 San Antonio Stock Show & Rodeo International
Then, Young dropped a few hints of things to come at Bending Branch Winery. Obviously, he had not been idle for the past 12 months while waiting for the backside of the pandemic. First, was his new estate planting and coming harvest of a hybrid grape variety relatively new in Texas called Crimson Cabernet (a cross between the American grape Norton – v. Aestivalis – and Cabernet Sauvignon).
In his typical well thought out logic, Young is counting on Crimson Cabernet's combination of high resistance to Pierce's disease and ability to made deep, dark red wine. The dark red wine (rich in polyphenols and Anthocyanins and tannins) is a personal requirement imposed by Young himself. The requirement for PD resistance is to address the issue of PD in his estate vineyard that devastated his earlier vinifera vineyard plantings. Young is counting on Crimson Cabernet to provide the hearty red wine experiences from his estate vineyard that Bending Branch's consumers expect in their wines.
Another tidbit Young shared, but very close to the vest, is that he is working on a new top secret project. It might be the Texas wine equivalent to a black op. It is definitely something that Dr. Bob is taking very seriously to bring to fruition. I'm sure that details will come when available. Stay tuned.
I shared with him that, during our coronavirus lockdown, I found a bottle of Bending Branch 2012 Texas Tannat. He suggested that this might be one of his first Tannat made from Texas fruit. Originally, not knowing what to expect from it after nearly a decade from harvest, I divulged to Young that it had most certainly aged well, which seemed to please him.
I added that the 2012 Tannat was holding its own now, and likely had more to give in subsequent years. Sampled by Coravin, I was able to extract a tasting portion (or two) and found it offering black cherry, leather, an herbal minty note, and silky-smooth tannins, suggesting that it would likely continue to age in bottle untouched by air until my next taste in 2025 (if I'm able to wait that long). If I can't wait, no worries. I also found another bottle that I will most definitely hold on to until then.
Thank you, Dr. Young and your Bending Branch Winery. Collectively, you've allowed my wife and I to ease back into the Texas wine world in comfort (lower-case "c" and no pun intended) and safety.
Now, for the next step, I need to remember where I left my blogging skills that were for the most part resting on a shelf for the past year. I believe that Doc Russ, Texas Wineslinger is ready to mount and ride again… Texas wines and wineries, are you?