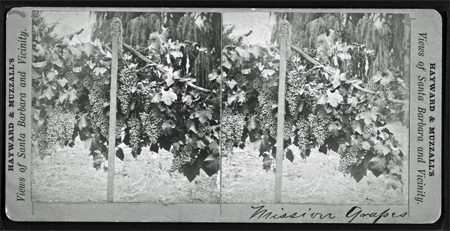 According to Stephanie Cain writing for VinePair.com, Paul Grieco, who owns Terroir wine bar in New York's Tribeca, says, "In a wine world where we are all searching for unique experiences and wines that speak of a place, a.k.a. terroir, there is nothing that can rival País." Why should this Sommelier's interest in a no-name grape attract my attention. Well…
The País grape (also known in the America's by the collective name Criolla) originated from southern Spain and the Canary Islands, where it derives from the grape Lístan Prieto, a close cousin to Palomino, the grape of Spanish sherry fame. In the 1500s, País or Criolla what ever you wish to call it, made its voyage to the new world arriving in Argentina and eventually Chile and on up northward to Peru and Mexico. Growers found that the grape produced well, it was hearty with immunity to disease, and its cuttings made a durable choice for new world winegrowers that carried their vine stock via horseback or horse-drawn wagon. Get ready: Here's where my interest comes and it should too for Texas winegrowers, winemakers and sommeliers.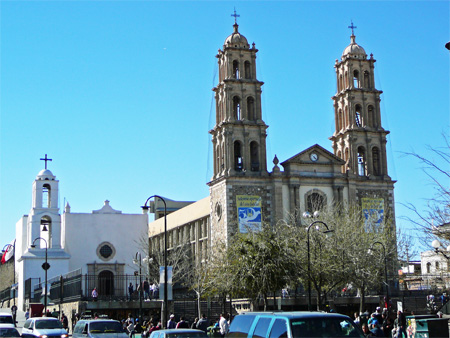 "The group came from Mexico… to establish a Spanish settlement, a new community outpost on the north bank of the Rio Grande. Earlier that same year, they started a mission on the south bank of the river. It became known as Mission Nuestra Señora de Guadalupe. The mission's location is on what is now the Mexican side of the Rio Grande in the city of Juárez, Mexico. With time, the nearby settlement on the north riverbank became El Paso del Norte, eventually known as El Paso, Texas.
"The vines were thick, hanging from the trees on the riverbanks, and sometimes covered rocks and ledges." This is how Father García de San Francisco y Zúñiga recalled the local landscape in 1659 as he, Father Juan de Salazar, and ten Christianized Indian families made their trek into what was then called Tejas… We cultivated the land around the settlement as part of our missionary work. We brought vine cuttings from which we planted and grew grapes to make sacred wines for our masses. Once the vineyard and winery were established, we made sacramental wines for our community and to share with other missions in Tejas and Mexico."
The words shown in italics above are excerpts from the book, The WineSlinger Chronicles: Texas on the Vine, by Russell D. Kane, Texas Tech University Press, Lubbock, Texas ©2012 by VintageTexas. This book was included in The Grover E. Murray Studies in the American Southwest Collection. Available for purchase at www.vintagetexas.com(with autograph) or www.Amazon.com.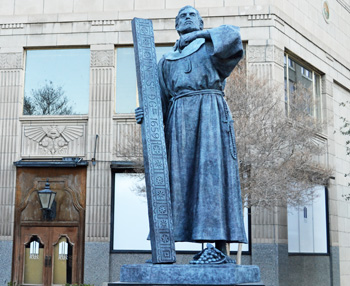 The vinestock that Father Garcia brought with him have since been given the name "mission grapes" because of their association with the Spanish mission vineyards back in the day. Some Texans mistakenly attribute the mission grapes to the now common specie of hybrid grape in Texas called Black Spanish. However, DNA studies have conclusively shown that the grape variety that came to the new world and ended up in the mission vineyards of El Paso was Criolla, a term for a family of grape varieties that includes País. Until now, most Criolla varieties have not been treated with the respect afforded to internationally recognized grapes.
Going back to Ms Cain's recent VinePair story, she says the reason that sommeliers are now being drawn to País is its compatibility with all sorts of foods, its compatibility with natural winemaking methods, and their fascination with the grape's transoceanic and new world history. País has only come to the mainstream sommelier conscience in the past couple years, but it has quickly become a go-to wine for many of this nation's first rate sommeliers.
After reading Cain's story, I did a simple Google search for "País + Houston". Faster than a speeding browser, the results indicated that not but a mile or so from my front door, Houston Wine Merchant offer a selection of two País-based wines from the Maule region of Chile made by Vina J. Bouchon:
The red – Bouchon País Viejo 2019 – País Viejo (Old País) is a wine with history. It is made with País grapes from over 100-year-old head-trained "Gobelet" vines (as they were originally planted in Texas), dry farmed, concrete vat fermented with native yeasts.
Tasting notes: Pink-hued, bright red color of medium body, very "Pinotesque". A very juicy, fresh, light wine with aromas of strawberry and white flowers followed by tart cherry/raspberry flavors and ethereal dry dusty earth on the finish.
The white – Bouchon País Salvaje Blanco 2019 – Never been touched by the human hand until harvest, these País vines grow wild in the trees next to the vineyards. White País clusters were discovered in these wild vines and vinified separately from the red clusters. Thus País Salvaje Blanco was born.
This is a wine of unique character. Copper-tinged pale amber yellow color with aromas of green apple and Bosc pear and essence of desiccating limestone mineral carried by brisk fruit juiciness to a mouthwatering finish.
OK, here is where I have to ask the question:
When are Texas winegrowers and winemakers going to reconnect with Texas's heritage of the Spanish mission vineyards of yore and its legacy of Criolla/Pais/Listan Prieto?
When they do, it will accomplish two very important things of commercial importance making easier to sell Texas wine:
Create a 300-year narrative linking the beginning and present-day Texas wine experience that would excite wine drinkers across the state and beyond, and
Excite sommeliers by titillating them with fine vinifera wines with a true sense of place (Texas terroir) consistent with Texas wine history.
I now ask… What's the next step?