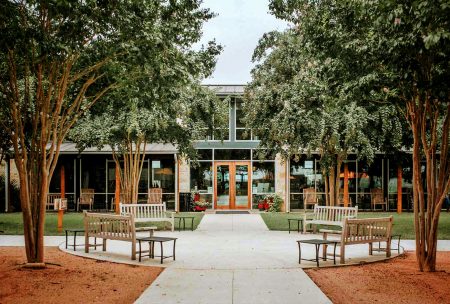 This winter, Texas Wine Collective (formerly 4.0 Cellars in Fredericksburg, Texas on Route 290 East, a collaboration of Lost Oak Winery, Brennan Vineyards and McPherson Cellars) will rebrand itself and be expanding with an additional 100 guest seats to its outdoor tasting space on the Fredericksburg Wine Road 290.
The plans are to utilize the expanded hospitality space to introduce fresh educational experiences. "We will implement Rhone varietal blending sessions (RDK – I love these kinds of events), blind tasting seminars, and a selection of private wine and food pairings," reports Dave Bryant, General Manager. The collective will also host "inspiration tastings," in which guests taste Texas wines side-by-side with wines from some of the greatest regions in the world, including Napa, Bordeaux, and Rioja, a take-off on the Texas Two-Sip concept. "We want to know, and we also want our customers to know, how we stack up compared to the greats," said Bryant. "The leadership team hopes that all of these improvements provide our guests with a complete Texas wine experience, from vine to cellar to table."
Additionally, the collective will launch new wine brands crafted by the Texas Wine Collective team. "We have an amazingly creative team, and with our pooled resources we can be opportunistic with sourcing, vinification, and blending, which will allow us to handcraft wines we know our customers will enjoy, while still featuring our core brands," said Bryant. With these innovative new brands, the group can highlight viticultural and winemaking techniques that are ideal for Texas' unique terroir.
For a visit or more information:
4.0 Cellars10354 E US Hwy 290Fredericksburg, TX 78624, phone: (830) 997-7470. Website: https://www.fourpointwine.com/