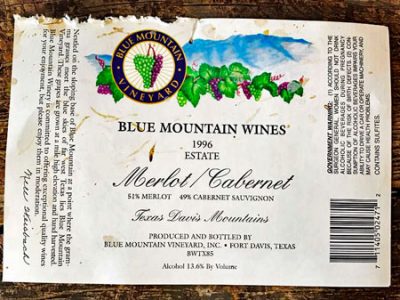 Photo from www.fortdavis.com
This blog highlights a story that originally ran in the Paris (Texas) News on April 18, 1979 (page 17) and a previous VintageTexas blog. The Paris News story starts:
"If one day in the not so distant future Texas inches its way alongside California as a prime wine making state, a lot of glory can go to a female Texan who answers to the name of Gretchen Glasscock."
While this story ran in a newspaper in the far northeastern quadrant of our very large state, I've learned through others that Glasscock's acreage was on the slopes of Blue Mountain near Fort Davis. As the story describes, the initial project had a $7.5 million budget and apparently had a formal opening in San Antonio. But, who is Gretchen Glasscock, really.
The story says, "Although she has ridden the range, waded in mud and handled the day-to-day operation of a 20,000 acre ranch, she isn't the traditional farmer's daughter. She was educated in the East, having a BS in creative writing from Columbia University… She was forced to return to South Texas and take over the operation of the family ranch after the death of her dad."
To sort this situation out, she "poured over cattle and farm journals in between riding a hot Texas range on horseback, facing dust, snakes and even wild animals." When she found out it takes 15 acres of land to feed one head [of cattle], she said, "I sold our herd down and starting making more money."
Glasscock had experience from her father in oilfield operations and cattle and she was well versed in finances with outstanding lawyers and businessmen as mentors. In a speculative move with 42 acres of undeveloped land she bought at $250 per acre, she installed drip irrigation and, in 1977, she started planted it with European vinifera wine grapes. Glasscock launched her winemaking venture with Cabernet Sauvignon, Sauvignon Blanc, Chenin Blanc and Merlot with test plot of additional grape varieties.
Looking back over 30 years, I feel that Glasscock had a strong suit and it was Vision – with a capital "V". I'm betting that she knew that the vineyard she planted with grapes on the high slopes of Blue Mountain in the Texas Davis Mountains at about 5,000 feet above sea level was in one of the coolest regions in the state – often referred to as the "Texas Alps". In fact, if you look at this area using the Winkler scale (also called heat summation, and an accepted method used to compare wine regions) the numbers compare well with quality wine regions like Bordeaux and mid-Napa. In fact, this region is the only place in Texas that can make that claim.
What trailblazer Gretchen Glasscock started in the 1970's with the planting of the first vineyard on this land was followed in the 1990's by Nell Weisbach, who created and ran the Blue Mountain Winery.
To this date, some of the best Texas Cabernet that I've tasted has come from Blue Mountain Winery with Patrick Johnson as the winemaker. In conversations with Johnson, he mentioned that when he harvested the Bordeaux varieties like Cabernet Sauvignon and Merlot at Blue Mountain, there was little or nothing he had to do in terms of adjustment once they were in the winery to make high quality wine. Additionally, he said that the climate was so dry that he couldn't even put the wine in wooden barrels for aging due to evaporation through the wood. He used large plastic barrels with wood added to the wine inside.
Ten years ago, I walked the site of this vineyard, but just a few aberrant vines were left, the rest killed off by a mysterious plague. Some attribute this situation to Pierce's disease spread by an insect vector during the summertime wet periods of Monsoon rains before modern day methods of PD remediation were widely used in Texas. For more on my experiences at this Fort Davis vineyard and the remnants of Blue Mountain click here.
I'm sure that both Gretchen Glasscock and Nell Weisbach would be pleased today to hear that modern-day vignerons are replanting wine grapes on nearby acreage around Blue Mountain with the hopes of re-creating the fine tradition of Fort Davis winemaker. These include Jack Wright at his Chateau Wright and Blue Mountain Trail Vineyard (click here) and the just planted Sharp Family Vineyards (click here).