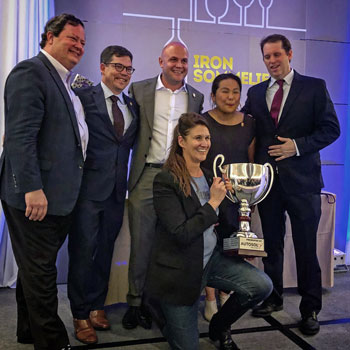 Periwinkle Foundation's Iron Sommelier Competition – A View, Up Close and Personal
This was my third time to attend the Periwinkle Foundation Autosol early-November Iron Sommelier Competition held at the Houstonian Hotel. Despite my third take on this competition, it was still fascinating to witness the knowledge and focus of each sommelier's presentation – a view up close and very personal. Evidently, many of the other attendees, at least most that I talked to, indicated that they were repeat attendees and this was their A-list Houston-area charity wine event, not to be missed.
When the "dust" and wine settled, the grand champion with the Iron Sommelier trophy was Julie Dalton from Mastro's, the first woman to be awarded the title of Iron Sommelier. Other awards presented were: 1st runner-up – Justin Vann, 2nd runner-up – Matt Crawford, Underwriter Tasting Room, Best Presentation – Adele Corrigan and Justin Vann, and People's Choice – Matt Crawford.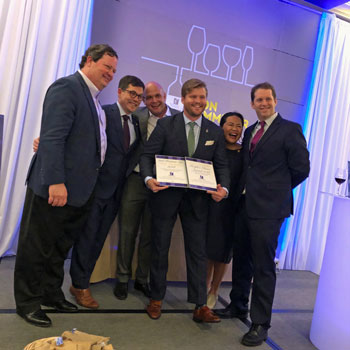 As usual, the competition was tough and involved many of Houston's top sommeliers:
Farrah Cauley – Sonoma Wine Bar Upper Kirby and Sonoma in the Heights — California Cabernet Franc
Angie Chang – Backstreet Café — Flower Power: The Garden in the Glass
Adele Corrigan – 13 Celsius Wine Bar — The Truth about Vermouth
Matt Crawford – State of Grace and La Lucha — Gimme Saumur
Julie Dalton – Mastro's — Drink Gneiss Schist
Marcus Gausepohl – Brennan's –Bandol Is For Lovers
Geoff Stephens – Dolce Vita — Italy's Killer B's: Barolo, Barbaresco, and Brunello
Emily Tolbert – Del Frisco's Double Eagle Steakhouse –Argentina: More than Malbec
Evan Turner – Emmaline — Greek Wines
Justin Vann – Theodore Rex and Public Services Wine & Whisky Bar — Babelas in Kapstadt: A Crash Course in South African Wine
Christian Varas – River Oaks Country Club — Pushing Past the 45th Parallel: A New Frontier for Fine Wine
Chris Walter – Pappas Bros. Steakhouse  — Ferrous Bueller's Iron Soils for Iron Somm
Robert L. Waltrip, III – Yauatcha Houston — Seeing Pink Elephants on Parade: A Magical Journey with Sparkling Wines from Around the World
Alicia Wolf – Georgia James (Underbelly Hospitality) — Palomino Is More Than Fino
Though he was not a winner this year, Marcus Gausepohl (Brennan's) and his wine presentation "Bandol Is For Lovers", was a delight and I plan to make a stop for dinner at Brennan's soon to partake in more "Bandol Love". Same goes for Evan Turner from Emmaline. That man found a way to spin the whole 4000-year history of Meditteranean wines using just three wines – one was from Greece and two of them weren't Greek, but they spoke of their Grecian heritage, or at least he spoke of it. And, very well, too.
I'm sure that the 2019 competition will be the same grand affair or even better, if that's possible. Get your tickets as soon as they go on sale, as they tend to get bought-up fast. Be there in the "Pit" with the Periwinkle Foundation's "Gladiator Somms", feel the heat of their wine passion…their knowledge, and get your taste of the competition.