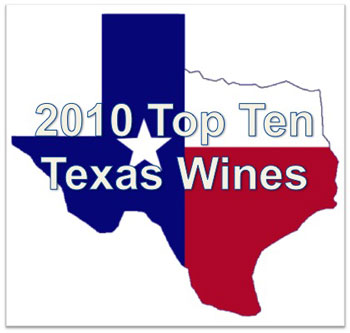 2010 Top Ten Texas Wines from VintageTexas: Installment #1
In 2010, I traveled more of the state and tasted more Texas wines than in any previous year. Therefore, this year I've had a hard time picking just ten wines to compose my year's favorites. Well, here goes…my first installment. Five wines from the VintageTexas Top Ten Wines of 2010.
Duchman Family Winery, Dolcetto, Texas, 2008
I first tasted this wine in late 2009 just after it was bottled. It was an agreeable, medium bodied wine with crisp red fruit character. Months later, at a second tasting it was obvious that this Dolcetto was still evolving and could be destined for glory. The extra time in bottle integrated its fruit and light tannic qualities. No doubt, this was a wine to be reckoned with. During 2010, the Duchman Dolcetto brought home a double gold from the San Francisco International Wine Competition. It was the first wine on my starting line up for the 2010 Grape and Gridiron Classic that was held in Dallas before the Cowboys-Giants Monday night football game.
Lone Oak Winery, Tempranillo, Texas High Plains, 2008
My first visit with this wine was while it was still in barrel. It occurred during my northern Texas gallivant and was poured from Gene Estes' wine thief  as he navigated his barrel room "jungle gym". This taste of Tempranillo was composed of Texas high plains fruit and yielded a deep, dark, ruby-black wine. I also selected this wine to represent Texas in another red wine category at the Grape and Gridiron Tasting. It offers notes of black cherry and vanilla with a long finish.
Fall Creek Meritus, Texas, 2006, Red Bordeaux-Blend
In June, I made a presentation on Texas wines at the George Bush Presidential Library at College Station. I presented a flight of what I felt were good examples of where the Texas wine industry was heading called "Cowboys, Cabernet and Beyond". It focused on examples of new varietals such as Viognier, Roussanne, Tempranillo and a few interesting red blends. That evening I experienced a truly wonderful wine and food pairing event at the dinner hosted by the Library. This wine blew me away. It was a big, full-bodied wine, but managed to retain an element of finesse, driven by lovely aromatic qualities.
Perissos Vineyard, Roussanne, Texas Hill Country, 2009
During one of my central Texas road trips, I stopped to visit Perissos Vineyard in the flat eroded granite soils below Lake Buchanan Dam. Not having a clue what I would like, I discovered a gem from the estate vineyard and family run winery. It contained a plethora of new Texas varietals: Roussanne, Aglinaico and Petit Sirah, to name only a few.  It was this wine, made from the Roussanne grape, that made me stop and take notice. Aromas and flavors of citrus and fresh stone fruits with further aromatic expressions of herbs and flowers dominated this Roussanne.
Texas Hills Vineyard, Syrah, Texas Hill Country, 2009
I will admit that I didn't discover this wine by myself. I saw it on the list of winners from this year's Houston Livestock Show and Rodeo Wine Competition and remembered a taste of a previous vintage of Syrah that I had at Texas Hills Vineyard – 2006. Just this weekend, while traveling the Route 290 Wine Road near Johnson City, I stopped in to the winery for another tasting. In fact, I tasted a flight of Texas Hills Vineyard Syrah, 2006 through 2009, all made with fruit from the Texas Hill Country Appellation – either the Texas Hills estate vineyard or from vineyards in Mason County. The Texas Hills 2009 Syrah is great stuff. It was a medium bodied wine dominated by ripe red berries with a hint of pepper spice. The 2006 Syrah had the same characteristics but with elements of earth and game having developed during bottle aging.
See the second installment of five more VintageTexas Top Ten Texas Wines of 2010 at:
https://vintagetexas.com/?p=2936