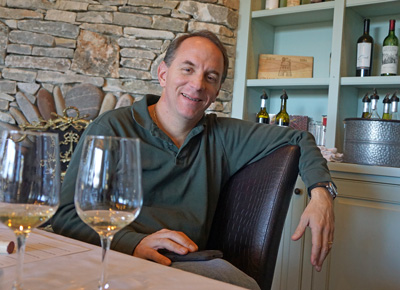 Tasting with Fall Creek's Winemaker Sergio Cuadra: What Grows Well in Texas (Part I)
I love sunny winter days in Texas. Being raised up north, it is something that I appreciate almost as much as well made wines. Recently, I had the opportunity to score both of them on the same day when I visited Fall Creek Vineyards, Director of Winemaking Sergio Cuadra at the new Fall Creek tasting room in Driftwood.
It is already known by most that following Texas wine that, from the early 1980s, Ed and Susan Auler's Fall Creek Vineyards played an important role in the winegrowing, winemaking and culinary development of the Texas Hill Country. But, it seemed, in 2013, when experienced Chilean winemaker Cuadra came to Texas on the referral of legendary Paul Hobbs (click here), things were posed for a change.
Before coming to Texas, when examining Texas' summer temperature records, Cuadra had some trepidation. However, when he got here and ventured into our vineyards, all he found (in this description) were "healthy and great-looking vineyards". Since his arrival, Cuadra has experienced the 2013 harvest (literally the jet-lagged day he arrived) and more recently, gained first-hand experience with the vintages of 2014 and 2015. He has also looked with "new eyes" at some of the Fall Creek wines in barrel going back to 2012.
It is with this backdrop that we tasted Fall Creek wines that bright winter day. To start, Cuadra reminded me, "Recall, in 2013, we only made a small amount of Chardonnay", admitting that "we only had one barrel of it." Then, he poured.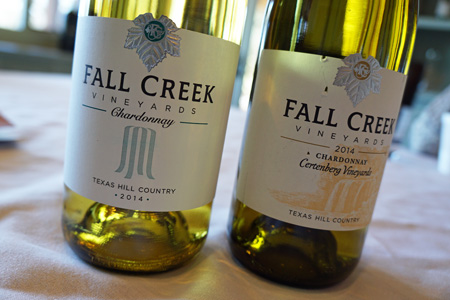 "In 2014, from the same vineyard, Alphonse Dotson's Certenberg Vineyard, we had a very good harvest. There was enough to make two wines and make more of them. Both were whole cluster pressed to get their best expression. The first one, Fall Creek Vintner's Selection Chardonnay is where the juice remained in stainless steel as we left it on lees for the following nine months. For the second wine, Fall Creek (our top of the line) Terroir Reflection Series, Certenberg Vineyards Chardonnay, we selected areas of vineyard that had the best grapes, in my opinion, the tastiest. After pressing, the wine was fermented in new French oak barrels where it laid for a year on lees and allowing the wine to undergo malolactic fermentation."
In the glasses before me from 2014 was the net result of what I've already gone on record as calling a Chardonnay vintage for Texas that year. Upon tasting, I concurred: Two gold medal wines judged in Houston and San Francisco, respectively. My personal preference is the former, lighter and crisper style of Chardonnay. However, Cuadra's personal recipe for the latter with a careful hand at ML resulted in a soft, silky mouthfeel, interaction between fruit and leesy notes while minimizing over-the-top "buttery" aromatics, which he said, "is something that winemakers in Burgundy have long known how to do."
Cuadra followed these two wines with in interesting parlay; what he referred to as "a pretty good Sauvignon Blanc" what I recalled he previously made (and I liked) in 2013. He said, "In 2014, we made another Sauvignon Blanc from the same place, Mesa Vineyards near Fort Stockton.
This Sauvignon Blanc that gave a complex array of aromas and flavors impressed me. There was an interplay of gooseberry, green bell pepper, and grapefruit with a note of white spring flowers. It wasn't the grapefruit bomb commonly expected these days in Sauvignon Blanc wines from New Zealand.
Cuadra, perhaps still noting a bit of his personal surprise of making this wine from Texas fruit said, "You need a good site to get all these characteristics rather than one focused on only one characteristic." Cuadra's style of Sauvignon Blanc is something more like found in old-world Sancerre rather than new-world New Zealand.
Imaging my surprise having gone three white wines into the tasting and not even one was made from an acknowledged "warm weather" grape like Viognier, Roussanne, Grenache Blanc or Muscat. Finally, by the forth wine, Fall Creek Vintner Selection Series Grenache Rosé 2015, we finally made to a grape with real warm-weather credentials. The combination of Grenache, Texas's weather and Cuadra's experienced winemaking style resulted in this gold medal wine from competitions in both Houston and San Francisco.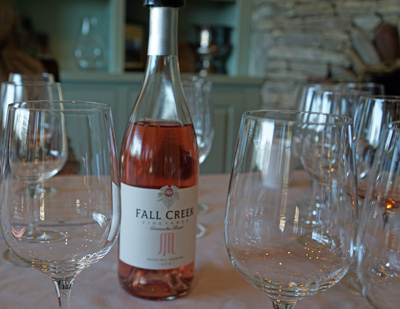 Cuadra admits that to get this fine wine made, he was nervous. He said, "In 2015, the rains came early in the season, but in June they stopped just at the right time. I was getting really worried about ripening."
He continued, "To make things more complicated, in this Grenache vineyard, we had two kinds of plants – some that ripening faster and some slower – that we harvested separately. The riper grapes went into our red wine (GSM). However, the grapes in this rosé were treated like a white grape; pressed and the juice taken off the skins rapidly and fermented cold."
The aromas from this Grenache rosé were striking with stone fruits, in particular nuances of peach pit, and followed mid-palate by ripe cherry.
As we tasted, Cuadra commented, "We will definitely keep making this wine, the response has been great. Texas has become "Rosé Country".
It goes to show that, in Texas, cowboys can and do drink pink!"
— — — —
Part II of this tasting (red wines) will appear in a future VintageTexas blog.