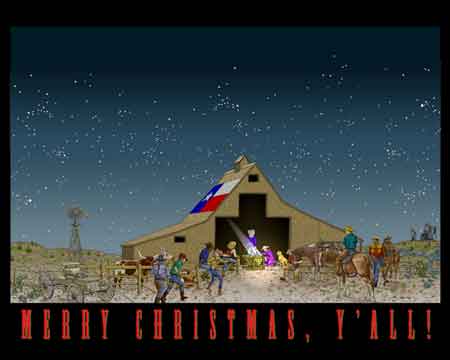 GO TEXAN This Holiday Season
 
A reminder for this holiday season: Buy, eat and drink local…..
From jalapeño Parmesan popcorn to custom-made mesquite coffee tables, the 2008 GO TEXAN Holiday Gift Guide has everything you need to complete your holiday shopping this season. This exclusive guide features more than 100 Texas companies offering unique gifts from the Lone Star State.
In the attached guide you will find food, bath and body products, home décor and housewares, apparel and accessories, jewelry, Christmas trees, wine and more. For more information about the Holiday Gift Guide or the GO TEXAN initiative, visit www.gotexan.org.
The Holiday Gift Guide is available online at:
http://www.gotexan.org/vgn/tda/files/1670/26765_2008GTHolidayGiftGuide.pdf
For more information contact: Bryan Black or Veronica Obregon at: 512-463-7664
Some personal favorites are:
Llano Estacado Winery
Gift items: gift baskets, wine, gift cards
3426 E. FM 1585
Lubbock, TX 79404
(806) 745-2258
lew@llanowine.com
Los Pinos Ranch Vineyards
Gift items: Pinky Tuscandero, Cabernet Saugvignon, Sweet Rodeo Red
658 CR 1334
Pittsburg, TX 75686
(903) 855-1769
info@lospinosranchvineyards.com
Fall Creek Vineyards
Gift items: wine, wine foods, glasses, totes,
stoppers, private labeling for gift items
1820 CR 222
Tow, TX 78672
(325) 379-5361
Pleasant Hill Winery
Gift items: wine, wine gadgets and accessories,
wine gift baskets
1441 Salem Rd.
Brenham, TX 77833
(979) 830-8463
info@pleasanthillwinery.com
Texas Hills Vineyard
Gift items: Syrah 2005, Kick Butt Cab, Orange Moscato 2005
878 RR 2766
Johnson City, TX 78636
(830) 868-2321
wine@texashillsvineyard.com
Paul Allen Design
Gift items: winescapes wine racks in amaranth wood, walnut wood or cherry wood
(210) 274-7776
studio@paulallendesign.com
Twin County Dorpers
Gift items: leg of lamb, lamb loin chop, rack of lamb (Yum!)
30881 Ranch Road 385
Harper, TX 78631
(830) 864-4717
lewendel@ktc.com
Texas Hickory Brisket
Gift items: whole hickory smoked brisket, half hickory smoked brisket (More Yum!)
2311 109th St.
Lubbock, TX 79423
(806) 789-5954
bretking59@yahoo.com